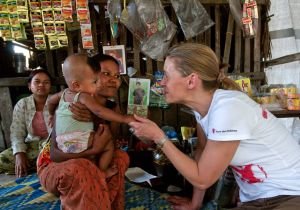 Thank you for your generous support of Save the Children's work in Myanmar. In addition to disaster relief, our efforts have focused primarily on education, health and economic opportunities. A strong commitment to community empowerment has both created sustainability of programs in impact areas and supported the prospects for scaling-up programs to achieve greater national impact through advocacy.
Despite Myanmar's natural wealth, a third of its people live in exreme poverty. Myanmar possesses rich natural and human resources but is ranked only 149 out of 187 ciountries on the Human Development Index. With a population of approximately 50 million, Myanmar faces economic challenges, an escalating HIV/AIDS epidemic, and health and education systems that are strained due to limited resources. Children's access to quality education, adequate healthcare, and economic security is increasingly threatened.
More than 90,000 children under five die every year in Myanmar, primarily from just three diseases we know how to prevent or treat. From the moment a child is born in Myanmar, their life chances are threatened.
In some areas where we work, up to 60% of children are underweight — with up to 12% of them acutely malnourished. Children here will live shorter lives than anywhere else in Southeast Asia. But there is hope. In recent years, Save the Children has directly reached nearly three-quarters of a million children and adults with health and child survival programs.
How You Can Help
Please support Save the Children's global mission. Your tax-deductible gift gives children in the U.S. and around the world what every child deserves – a healthy start, the opportunity to learn and protection from harm. When disaster strikes, we put children's needs first. We advocate for and achieve large-scale change for children. We save children's lives.
Please keep children in your thoughts for a bright new year.
http://www.globalgiving.org/projects/save-the-children/
Have a wonderful holiday season. Thank you again for your generosity.
Happy New Year!