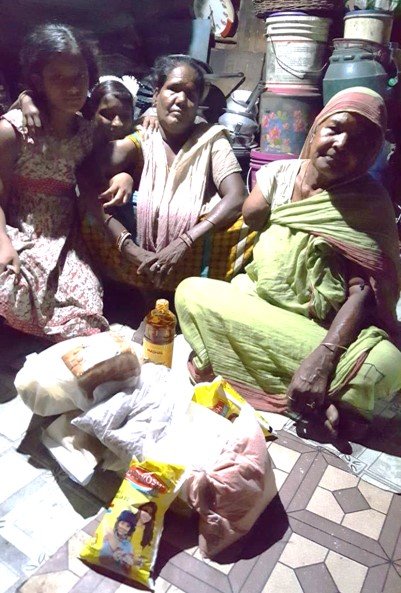 Salma lives with three of her family members in Topsia. She earns Rs. 200 a week as a beggar. She has faced many physical and psychological hardships. Salma used to work in a factory and, a few years ago, her right arm got chopped off by a machine. She was admitted to the Park Circus Chittaranjan Hospital. Because she was in a government hospital, the doctors discharged her prematurely when other patients who needed more attention came. Around this time, her daughter's husband became violent. He hit his wife with a stone, and, as a result, she began to have mental problems. Neither her daughter nor any other family member came when Salma was released from the hospital. Because of her amputated arm she cannot work.
At Tiljala SHED we focus on empowering society's most marginalised groups, especially the rag picker communities who live in illegal makeshift dwellings beside the railways and canals. We ensure the children are educated and kept out of labour; we provide microloans to rag picker women to help them start up alternative businesses; we link our beneficiaries to government schemes and help them to assert their rights and make their voices heard. We help them to help themselves. But for the most helpless, especially the elderly and disabled, sometimes we need the resources to provide them with food and medicine that they can't otherwise earn.
Salma is someone who needs this special care. Thanks to your generosity we are able to provide Salma and others with some dry rations every month.
Each one receives rice, lentils, chana, chana dal, sugar, refined oil, mustard oil and bread.
Sabra lives in a small makeshift structure near the Topsia canal. She is one of the oldest people in this community. When we recently spoke with her, she started crying. She said she feels weak because she does not have enough food to eat. Sabra eats a few biscuits for breakfast and lentils for lunch. Dinner is not guaranteed. Sometimes she eats rice; sometimes she goes to sleep without eating anything. She cannot walk long distances and cannot work. Because she has poor eyesight, her neighbours cook for her. Sabra does not have electricity in her home because she cannot afford it.
Sabra's other family members lives nearby and they help her when they can, but they are also very poor so it is a struggle for the whole family.
You can see from the smile on her face that she is thrilled to receive these rations and to know she won't need to go hungry any more.
Ramadan starts this week. Please consider a special donation to ensure Sabra and many others can be properly looked after.