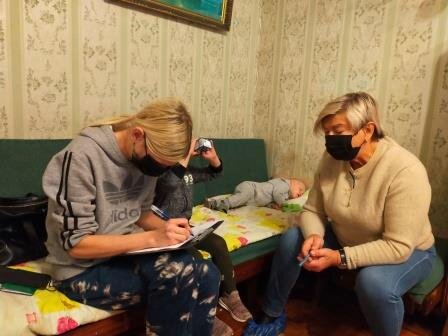 Dear friends,
MAMA+ Project staff members continue to provide support to women and children living with HIV.
We would like to thank you for your trust, support and participation, and tell you about people we work with. The overriding goal of our work is to retain family support for children affected by the problem of HIV, as well as protect their health and ensure their safety and wellbeing.
Today, we are happy to tell you a story of a family which is currently in acute need of your support.
Alina is 31. She was referred to the MAMA+ Project by staff members of the government AIDS Center. Alina has four children. She gave birth to her first baby when she was 22. The boy is healthy – he was born when Alina had no HIV. Her partner left her, and she had to earn to gain livelihoods on her own for herself and her baby. She used to work as a waitress, and her mother and sister used to help her. Despite the challenges, Alina was able to become a good mother. The boy was doing well, and now Alexey is nine: he has good performance at school and helps his mom – they are in warm relationships with each other.
In 2014, Alina met Nikolai and married him. The man had criminal past and history of using IV drugs. In 2015, during a medical examination, Alina learned that she was HIV-positive. Her husband was insisting on that he was healthy and it was a mistake made by medical workers (however, later it was revealed that he had HIV and infected her through a sexual contact). Alina could not believe it for a long time. Nor could she accept the diagnosis. That was the reason why she did not register with the AIDS Center, was not examined and did not receive ARVT. In two years, when she was pregnant, she finally registered with the AIDS Center, but refused to accept the diagnosis and take the therapy. In 2017, Alina gave birth to a boy. Unfortunately, he was tested HIV-positive. She took hard the fact that the infection was transmitted to the baby. She was taking care of him, but the feeling of guilt led her to the depression, and her relationships with her husband got worse.
Alina applied to MAMA+. The project staff enrolled the family in the project and started to provide them with comprehensive services. Alina received medical examinations, and started to take the therapy.
The project psychologist and social worker visited the family regularly, monitoring the development and health status of the child. Alina was attending the project psychologist, and the family was provided with material assistance.
In alcohol intoxication, her husband used to beat her. The project staff members provided Alina with consultations on behavior strategies to prevent domestic violence, developing a safety plan, an offered her emergency accommodation in a social apartment. However, Alina did not want her children to grow up without a father, and was trying to improve relationships with her husband. Besides, she was in economic dependence on her partner. The project staff members were able to persuade Alina's partner to apply for medical support in addressing the problem of substance abuse. Gradually, the family relationships were getting better. In 2019, Alina gave birth to a son, and a year later – a daughter. Both children are healthy.
Unfortunately, with the outburst of the pandemic, Nikolai lost his job. The family was short of money for meals, children's clothes. Nikolai relapsed to alcohol and started to beat the woman. Recently, Alina made an important decision – to break up with the aggressor. She moved with her children to their relatives. Presently, she is off work, and the only family income source is children's allowances. The family fell into crisis. MAMA+ staff members assist Alina actively: psychological consultations, child development and health diagnostics, arrangements of a lawyer's consultations in divorce and child support issues, registration for allowances and benefits, and humanitarian aid.
Despite the difficult situation, Alina is taking care of her kids. Trying to overcome the challenges, she works from home, but the money earned is just enough for meals. Her babies are in acute need of good nutrition, baby-care items, clothes
We hope for your support and participation. Let us support this family together – Alina and her four wonderful children.