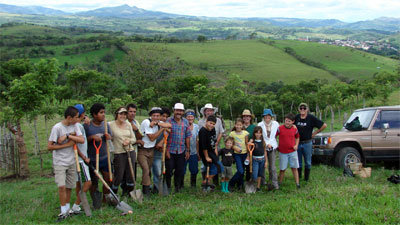 Failure is a feat. It's so true; we've learned this at La Reserva Forest Foundation and we're proud to share our story, especially if it can help another non-profit realize what a valuable experience it is to "fail".
Our first reforestation projects were informal affairs. We would collect funding to implement the projects by holding a local annual fundraiser. Our first project was a one-kilometer long biological corridor adjacent to La Reserva forest preserve in northern Costa Rica. We were able to plant the project in June 2008 because we collected the funds by throwing a party featuring live music, a silent auction and Mexican cuisine. That was the Kiki Corridor project.
In 2009, we had a big barbecue that included rides on a sailboat in the local port on Lake Arenal with live music and dancing. This time our goal was to fund a project that included three separate areas owned by the same man, a foreign resident here in the lake area. Two of the properties were local in Sabalito and Rio Piedras, while the other was in the Pacific coast community of Paraiso near Playa Junquillal in Guanacaste. We reached our fundraising goal and planted all three properties between June and October 2009, a total of six hectares and 6,000 trees.
One thing should be added here for the purpose of this "failure" story…up until now, we didn't have any formal agreement or contract with the landowner. We didn't see any reason for it since the people we were working with were personal friends or neighbors.
As with all of our projects, we maintain the trees for two years after the initial planting to keep them free of vines and grasses. After two years, they've usually developed enough to shade out the surrounding vegetation and be left on their own. We completed this maintenance on all three properties from 2009 to 2011, investing substantial amounts of time and funding in the travel, maintenance and wages paid to the crew. One day in 2011 the landowner called us to say he'd brought a "forest engineer" to look at the properties and the "engineer" was horrified with the native species we'd planted. He told the landowner that there was no timber there of any financial value, and that he'd be better off removing the "useless" trees and replacing them with more valuable timber tree species. And you know what? That's exactly what he did. He cut down the beautiful, native trees we worked so hard to find, raise, and plant in order to establish a diverse forest restoration project – the kind that LRFF is so famous for today.
As difficult as this experience was, we're grateful because this "failure" led to an airtight contract that we now enter into with all landowners. We sign the contract with them on the same day we pay them for the trees in their nursery and before we begin the planting. The most important clause makes the landowner responsible for the safety of the baby trees, e.g., no spraying of agro-chemicals, no damage to the trees due to broken fencing, livestock, etc., or the landowner is required to reimburse LRFF for the damages. This contract has been tested and proven valid with law enforcement officials and in the courts these past 3 years. You can read all about it in this recent post from May 2014, "Continuing Care for Communities and Forests".
So you see failure can equal success. Always remember that the crises in our lives are actually the opportunities the universe is bestowing upon us to learn and improve. We've planted over 70,000 trees since this story took place, and we continue onward and upward daily.