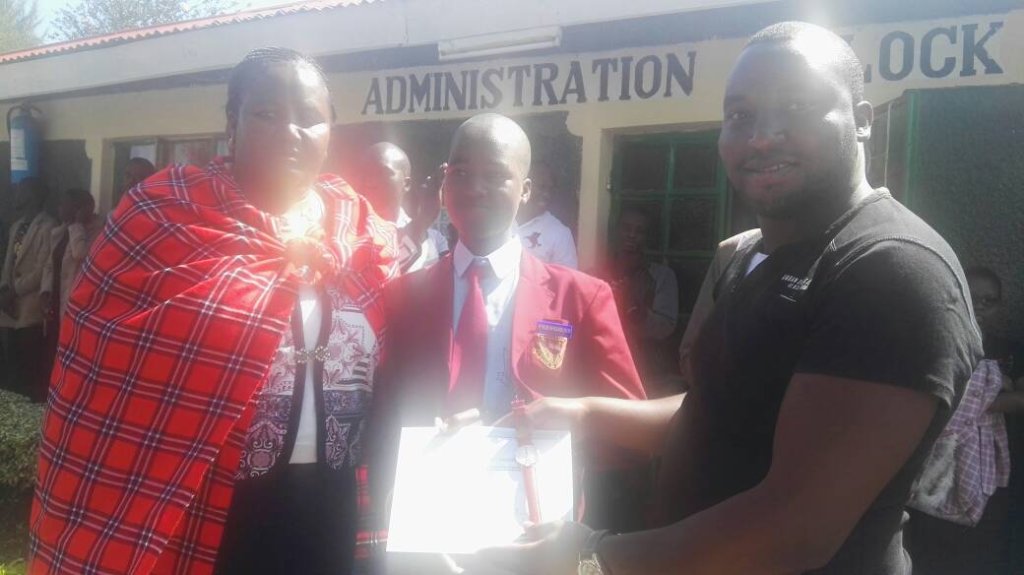 All 46 of the girls we support in our Maasai school girl program are looking forward to going back to school this month, September, 2017.
Global Roots currently pays 100% of the boarding school costs for 43 Maasai children, preteens and teenagers and college fees for our first three 18 year old heros who made it to college. Our three leaders are now 19 years old and in their second year of university!
We have worked with local partners to protect all 46 girls from Female Genital Mutilation (FGM) from the time they were nine until they reached an age and maturity level that protected them from the forced mutilation of their private parts for sale into marriage
Even if a girl were to drop out of our progam and return to her village, her parents will not dare to subject her to FGM for fear of being arrested and imprisoned. There is no Maasai family that has not heard of Global Roots and does know about our committment to enforce Kenya's law against the mutilation of young girls and sale into marriage.
Should one of our girls go missing (as a young girl named Gladys did last year) we will dispatch a team to viist her village immediately and we will follow up should we not find her there. We will make a police report and we will wait until the girl's family brings her out of hiding.
Schoolmasters, police officers and even Maasai chiefs who do not want this illegal blood on their hands are working with us.
Pie in the sky: we want to buy each of our girls a cell phone so that they can contact the national FGM rescue hotline should they ever feel threatened. We will seek funding for this after all school fees are paid for 2017.
Working with local Maasai partners to change an archaic tradition
Global Roots and Naseriian Rescue (our local partner) have changed for all time the way FGM is practiced in rural Kenya. Once a girl finds her way into our program, she is protected from FGM until we are certain she is no longer at risk.
But joining our program doesn't guarantee a smooth ride through elementary school, high school and colllege. Every single Maasai school girl in our program is grateful for every dollar or Kenyan shilling given to her and every school fee paid. They have all, with the exception of two or three, understood that their fees won't be paid if they don't study hard.
Last year, three of the oldest girls in our program (they ran away from their homes in 2009 and 2010 to avoid genital cutting, forced removal from school and sale into marriage age 12) entered college.
Today we received the following requests from two of the thse three brave girls. Please consider making a donation to keep Judith, Sylvia and Mary in college!
We have yet to raise the 4,000 dollars we need to raise this fall to make the final boarding school payment for 45 younger children who remain at great risk of Female Genital Mutilation and a lifetime of slavery.
The reason we need your help to keep our three college women in college is because we never planned for success. All we wanted to do was protect young girls from predation and the wonton destruction of their bodies. We didn't inour wildest dreams realize eight years ago that the girls we started to protect would one day go to college!
But here they are! We could have left them to their own devices upon turning 18 because, by that time, their parents would not dare to mutilate them. But we simply could not turn our backs on the Maasai Three!
Each of these women will one day return to their villages to show their tribes what it means to be an empowered and educated woman. Only by seeing their power and how it plays out for women in Kenya will rural Maasai mothers and fathers stop trying to make a quick buck by cutting and selling their daughters like cattle.
These are very hard words but all of us here at Global Roots and all of our partners in Kenya -- including a large number of Maasai -- agree with the UN that FGM is a human rights crime that must be stopped at once. There is simply no excuse for cutting out a girl's private parts in the modern age.
Here is a request that came in today from Judith S:
Hello Global Roots, how are you doing? I do hope and trust that this mail finds you well. Am good too. I would like to bring to your attention the total school fees needed for this semester.
Medical fee: 1,000 Kshs. (USD 10)
Tuition fee: 28,000 Kshs. (USD 272)
Hostel fee: 17,500. Kshs. (USD 170)
Pocket money: 5,000 Kshs. (USD 50)
Total: 51,500 Kshs (USD 502)
I am remaining with five semesters to finish my course. The total college fees therefore needed will be Kshs. 257,500 equivalent to USD 2,510.
I really do appreciate for your continued support. I still need your support and assistance through my academic journey.
May Almighty God continue blessing the work of your hands.
Yours faithfully,
Judith S.
Here is Silvia's request for help
Hello, 
I hope you are fine and doing great. Over here, i am alright and looking forward to having a successful semester ahead. There has been difficulties with the school administration in the academic department. They have not yet issued us with the transcripts and I have also been updating Mr Anthony about my progress in school. 
Thank you very much for being able to pay my last academic year school fees on time. I did not have difficulties during the end of semester examination period. 
The following is a breakdown of the fee required for this semester and next semester.
FIRST SEMESTER;
Fees:  US$ 211.396 equivalent to ksh21,800
Meals: US$177.456 Ksh18300
Accomodation: US$252.124 Ksh 26000
Total; US$640.976
SECOND SEMESTER
Fees: US$108.607 Ksh11200
Meals:US$177.456 KSH, 18,300
Accomodation:US$252.124 Ksh, 26,000
Total; US$538.187
TOTAL AMOUNT FOR 1st AND 2nd SEMESTER.=US$1179.163
Now that I am now a second year, the school requires all second years to live off campus as the hostels are meant for freshmen who have already joined. 
I will update you immediately i get the results transcript. I will try and follow up to ensure that i get the transcript.
Thank you very much. Nice stay.
Yours sincerely
Silvia S.
Now for a success story from one of our youngsters, Grace.
Grace, a 14-year-old FGM runaway, achieved the highest marks of her whole boarding school.
Here is a note from Anthony K. -- Global Roots transparency officer in Kenya
(See photo of Grace -- it is grainy because it is taken with a flip phone)
Just for your information attached is a photo of one of the top performing students, Grace receiving a certificate and watch for her academic achievement. She scored 419 marks out of 500 during the past mock exams.
Carole visited her school for the PTA day. Unfortunately the photo is rather poor, but it is great to hear how well the girls are doing. Her fellow school mate Naomi scored 379 marks in the same exam.
Regards
Anthony
Transparency: we have attached a Quickbooks file to show you just how careful we are with GlobalGiving donations.
We have removed the last name of each Maasai girl for their own protection.
Thank you for helping our the bravest girls in the world!!!
Attachments: