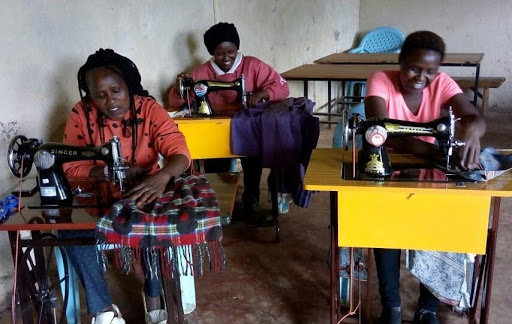 Dear Friends,
I want to tell you about how your help has allowed us to start a new tailoring and dress-making project.
We've purchased program manuals and 5 tailoring machines, including one specially-designed for disabled persons, and recruited a volunteer trainer. As of January 15th, we're thrilled to have 8 youth enrolled in this new course. Once we can acquire the funds to purchase five more machines, we'll expand enrollment.
Through this training, we help marginalized youth to find employment or start businesses so they can become self-reliant and support their families. We know this community-focused approach works. For 19 years, the Shauri Yako Community Youth Support Centre has supported youth through skills training, health education and life and leadership skills initiatives. The 12 youth who completed our recent 6-month masonry and tile-fitting course, for example, are all now employed in the construction industry.
Ways to Increase Your Impact
You might have heard before that successful fundraising is all about tapping into your direct network - asking the people in it if they know anyone who might become a supporter. This is a challenge for SYSC because our network -- our board members, staff, volunteers, and beneficiaries -- generally come from within Shauri Yako's impoverished community and have many responsibilities already. For SYSC to help more youth, we know we need to focus on fundraising and we'd love your help. From telling a couple of friends about our grassroots efforts to bring hope and opportunity to youth, to researching grant opportunities or writing applications, your help or connections to those who might be able to get involved would be invaluable to us. Please hit reply to let us know of your interest.
Thanks again for your continued generosity. Without it, we could not support the disadvantaged youth, displaced peoples and refugees here in the Shauri Yako slums of Nyeri. Your commitment to improving the lives of our youth and their families is a wonderful gift.
Warmly,