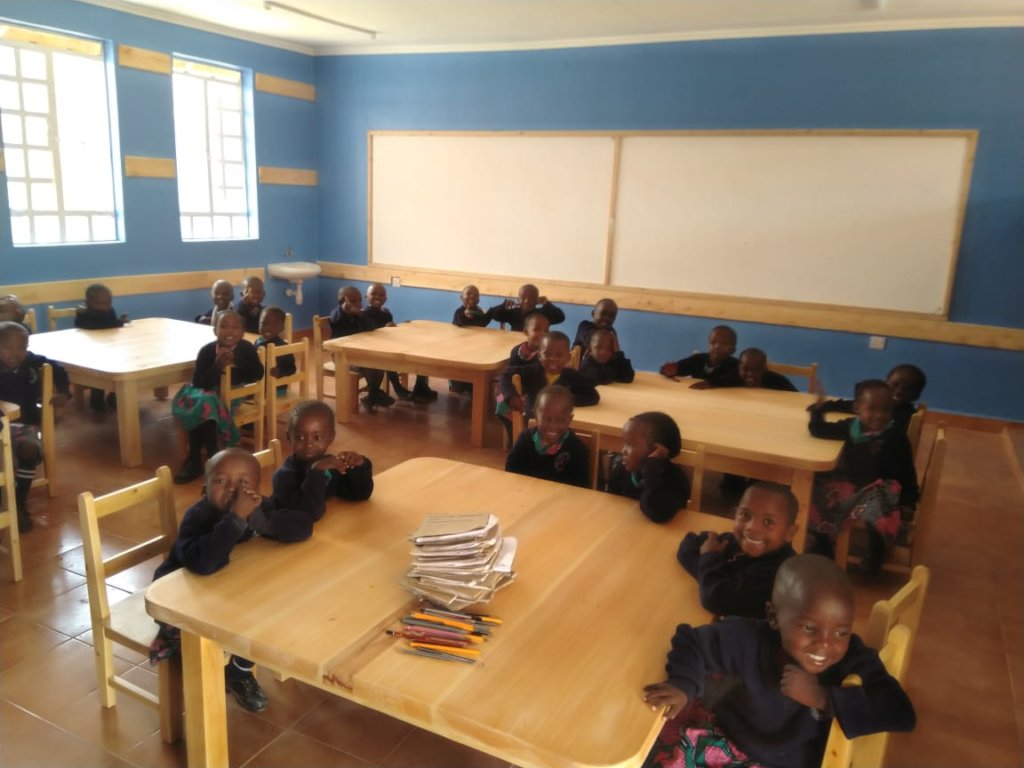 What a fabulously happy day February 24th was at the Live and Learn in Kenya Education Center in Nakuru! After only 4 months of intensive building, the Live and Learn in Kenya Kindergarten was completed and after the 1-week school break, the big day arrived. 90 happily singing and chanting little girls and boys marched behind their teachers into their gorgeous new classrooms. Thirty little 3-year-old nursery school children sat on a carpet - their furniture is to be delivered 4 days later - and listened to their new teacher in their bright Sunshine Yellow classroom. Thirty 5-year-old kindergarten children sat at their beautiful wooden desks designed by the famous German designer, Sebastian Herkner and glowed with the wonder of it all in their Sky Blue classroom. Thirty 5-year-old preschool children sat at there somewhat higher desks and sang happy songs with their teacher - amazed at the warmth and beauty of their Forest Green classroom.
The idea that children coming from the poorest of poor families living in the Rhonda and Baruti slums was beyond comprehension for their parents, guardians and even the village elders until now.
These children have the right to learn their way right out of the slums - out of poverty - and be all that they can be!
This is Live and Learn in Kenya International's main goal - Education is the Key to the Future. The future is theirs! THANKS TO ALL OF THE WONDERFUL SPONSORS AND DONORS WHO MADE THE CONSTRUCTION OF THE KINDERGARTEN POSSIBLE - AND TO ERICOM FOR CONSTRUCTING IT AT A PRICE THAT WAS AFFORDABLE - AND IN SUCH A FABULOUSLY STRONG AND STABLE WAY.
The LLK Kindergarten will be ceremoniously dedicated on June 6, 2020, when the LLK chairwoman, donors, and guests will be visiting from the USA, Germany, and Qatar to do the honors.
So - and now on to the next construction - the vocational training building where our children will learn to be mechanics and autobody repair people, hairdressers, tailors, and carpenters. We still have big plans and we need you!
Asante sana - thank you so much!
Links: