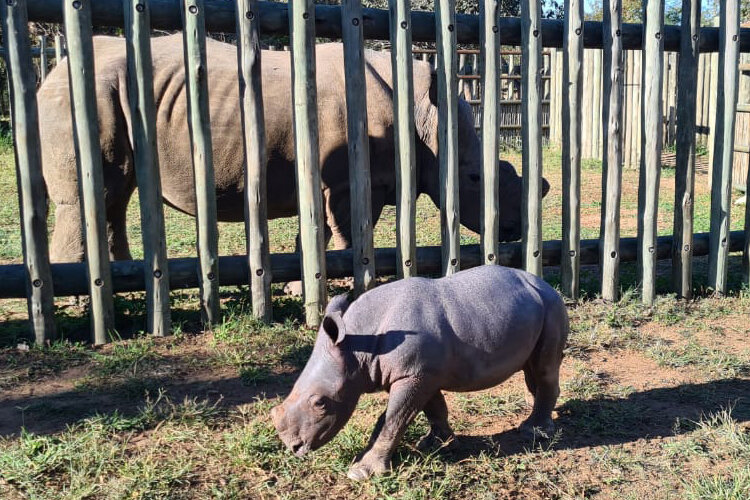 Orphaned baby rhino little Thaba is now around 7 months old, and he has adapted well to his life at the Hoedspruit Endangered Species Centre. He has also put on weight nicely, thanks to the many milk feeds and hours of care he receives. When Thaba first arrived, he weighed 124,2 kgs (around 274 pounds). He now tips the scales at 298,6 kgs (around 660 pounds)!
Thaba's milk feeds will continue to increase as his weight increases. This is to ensure that he grows into a healthy adult rhino bull. Recently, his milk feeds were supplemented with a cereal called ProNutro, which is mixed into his milk. ProNutro has long been used by many animal carers as an aid to digestion, and to bulk up milk feeds for hungry, growing bodies.
While Thaba still has his lamb companion Vlooi by his side, he has also been introduced to female rhino Esmé, who herself arrived at the Centre as a malnourished little one in 2017. The introduction took place slowly, with the two rhinos first meeting each other through the fence of their adjacent bomas. They were eventually given a little more time each day to spend together and are now together permanently - the gate between their bomas left open for each one to come and go as they please. Esmé also still has her sheep companion Mielie by her side and between Thaba, Vlooi, Esmé and Mielie, they make a fabulous foursome. Esmé has taken on the role of surrogate mom/big sister and while she is very patient with Thaba, she lets him know when he oversteps his mark. Thaba of course tries his luck and wants her to play with him constantly.
Please keep checking our social media pages for more updates and videos. We will also provide more updates here as he progresses.
Once again, a big thank you to everyone who has donated towards Thaba's feeds, security and veterinary needs. It is thanks to you that the Hoedspruit Endangered Species Centre can continue to provide him with the best possible care.