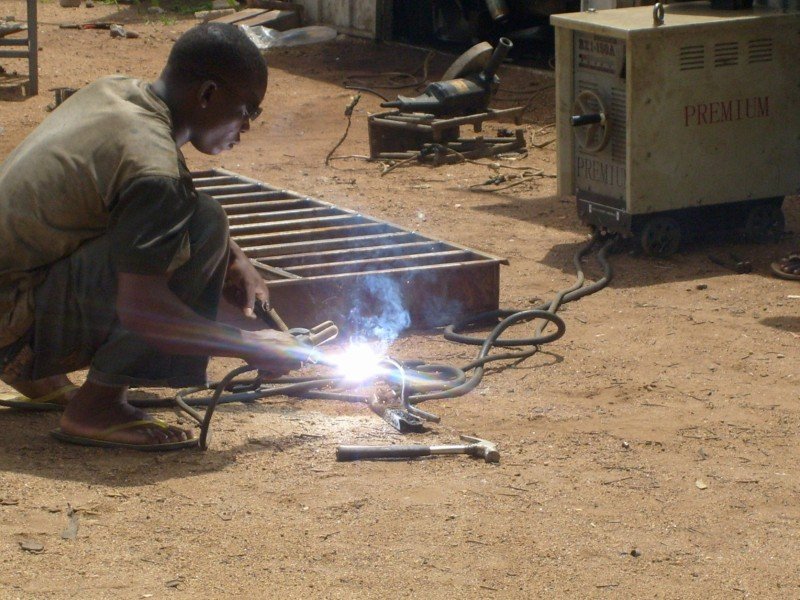 Thanks to your support of Leadership Initiatives is spreading new opportunities of INDEPENDENCE and SELF-RELIANCE throughout Nigeria. As each LI sponsored beneficiary completes training and launches a business, the positive impact ripples through surrounding families and communities, providing new educational opportunities, increased income, and most importantly, a tangible example of INDEPENDENCE and SELF-RELIANCE for the entire community. Your support is what enables LI to continue to sustain this incredible process of economic and personal empowerment.

With your help, Leadership Initiatives has made it possible for Ibrahim Maikasuwa to:
Identify a community need—for affordable welding services

Complete an apprenticeship and launch a new welding business in Yelwan, Bauchi

Develop an advertising program and new fencing technology to grow that business

Hire and train 3 new welders to meet growing demand for his services

Use business profits to educate 5 family members (siblings, and cousins)

Support others by providing welding training

Donate money and fundraising efforts on behalf of other Leadership Initiatives
HELP US NOW SIMPLY BY UPDATING YOUR CONTACT INFORMATION IN OUR RECORDS:

We need two minutes of your time to help Leadership Initiatives attract matching funds and grants from charitable foundations. The strength of Leadership Initiatives' grass root support is measured by our growing database of committed supporters such as yourself. Please take a minute to update your contact information here and rest assured it will not be shared.

Most importantly, we want to thank you again for your support of Leadership Initiatives—a thank you that comes from those in Nigeria who are now self-employed, from their families, and from their communities. In a world where it can seem hard to make a real difference, your support already has!

As always, we welcome your comments and questions. Please feel free to contact mbailly@leadershipinitiatives.org or simply respond to this e-mail.

With great appreciation,

Marshall Bailly and Khalifa Lawan
Executive Director and Field Programs Manager
Business-by-Business Updates
BAI (Fish Farming)
Fish Farming Programs have all had record profits due to the creation of completely plastic fish tanks, new farming practices and better shipping services to sell the fish at market.
Fish farming programs plan to expand into other states and to invest their newly created capital in business ventures such as Cattle and Poultry farms to be created by LI students.
BCLI (DP) (Computer literacy and job creation)
Programs continue to grow. New customers continue to come to the handicapped-run internet cafes. New computer education classes for local community members, new teaching programs and expanded job vocational training services for the disabled have been introduced.
Skills Acquisition
The Welding program will be hiring three new employees and has recorded record profits. Business owners and employees have donated to every LI fundraiser from Global Giving.
Mechanic Program plans to open in new locations focused on motorbike repairs and training new employees to fix those vehicles.
Tailoring beneficiaries are improving their skills and expanding their business to include business suit and dress tailoring services. Two separate tailoring shops will add three and two new employees in June respectively.
All the tools for Skills Acquisition are being maintained properly by the beneficiaries and none have been reported missing, sold or broken. The beneficiaries are working diligently to ensure that all the equipment is intact and appropriately maintained.
2011 New business ventures
Shoe cobbler shops-site for new shop has been located business expected to open June 16th
Electrician shops-site for new shop is still being negotiated.
Cattle farms-sites have been located and acquisition of cattle is now in progress.
Poultry farms- sites have been chosen and the creation of poultry housing is now in progress.