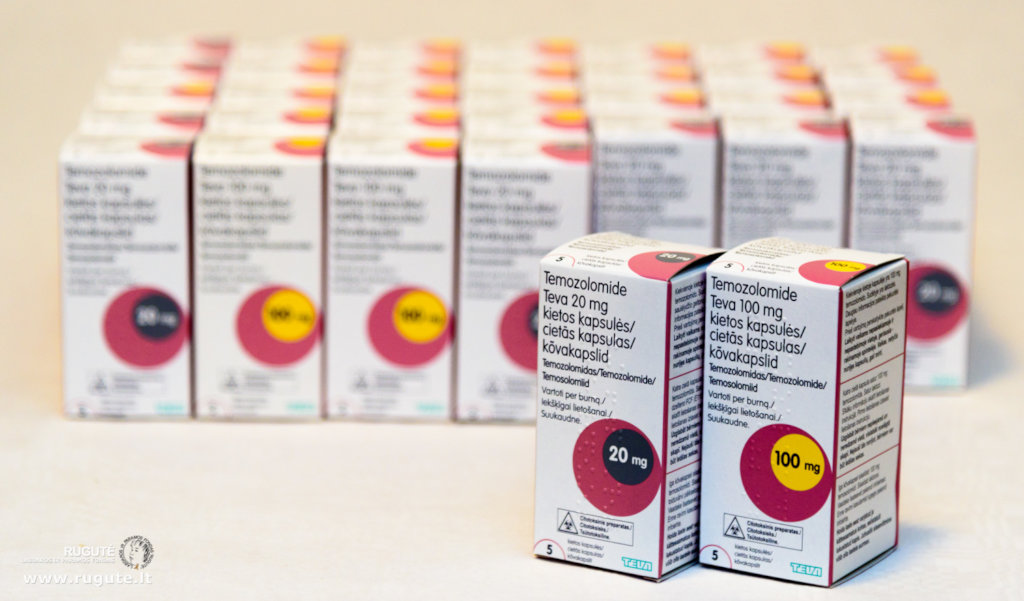 Report (December 2017–February 2018)
During the recent months of December, January and February, Rugute continued its activities and provided various support to children with oncological diseases and families who raise them. Fund also supported the major medical centers where these children are treated.
Within the past three months, the Fundprovided monthly and non-recurring charity to the families who had submitted their requests based on the importance of their needs. Families used this money to purchase necessary medical care and food supplies and to cover other costs that they could not have avoided due to their child's disease (for example, travelling costs). The money also helped the families to improve the psychological well-being of the children. Fund provided 8,700.00 Eur in monetary form and 1,575.29 Eur worth of food products to such families.
The Fund also helped to purchase specific medications that are needed by individual childhood cancer patients but are not State-covered or not supplied in Lithuania at all. In order to ensure that the proper treatment is administered to the little patient Ugne T., the Fund bought Temozolomide 100 mg (8 items) for 676,93 Eur.
The Fund paid 9,075.00 Eur for genetic screening of 3 children. The genetic screening and testing of young cancer patients in one of the most modern laboratories of Europe, is a continued project, launched by the Fund in 2015. It's aim is to help Lithuanian doctors to detect the hystology of the tumor, to foresee the progress of the disease and to individualize the treatment.
The Fund also purchased the most commonly used mouthwash solution AftaClear for 109.75 Eur. This solution helps the little patients to get over the most common side effect of chemotherapy – mouth ulcerations that are known to worsen both physical and psychological condition of the sick child. Thanks to these solutions, children are able to eat without suffering too much pain.
Fund bought some supplies and covered some other necessary costs of Children's Oncohaematology Center of Santara Clinics (Children's Hospital):
linen and bedding - 169.50 Eur;
supplies for rehabilitation procedures of the patients - 268.92 Eur;
translations for clinical testing and screening – 1,391.50 Eur;
insurance policies for clinical testing and screening – 4,000.00 Eur.
Also, the Fund contributed to renovation of 4 rooms of the Oncohaematology Center, by allocating 17,035.63 Eur in order to improve the conditions of the rooms where children are staying during hospitalization.
A few years back, our Fund contributed to the project by Eugenijus Maciukas (a dad of a little patient), which involved setting up fish tanks in the hallways of Children's Disease Clinic of LSMU. The hospital environment may be quite stressful to children (who spend long months in there) and depressing to their parents, therefore it is important to create a peaceful and emotionally rewarding environment. We helped to renew the aquariums and allocated 156.58 Eur for this particular project.
For the past three months, Rugute was also covering the maintenance costs of Rugute's Home, the rented premises (200 m2) with two bedrooms, a kitchen, two bathrooms and a cozy area for games, resting and meetings, and a small yard, not far from the Vilnius Children's Hospital. It is the only facility in Lithuania that provides temporary accommodation to the young cancer patients and their family members, free of charge. Having found shelter in these premises, children with oncological diseases are able to have a break from their treatment and from being in the hospital. Rugute's Home allows their family members to get a temporary accommodation while visiting children in the hospital. The total maintenance cost of Rugute's Home in the past three months was 5,019.90 Eur.
On the 8th of December, 2017, for the 11th time in a row, 5 long-term friends of Rugute came to Lithuania from Sweden. They brought many gifts wrapped by Swedish children and meant for Lithuanian childhood cancer patients. "This trip always reminds me that there is nothing more meaningul than sharing the moments together. These amazing elves from Sweden have a charisma for sharing. Sometimes it seems there is no need for any gifts, because their dances, their time spent with children and their love is the greatest gift of all. They spread this gift by their visits to families and to the hospital patients, from ward to ward, giving so much attention and warmth to every one of them," - says Fund's Director Edita.
On behalf of our most special children (our greatest fighters), we would like to express, once again, our sincere thanks for your donations. You are very important to us, because you enable us to help the ones who need our help today, because they may not have a tomorrow.