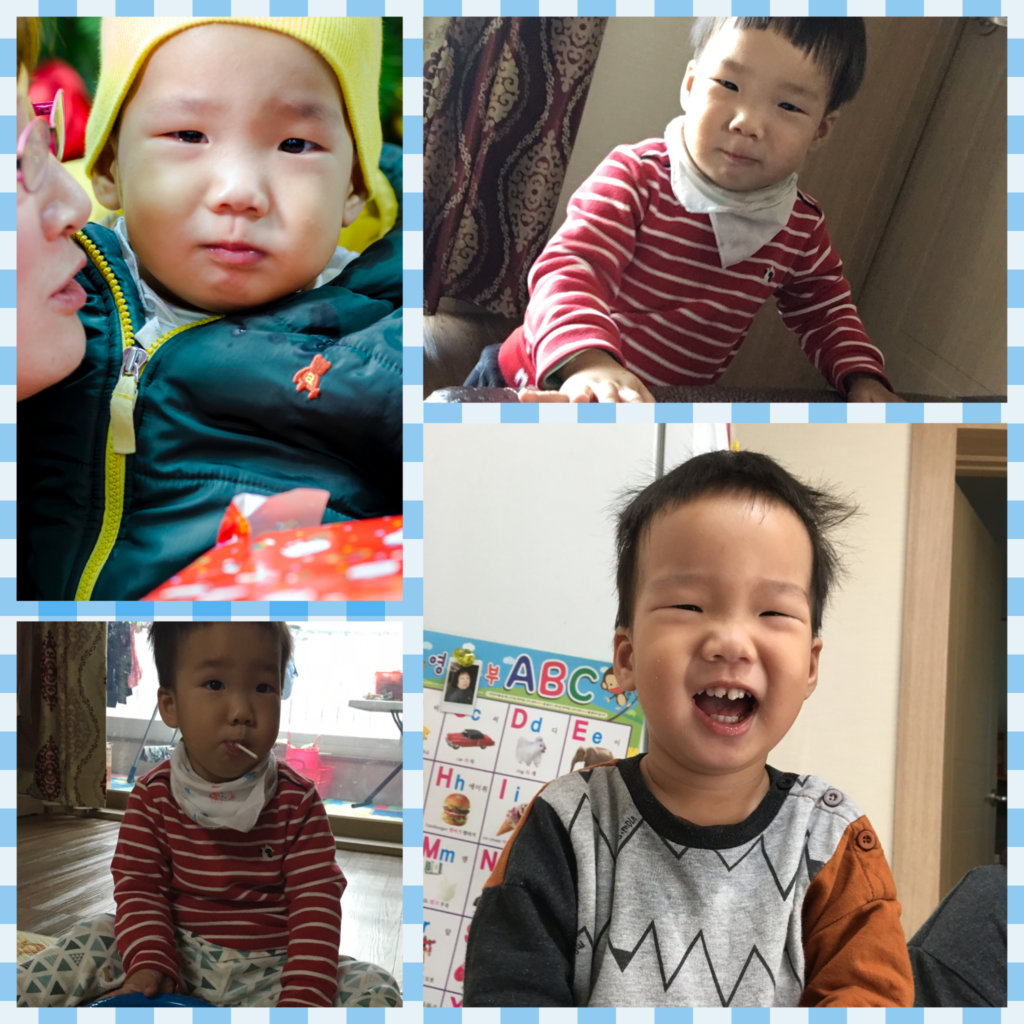 As you likely know, if you've been supporting this project for sometime, toddlers ages 2 and 3 (international age) living in Korean orphanages are unable to attend preschool because the government does not provide funding until the children turn 4. With the help of a local preschool in Gumi, KKOOM began sending 2 and 3 year olds to preschool at a discounted tuition rate using funds raised here on GlobalGiving.
In this project report, we are delighted to introduce you to the 8th KKOOM preschool toddler, SH, who will soon turn 2 years old (US age). He began preschool, thanks to your support, in January 2016 when he reached 20 months old.
SH arrived in the orphanage in February 2015 along with two older siblings and quickly proved that he was quite intelligent and curious. His caretaker wanted to send him to preschool at the earliest opportunity due to his inquistive nature and the fact that he was bored at the orphanage home all day after the older children left for school. He would frequently go into his orphanage siblings' bedrooms, pull out their belongings, look for new things, and make a mess, just out of sheer boredom.
Sending SH to preschool gives him much needed access to peers his age, and he has been able to make friends and receive positive attention from kind and caring teachers at the preschool. Like many other kids, who come to orphanages due to unfortunate circumstances, SH lacks certain basic social skills, which are typically built in a loving environment.
SH's caretaker shares that SH is introverted and shy, but one he warms up to you, he shows his playful and cute side, including dancing and waving actively. SH's caretaker reports that SH is always happy to go to preschool when the van arrives in the morning. His teacher at the preschool says that he is eager to learn new things, clearly a smart little guy. Additionally, SH has started talking now that he is attending preschool, and we think this is just the first of many developments to come as SH continues preschool for the next 4.5 years.
We can't change the circumstances that brought kids like SH to orphanages in Korea (in SH's case, parental abuse), but we can certainly, with your help, change their outcomes. With much needed care, attention, and education, we are hopeful that kids like SH can have a positive future and grow up to be loving and contributing members of society.
KKOOM certainly could not do this work without your generous financial support and ongoing interest, so we're extremely grateful that you took the time to read this update. If you have any questions or comments, I invite you to contact me directly. Thank you so much for your trust and gifts.
Regards,
Aimee
~~~~~~~~~~~~~~~~~~~~~~~~~~~~~~~~~~~~~~~~~~~~~~~~~~
AIMEE J. JACHYM | Co-founder & President
~~~~~~~~~~~~~~~~~~~~~~~~~~~~~~~~~~~~~~~~~~~~~~~~~~
KOREAN KIDS AND ORPHANAGE OUTREACH MISSION (KKOOM)
Improving the lives of Korean orphans through outreach and education