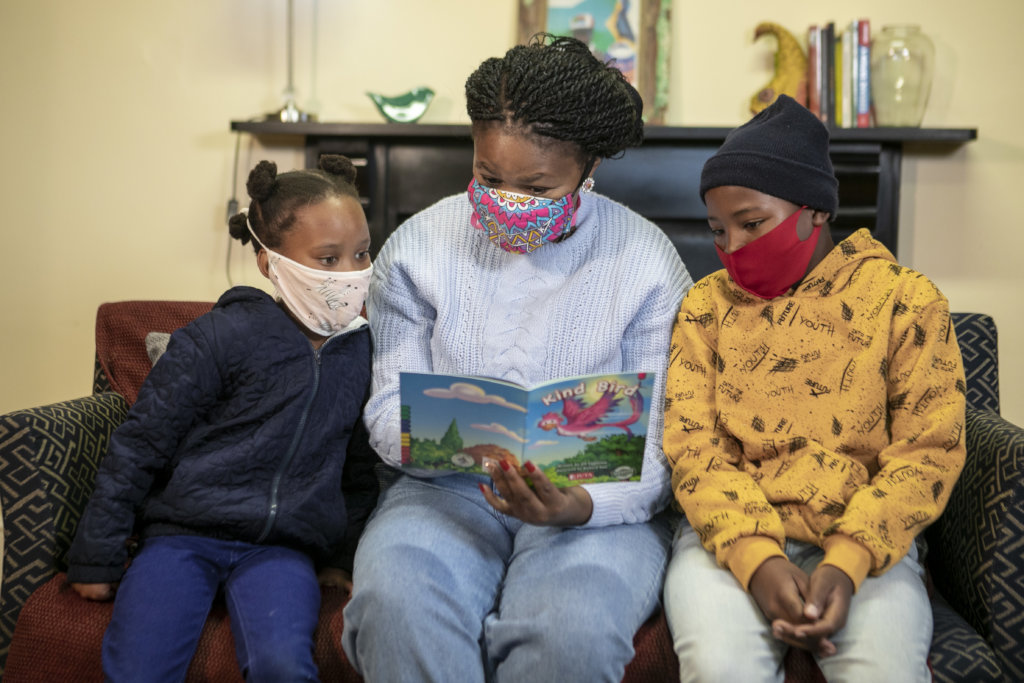 Project Overview
A summary of major successes/failures of the project:
Shine Literacy's programmes are aligned to the South African Department of Basic Education's Sector Action Plan for 2024, an evidence-based, inspiring directive. Focusing on every child in Grades 1, 2, and 3, our primary objective is to address systemic challenges at home and at school while ensuring that children have daily access to reading resources and a positive reading champion.
Shine has worked at delivering well-resourced reading support at homes providing caregivers and children with invaluable tools to help reduce the literacy gap between high and low achieving learners and develop a culture of reading at home.
Take-home resource packs
The Shine Home Resource packs include books, stationery, children's magazines, and parental support materials, and flyers.
A total of 54 994, Creating a Culture of Reading @home take-home packs have been distributed to 14 998 children in 47 schools nationally.
7 Centre schools in Cape Town, 1031 Grades 2 and 3 children
31 Chapter Schools across 4 provinces, 6 614 Grades 2 and 3 children
9 Youth 4 Literacy schools in Cape Town, 2 558 Grades 2 and 3 children
To date, Shine Literacy has spent a total of R1,295,042 on these distribution packs.
The @home resource packs include TIME (Together in my Education) home packs for Grade 1 learners. These termly packs, available in three languages, provide daily activities which build language, mathematics, and life skills. Implementation instructions for parents and caregivers are supported through weekly digital messages. Shine has distributed 17 942 TIME packs to date across 47 schools, 4 795, Grade 1 learners received these packs in our schools. The total cost of the packs is R224 275 for this academic year.
Shine Literacy has developed supporting videos that are available on our data-free website. These videos show the methodology of paired and shared reading with a child or children in the home. They are intended to support parents, caregivers, and young people with the resources they receive in their take-home packs. Through the broadcast messaging system, parents/caregivers / older siblings etc have access to them and are able to follow the methodical approach to paired and shared reading.
Creating a Culture of Reading @school
Creating a Culture of Reading @school is being implemented at all 46 Shine Literacy schools using various approaches depending on what each school allows. Centre / Chapter managers are currently working in Foundation classrooms, supporting paired and shared reading with children daily. Depending on the availability of willing volunteers and school consent, some Centres and Chapters have since Term 2 resumed an adopted version of Shine Literacy Hour (paired and shared reading) sessions. To ensure programme integrity, all schools which are implementing SHL have at the beginning of Term 2 been administering WELA assessments for each Grade 2 and 3 child coming on the programme.
Challenges/Solutions:
Class rotation Children at schools supported by Shine Literacy attend school on a rotational basis. At some of our schools, this means that a child will only attend school twice a week or for an entire week and then miss the following week. This has an impact on school attendance when children do attend during this week as they have become accustomed to not attending school. Our Shine Centre's and Chapters are impacted by this as it means that children have missed chunks of the curriculum and teachers are resistant to allowing them to leave the classroom. We have overcome this issue by allowing flexibility in our programme, we no longer have a strict literacy hour, instead, we have advised our staff to situate themselves close to the class and pull children out for a 15-minute paired reading session. This also means that an entire class will receive reading time. We've asked teachers to add our Centre/Chapter managers to their WhatsApp groups so that we can send our weekly WhatsApp messages with guided reading examples and links to our data free mobi-site.
Data requirements Data continues to be a challenge for our parents and schools. Our Zero-rated mobi-site seeks to meet our stakeholders' needs. However, there are instances where we require parental engagement through the use of data messaging systems. The alternative is holding in-person meetings with stakeholders.
Access to schools due to COVID Protocols Some schools do not allow outside visitors on school premises which means volunteers were not able to support reading in these schools. However, with vaccine rollouts, principals are allowing volunteers back into schools to support programmes. It is still critical for all Shine staff and volunteers to adhere to strict non-pharmaceutical interventions to stop the spread of COVID in the schools we work in, ensuring we have enough sanitisers, masks and well-ventilated rooms.
Looking forward:
In 2022, Shine Literacy will be implementing the Youth 4 Literacy (Y4L) programme in 22 schools in the Western Cape. One hundred and sixty (160) recently matriculated, unemployed youth will become Reading Champions in Grades 2 and 3 classrooms. The youth will be trained to conduct paired reading with each child daily and will be shown how to read stories to the whole class. They will also be responsible for monitoring books that children borrow to take home. Shine Literacy will be encouraging Shine Reading Champions to work with the class teacher and to conduct any other activities that support a reading culture at school.
Due to the success of our take-home packs thus far we will continue to distribute resources in 2022.
We will also be starting a series of data free webinars to support families in their homes and continue to update our Mobi-site with more languages.
Youth 4 Literacy (formerly known as Khanyisa) Project Objectives:
This project area has two core objectives (note that this shows the theoretical pathway for change – the longer-term impacts will not be measurable in the short- to medium term):
1. To recruit, train and place unemployed youth as reading partners in Foundation Phase classes.
2. To develop children's reading and language skills as a critical foundation for future learning and life success.
These two aims, working concurrently are built on existing blueprints of an organisational design (The youth training and employment model), and content plug-in (The Creating a Culture of Reading) to simultaneously provide meaningful work experience in the social sector, and an experience that can develop an entrepreneurial spirit, a passion for education, and the development of key C21st competencies in the youth, while ensuring that learners are able to reach critical literacy learning milestones, by increasing their motivation to read, enriching learning spaces, and ensuring that opportunities to read abound.
Long term objective for children: This will begin to open up spaces where children can read for enjoyment, something considered a luxury in impoverished communities, with little or no access to resources, and low levels of social capital. The model is built on a strong, and proven model for literacy instruction, but also around concepts of reading for enjoyment, and learning through reading activities as 'play'.
Long term objective for youth: It is now well documented that the first job placement is a critical lever for securing lasting full-time employment and that once this is secured, even with significant movement, people tend to remain employed. Enabling the youth to seize opportunities for exposure and experience in the world of work has substantial benefits, and employing them in the social sector has shown to have a significant impact on pro-social behaviour and has profound positive benefits for critical 'growth-mindset capabilities.
Today, for every 1000 labour market participants each year, only 43 are able to find jobs in the formal sector. According to Stats SA, the official youth (15 – 34-year-olds) unemployment rate in South Africa in the first quarter of 2021 was 46.3%, a level likely to be exacerbated by the ongoing COVID-19 pandemic. Finding new and meaningful ways of employing young people in the social sector could provide for significant gains in employment as well as social outcomes.