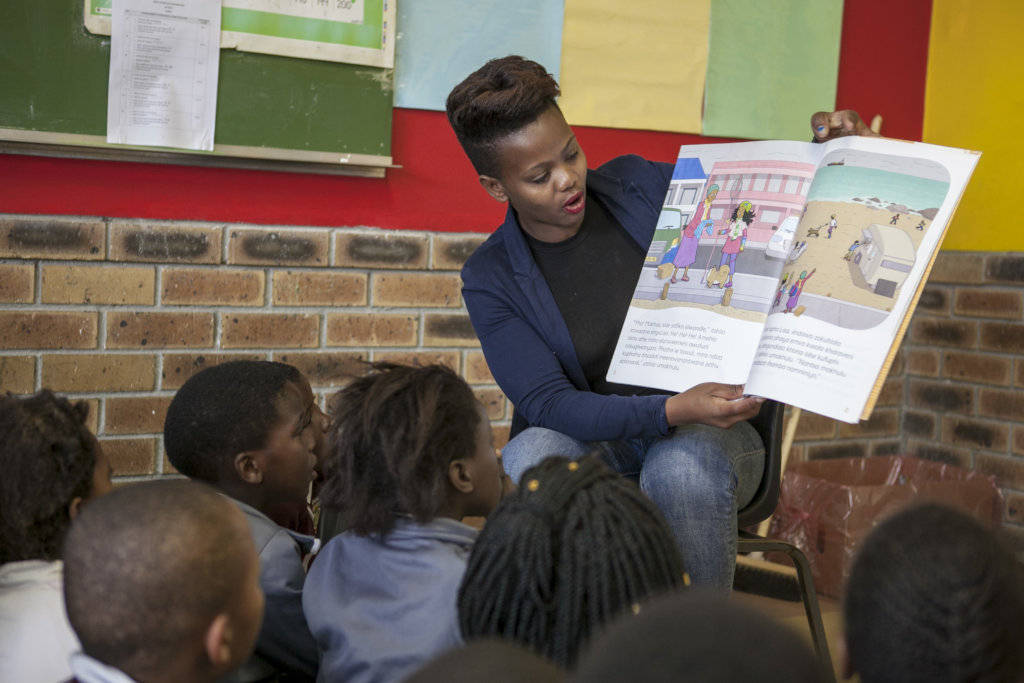 Shine Literacy is in its third year of implementing the Khanyisa reading programme, which aims to provide every child with structured time to practice reading in class to improve their reading skills. This was spread in 11 schools across Cape Town. These schools had shown an interest at the end of 2017 programme and opted in after the initial pilot, which had had 24 schools participating.
In 2018 39 Grade 2 classrooms were given a trained Reading Partner based in class and exclusively read with each child individually – paired reading, as well as undertake to read a shared story to the whole class daily. The total number of learners reached in this programme at the end of the year was 1565, 764 girls and 801 boys. The youth reading partners (unemployed matriculants between ages 19 – 25) undertook an intensive, immersive one-week training in April 2018 before starting at schools in Term Two.
Highlights of the programme:
Feedback from the initial training was very positive, Reading Partners were engaged and very willing to try all activities presented. They were positive if a little anxious.

Reading Partner participation and buy-in was very high and encouraging with most Reading Partners finding value in what they were doing; they felt they made a difference in the learners' overall reading progress

We had a relatively low attrition rate of Reading Partners, with ten Reading Partners leaving the course of the programme in the year. Having extra Reading Partners at each school proved invaluable as it allowed the programme to continue and not be disrupted when a Reading Partner left.

Grade 2 teachers who attended a meet the Reading Partner on the last day of training were very welcoming and accommodating to their respective Reading Partners

Graduation at the end of the year in November saw 42 Reading Partners receiving their completion certificate. Eight Reading Partners from this cohort have applied to Institutions of Higher Learning for a teaching degree.

Friday feedback sessions proved to be very important and beneficial for the Reading Partners, where they got the opportunity to share best practice and seek support and advice from each other and teaching specialists to help them address any issues arising during their practice.

One Family Literacy Workshop was facilitated in September and attendance was very high with over 60 parents or guardians attending. One crucial feedback from this was how parents valued having people who speak their language facilitating the programme as they were able to understand better and better participate than when conducted solely in English.

Having a training team fluent in English, isiXhosa, and Afrikaans was very important for the same reasons mentioned above. Some of the Reading Partners were not very confident expressing themselves in English but found it invaluable to be able to do so in any language they were comfortable in.
Some challenges:
Journal capturing was erratic with reading partners always having to be reminded to do so.

Corporal punishment and verbal abuse prevalence in schools affects the morale of Reading Partners (was cited in 16 journals or verbal feedback).

Learners are not reading daily in 75% of classes. With 10% of classes not reading to half of the learners daily.

17 teachers not allowing their Reading Partners to read to their learners outside of language and literacy teaching time. This means that Reading partners often have to do other work to keep themselves occupied.

Training did not cover how to support and teach learners who cannot read, with Reading Partners all citing being ill-equipped to support struggling learners. This goes the same for learners learning a new language from another country.
The way forward in 2019:
South African Council for Educators (SACE) endorsed modules to be provided to support teachers with positive discipline methods and the structure of reading in the classroom for optimal reading time.

Training for Reading Partners to include basic phonics for the three languages taught along with additional language learning strategies.

Ensure that there is a range of different levels available of paired readers to include lower and higher grades to move learners accordingly.

Be explicit with journal input, what is expected and frequency of the input.

Streamline use of Reading Partner class time to ensure maximum reading output daily.

Implement the online data capturing tool from the onset.

Regular monthly monitoring and evaluating visits are to be carried out by a team from Shine Literacy.

Use end of term assessment time as a refresher and feedback time and data analysis time for Reading Partners.

Conversation with Teachers on how to use the end of term assessments more effectively with Reading Partners.

Inventory of All reading resources available in each classroom (paired readers) as well as the Shine Box (if available) and library books.

Establish a Teacher Community of Practice group at the commencement of the programme to be able to communicate with teachers regularly and share key information /ideas.
Project Impact:
The impact for Khanyisa 2018 programme is three-pronged. Firstly, at its heart is the strong evidence that children want to read and do so if and when they have a dedicated, trained person to support them in the journey. Children responded well to having a reading partner to do paired reading with them daily and anecdotally this improved their reading skills or at the very least, improved their confidence to read independently, with someone and in a large group. Shared reading brought joy, made books come alive for both the children and Reading Partners.
Secondly, teachers found having a Reading Partner in class good support for them. They noticed that some reluctant readers were more willing to read to their reading partner and encouraged that. The teachers also acknowledged some reading partners were innovative and had a good rapport with the learners, where they even picked up some simple classroom settling strategies from them. This programme is most effective when teachers are active agents and participants in the programme, where they hold the space. This has to be a core mandate for Shine Literacy in ensuring teachers are part of the process.
Finally, the reading partners benefited immensely from this structured, intensive and rewarding experience. Reading partners started to see themselves as readers and accessed reading materials for their own pleasure. With those who are parents, they used the strategies learned in the programme to support their children's development at home, ensuring that this programme is not only for the confines of the school.