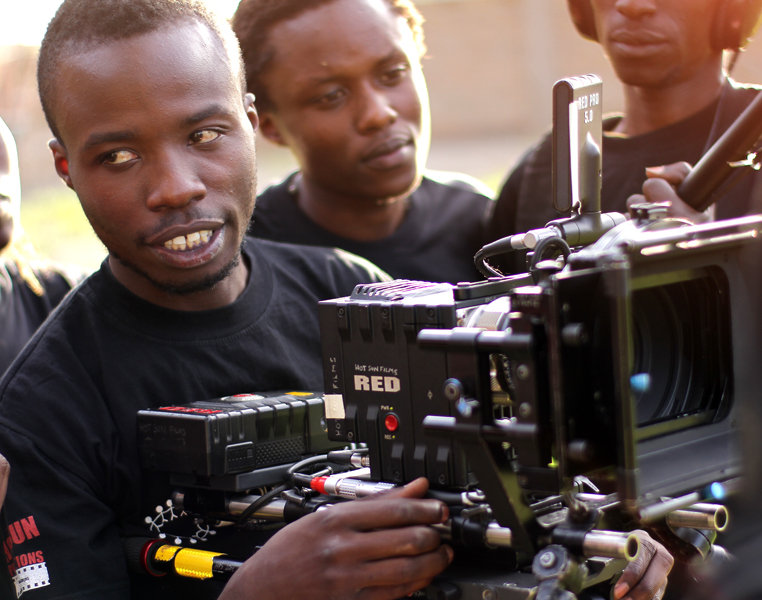 In 2009, when Hot Sun Foundation contemplated moving from a program based in Kibera, (a slum in Nairobi, Kenya), offering film screenings, short term training, workshops, special events and street theatre to providing comprehensive hands-on training in filmmaking, our first thought was to involved local professionals from film and media. Hands-on filmmaking training was seldom practiced in training institutes in East Africa. Most of the training was theoretical. We were determined to be different. Not just because we were working with youth in slums, but also because we wanted to offer quality filmmaking training that would equip youths to make films.
We invited film and media professionals to our very modest office and training centre. To our great satisfaction, many well-known professionals came to our orientation meeting and said they embraced the concept.
Yes, they embraced the concept, but putting it into practice was another issue. We called professionals from film and media to teach specific classes on specific days at specific times. Very few of them had had any past teaching experience. Very few of them had worked in urban slum settings with youth with limited formal education.
Professionals would agree to a certain class but then at the last minute could not show up. Usually because they had a paying gig. Most professionals in film and media in Kenya are self-employed and/or work on a project basis. If a project comes up, they have to take it to survive. Our filmmaking training paid a very minimum wage plus they had to travel to the urban slum plus they had to work with urban slum youth plus they had to try to familiarize themselves with our curriculum. That was asking a lot. Perhaps too much.
So what happened? Over time as we trained urban youth in filmmaking, most of whom got jobs or projects in the mainstream media in Kenya, some of the graduates of our Foundation in Filmmaking program became the core of our trainers.
We still reach out to industry professionals, but now more as mentors. Our core trainers are our graduates who are willing and able to return to teach others.
Unfortunately, this virtuous cycle may come to an end in 2014. Our major grant is ending. It costs about USD$395 per month per trainee for our four month Foundation in Filmmaking program.
With your support, we will be able to continue.
The very BEST time to donate would be Bonus Day (Wed. 15 October) when your contribution will be matched 30%.
Mark your calendars and don't forget to donate on Bonus Day Wed. 15 October.
BUT ANY TIME and ANY AMOUNT is a good time to donate.
To keep young filmmakers training urban slum youth in Kenya, donate at http://goto.gg/3632
Your support is always appreciated.
Thank you.
Links: