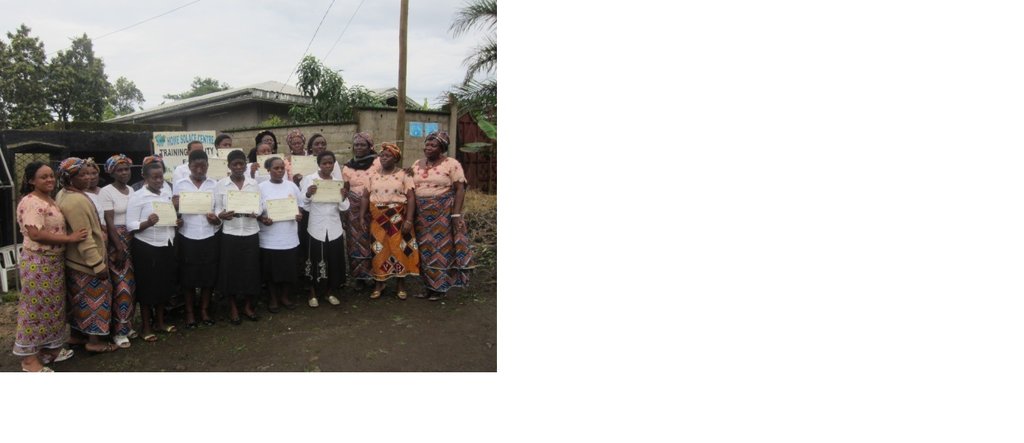 Hello dear donors,
For six months running, Reach Out Cameroon has worked relentless and tirelessly, often braving the odds amidst stormy weathers and unfriendly roads with both staff, interns, national and international volunteers and employing the services of experts, with one goal in mind; "to make an impact on the lives of 20girls" . In this our fourth report to you, we are glad and can confidently say that with your donations, we are moving towards that direction of making a better place for all.
On the 11th of October 2012, Reach Out Cameroon rounded the first phase of training with the award of attestations to 11 of the beneficiary girls who excelled and distinguished themselves throughout the training. The closing ceremony that coincided with the maiden edition of the United Nations International Day for the Girl Child focusing on giving women a chance to change the world was an opportunity for the girls to showcase to government representatives, parents, friends and well wishers that the training was worth attending.
In prelude to the closing ceremony, beneficiaries were guided by the wealth creation department to come out with group businesses that were established and will be supervised by Reach Out Cameroon. While three beneficiaries were provided capital to improve the businesses they are already carrying out in their community, the girls from Tole, 8 in number were united for a common micro project. Basing from a need assessment, an internal décor for funerals was established for the Tole beneficiaries.
Handing over the MICRO project to the beneficiaries from the Tole community, the Regional Delegate of Women empowerment and the promotion of the Family called on the girls to use the project judiciously for the benefit of themselves, their families while being examples and role models in their communities. Recruitment for the second set of trainees is currently going on.
Once again we thank you for continued support to make this project happen and we assure you that your contributions are making an impact on these girls and their families.
Please expect our next report within the next three months and if you have any questions or suggestions, do not hesitate in contacting us at esther@reachoutcameroon.org or hans@reachoutcameroon.org
We will keep you posted in our progress!
Best regards,
Esther Oman & the entire Reach Out Cameroon Team