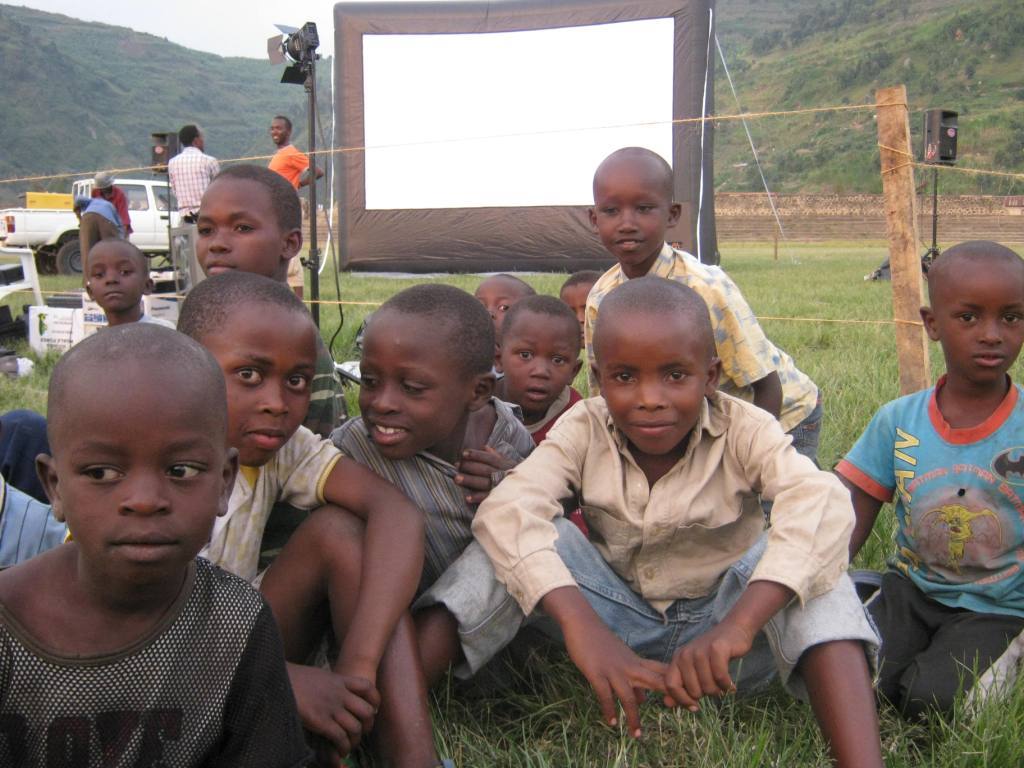 In Rwanda, Kenya, Uganda and Zambia kids who otherwise would not have experienced the first World Cup in Africa are getting the experience of education and enjoyment around large open air cinema screens…and now its all happening simultaneously…
From Kampala, Uganda:
Between World Cup matches we mobilized a massive crowd to go around Kyebando and clean up all the plastic and trash that is everywhere. We had over 150 people including students, community workers, local politicians, street kids, youth elders… everyone. We gathered 30 rice sacks of trash. Things don't always go according to plan in Africa, but this was such a success. When trying to talk to people about plastic it often feels like they don't see the big deal, but today with a united force we did an amazing amount of work to clean but even more to raise consciousness. We named the street the center is on, put in signs that say litter free zone, imagine a better future.
From Gisenyi, Rwanda:
On any given day over the last two weeks in June, hundreds and sometimes thousands of kids have gathered at Umaganda Stadium in the village of Gisenyi , Rwanda for something special. Thanks to support from UNIECF New York and One UN in Rwanda, the kids of Gisenyi have been huddled together into the chilly night watching their favorite football stars on the biggest stage, the FIFA World Cup. Before matches they are being entertained and educated be youth theatre and dance performances by Vision Jeunesse Nouvelle, a local youth community development organization. At halftime of matches informational videos, public service announcements and youth radio stories are playing to the crowds.
Tuyisenge Innocent 15, has been to every single game at the stadium. He lives in a tidy old house that belongs to his grand parents. He lives with his older sister who studies accountancy and a brother who rides a moped as a taxi. Both parents have died and Innocent dreams of becoming an electrician. He has started coming extra early to try learn how the big screen system works. He says that he will never forget the matches especially because it lasted a whole month long.
From Oyugis, Kenya:
It's incredible how much the community has taken ownership over the project. Their commitment to get the screen up and running was remarkable. From Friday morning until Saturday evening they were working hard to get the screen going. So many complicated pieces had to be placed in exact order from connecting the satellite dish and specific wires to ensuring that our DSTV subscriber had enabled our subscription from Kisumu, which is 2 hours away.
You should have seen the crowd on Saturday night. The screen was finally working just in time for the England vs. USA match. I was standing there as they were reciting the Star Spangled Banner, observing a crowd of 200 children and adults cheering from the rural village of Oyugis, Kenya. It is moments like this when you see the fruits of community-based work that make international development such an inspiring profession. Of course there are daily challenges to the project; but ones that when overcome, allow for sustainability. The community has jointly been working through the process, which has given them ownership over their work.
The mission of Kampala 2 Cape Town Kenya is: "Female Empowerment Through Football," with a vision of improving the lives of the girls in Oyugis through the post-world cup network in Africa.
From Mongu, Zambia:
We were at the school at 4.30pm to start setting up. Sports in Action guys came with balls with which they engaged the kids in play with. Both boys and girls played the ball on the same ground and it was amazing to see the crowd of kids run from one goal post to the other and back again as they chased the ball. They even had two goal keepers as there were around 50 kids playing at the same time. At 6.30 when it got dark, we started screening "Sugar" a movie with HIV messages. It was a crowd puller.
The game between Ghana and Germany started at 8.30pm and went on up to 10.15pm. The whole time the game played there was silence apart from when there were attempts on goal or when there was a goal scored. The crowd was really carried away by the game. After the game, the crowd wanted more and we had to shut down everything for them to leave. They also wanted us to go back to the same venue the next day, but we informed them that we have a program we were following and so the next day we would be in Mandanga basic school.
The place was fully packed with kids and adults, the estimated number I can say is 1200 people with 60% of them being kids. The school had informed the kids of the activity the previous day and had invited them to come with their parents. The kids arrived earlier than the adults so they had the privilege of having the front area or front "seats". Most of them sat down on the sand and you could tell they were having a great time.