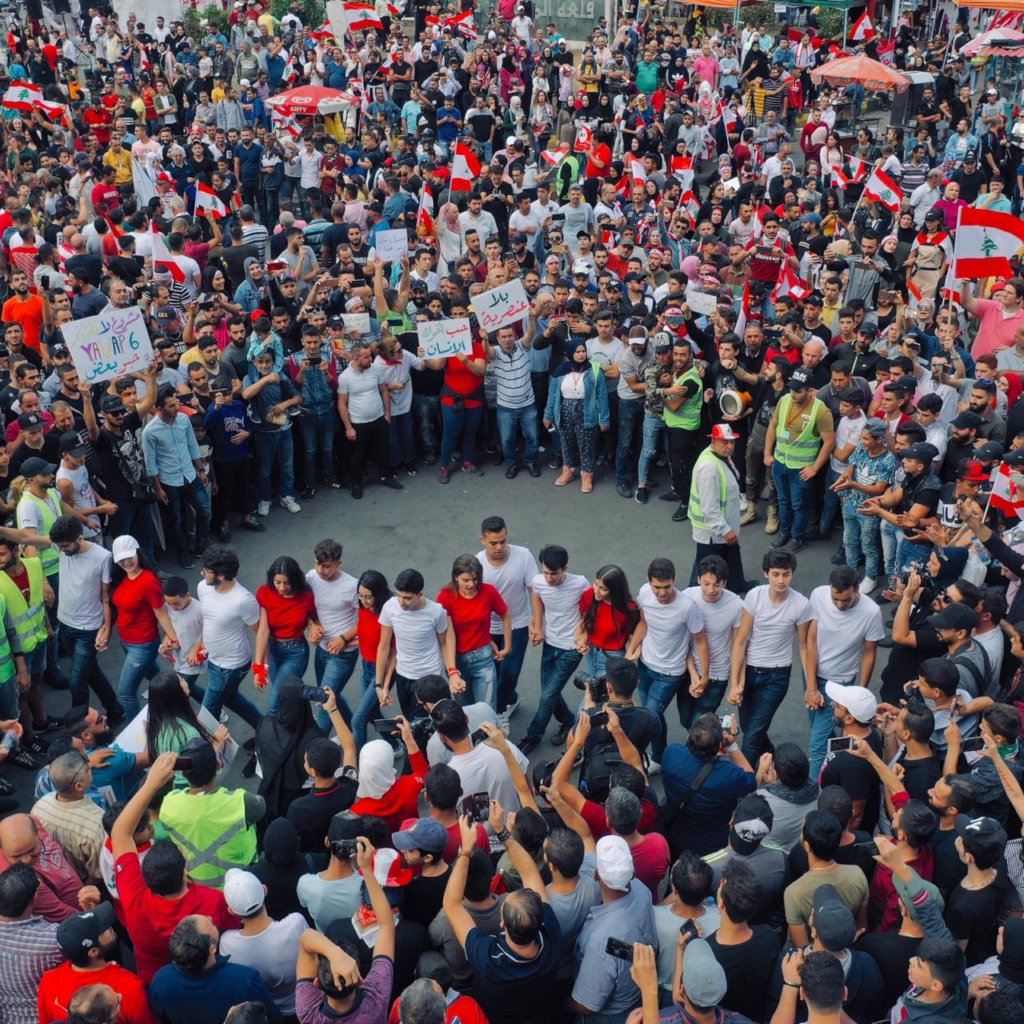 "I was alive before just because I had to, but now I live because I have a goal: I want to leave my print on the society and spread peace." (Rama)
Around 100 youth from vulnerable and violence-affected backgrounds in Tripoli have grown into Peace Ambassadors, passionate and trained to reduce violence and bring peace in their schools and communities. They have conceived and designed Peacebuilding Art Performances on topics which are part of their lives and close to their hearts:
Modern Dabke dance against widespread bullying in society and to promote friendliness and togetherness.
Theatre play and interactive discussion to raise understanding about violence and reduced life opportunities caused by early girls' marriages
Awareness raising clip, theatre play and interactive discussion to prevent school drop out, destructive behaviour and crime
Musical, interactive theater and Silent tableaus to raise awareness about different forms of violence affecting girls and women in Tripoli
Play and song to prevent use of drugs among youth leading to crime, violence and suicides
A documented social experiment and interactive discussion on violence inflicted on victims of cyber blackmailing
Education campaign on positive ways to cope with stress
Mural visuals, graffiti and interactive discussion to change attitudes related to sexual harassment
A Message of Nonviolence and Non-bullying in the midst of the Lebanon Revolution
The Youth Peace Ambassadors were ready to spread their messages across Tripoli, but the outbreak of the Revolution on October 17th changed the plan: roads were blocked, schools were closed, the demonstrations, counterdemonstrations and the general atmosphere of uncertainty increased widespread insecurity. The country came to a halt and people largely stayed at home.
Empowered from the inside, however, some youth found their way to IAHV's center, reconnected and grew bigger in numbers. As true Peace Ambassadors, they decided to spread the message of nonviolence in and around the ongoing demonstrations, to uphold human values in the protest and to support the positive image of Tripoli, a city usually associated with violence, war, poverty and extremism.
"When people hear the word Tripoli or Lebanon, oh my God, they think, terrorism. I want them to have a positive idea about Tripoli. Tripoli is really not that ugly and that bad of a place as people think. There is goodness in people." (Boussayna)
"Be the change you want to see" - "No hatred" - "Act don't react" - "I bully you bully she bullies"
Through a traditional dabkhe dance in the form of a flash mob, performed across Tripoli's scenic spots as well as marginalised neighbourhoods, the Youth Peace Ambassadors attracted lots of curiosity. Their originality has also led to widespread coverage on TV and social media, reaching thousands of viewers and listeners across Lebanon.
Caring deeply about the widespread bullying in Lebanese society and the pain it causes, these youth have taken the steps to change themselves and the responsibility to create a more peaceful and friendly world. Follow their campaign here.
Changing attitudes - Reducing Violence of Early Girls Marriage
Before the Lebanese Revolution started, a group of Peace Ambassador girls made the National News with the theatre play they had written together based on their own personal experiences as well as what they witness around them. Deeply affected by the violence caused by early girls' marriages and the negative effects for the girls (and boys), the family and society, they decided to stand up and speak out. They did so in a beautiful, artistic as well as peaceful way, in order to increase understanding about the different points of view from the parties involved in this widespread practice. Their first two performances in Beit Al Fan in Tripoli, as well as in a school in Beirut, were deeply empowering and rewarding. People in the audience were very touched, recognising the pain from their own lives, and some said the play had made them change their point of view and attitude towards early marriage.
"I always wanted to bring peace into society but I didn't know how. Now that I have found peace in myself, I know how I can spread peace in society." (Youth Peace Ambassador)
Earlier in September, a large group of Youth Peace Ambassadors had the chance to participate in IAHV's Advanced Training. This 5-day Training allowed them to release deeper trauma, dissolve unhelpful patterns, experience deeper rest, strengthen confidence, learn new team and outreach skills, internalise human values and bond together more as a community, thus strengthening their capacity to act as empowered peacebuilders in Tripoli in the future. Here are some of their reactions:
"After IAHV's courses I feel our lives are safe now."
"I was alive before just because I had to, but now I live because I have a goal: I want to leave my print on the society and spread peace." (Rama)
"The training gave me so much serenity that I never experienced before in my life. I am usually an introvert person and don't mingle with people I don't know. I felt this was totally released out of me. I was able to mingle with others, talk to them, eat with them, and joke with them very comfortably and naturally. Now I have more confidence in myself and I want to achieve more. Until I become myself the peace that will help others." (Kheiro)
"Although in this course [advanced training] I was keeping my eyes closed most of the time, I got a clearer vision for the whole world." (Salim)
"I always wondered why we are here on earth. Why Allah put us here. I always thought it's not just to eat and sleep. After doing these courses I got to know my mission was to make the world more beautiful. Also, I am going through a very difficult time in my life but I was able to cope with it." (Hiba)
"The training helped me get out of the world that I was imprisoning myself in, out of the too serious character that I was stuck in because of my fear from people and society. After I came here and met very kind people and loving trainers, the fear got reduced and I knew that this character I was playing wasn't the real me. I finally know who am I and am able to be natural." (Wassef)
"IAHV gave us a safe environment where we can safely express and improve ourselves. I wish the whole world would be part of IAHV." (Sarah)
"Until now I lived because I was forced to live. But now I live because life is beautiful."
"Before I was lost in life. IAHV is giving us a path to walk on."
"This is the first time in my life that I have the willingness to really change" (Boussayna)
"If there was a word stronger than "Thank you" I would say it. Discovering myself, the self that I love, that I have kept inside me for a long time, this is what I've achieved."
Follow this peacebuilding project in Lebanon on Facebook:
https://www.facebook.com/IAHVPeacebuildingLebanon/
WE WARMLY INVITE MUCH NEEDED DONATIONS FOR THE NEXT PHASE OF THIS PROJECT!
#IAHV #Crossarts #YouthPeaceAmbassadors #liveloveTripoli