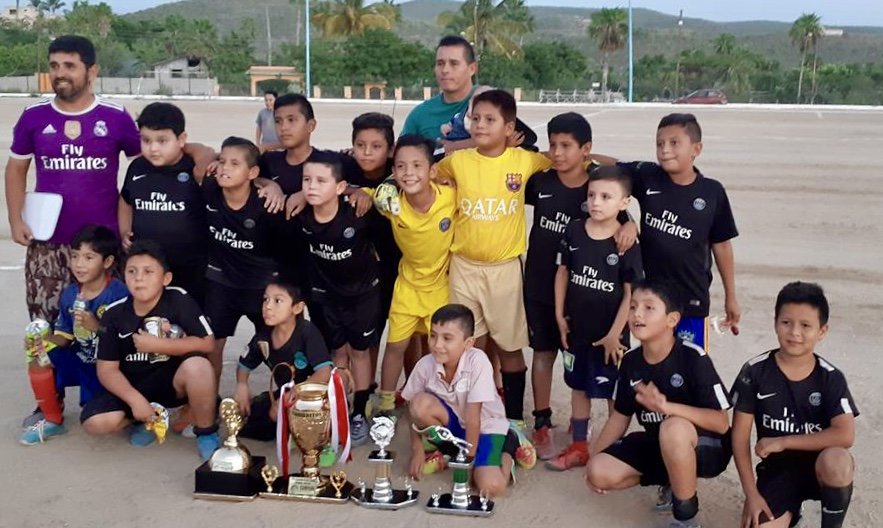 Hey Sports Fans, thanks for Joining the Todos Santos Youth Sports support team.

Baseball season is in full swing. The Novato All star team has been divided and the 13 - 14 year olds will continue as Novatos and a new team, the Dorados, has been formed for just 15 and 16 year olds. Both teams are still under the supervision of our winning Coach Hipolito "Poli" Rosas Castillo. Last year the Novatos took 5th place in the National Finals in Mazatlan. And he says that this year they expect to be in the top 3.
We have been providing funds for transportation costs and umpire funding so the teams can travel to league games throughout the southern part of the state. Also we will be purchasing replacement equipment and additional gear for the new team.
The Girls Softball League will begin their new season on March 2nd. Coach Maria Elena Lopez Sosa tells us that this year 35 girls have signed-up so a second team is being formed. This is wonderful news but that also means we will need to invest in equipment for the new team; bats, balls, catcher's protective wear, etc. Let us know if you would like to help.
Five girls from Todos Santos were selected to be part of the La Paz All Star Softball team that won first place at the state finals. And one of our girls will be on the State All Star Softball team competing nationally. Coach Maria Elena says that there has been tremendous interest in girls softball and the teams are becoming very motivated. Great accomplishments considering the Todos Santos girl's Softball was just formed two years ago. Goooo Girls!!
The winter soccer season is almost over. And what a great season it was!!! Tomorrow and Wednesday are the finals in the Todos Santos leagues and we will be there to award trophies to the winners.
This year there were 660 players, a 30% increase of last year:
8 teams (140 players) in the Infantil division; 5 - 9 years old.
10 teams (210 players) Juvenile division; 9 - 12 years old.
8 teams (150 players) in the open division; 13 - 40 years old.
6 teams (90 players) in the Veterans division; 35 - 55 years old.
4 girls teams with 70 players.
The exciting news is that the All Star Girls team competed in the state finals and one of the girls from Pescadero has been spotted by the Chivas, a national professional team who have signed her for special training.
Jan Carlo Aguiere Perez, a 14 year old athlete from Todos Santos has competed statewide and nationally. He is now part of the La Paz All Star team and has played nationally the past two years. Our Sports fund has paid his travel expenses so he could try out for the nationals. And if that is not enough Jan Carlo is also a member of the cycling team and recently took second place in the state championship.
Coach Sergio Martinez, says that, "he is very grateful for the confidence that all the supporters and funders have shown the Todos Santos Sports program and especially all the support for the soccer league. It has really helped to kick up our game a notch and develop local talent. It is especially gratifying to the kids when they see that they are getting national recognition as players."
If you would like to make a donation or become more involved in Vida y Prosperidad Todos Santos please email us at vidayprosperidadts@gmail.com or take a look at our web site or visit us on Facebook.
Thanks for all your love and support!
Links: