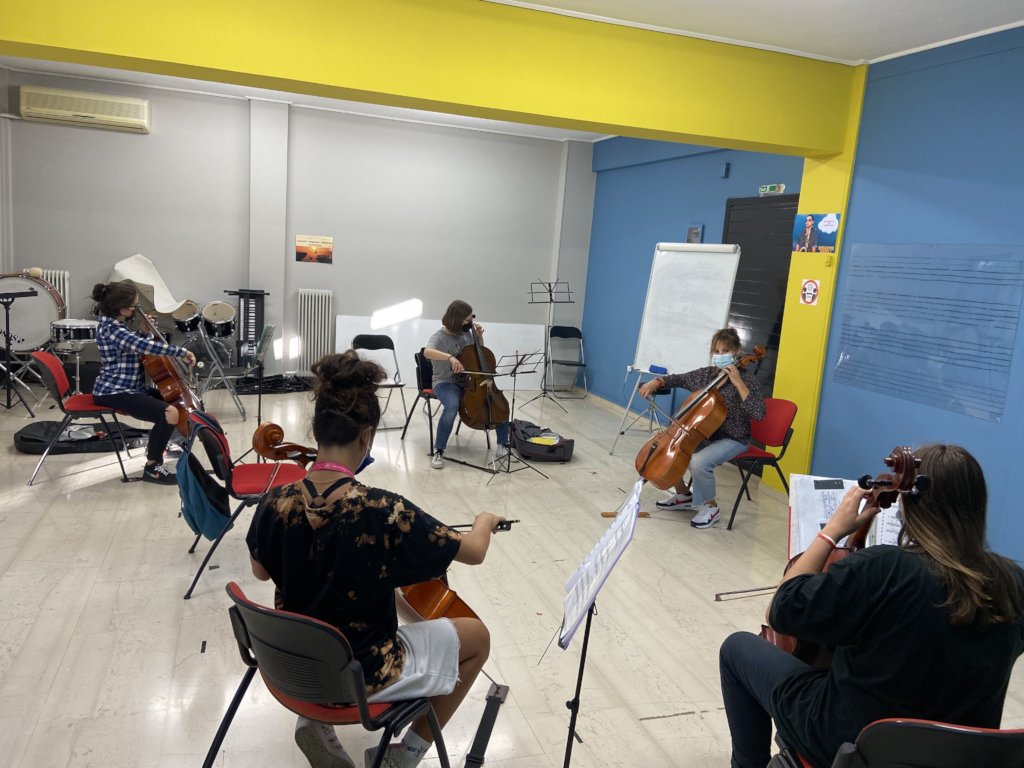 Dear Globalgivers,
The team of El Sistema Greece, greatly appreciates your commitment and your support. Our mission is to inspire children through music and your support plays a key role in achieving our goals, especially through the period of the global pandemic. Today, after COVID-19 shut down every physical activity and live music events around the world that made us find alternative ways of communication with our musicians and means to stay creative, we are finally back to our classes and on stage!
In July and after a six-month lockdown that kept us away from any physical music activity we came back on stage in the most spectacular way, as we managed to deliver World A Music, a big concert in the framework of Athens Greek Festival, with the participation of our students who performed along with some popular Greek musicians in the Odeon of Herodes Atticus. In September 2021, our main headquarters where our classes take place, re-opened their doors for our young musicians who are very excited to be back and meet their teachers and friends. Old and new students as well as their parents are thrilled to have returned to the classes and the whole ESG team is so happy to see everyone's smiling eyes (since our masks are still on!) when they are given back their instruments. During this month we also had the chance to get back on stage with a big music performance at the Greek National Opera which was a great beginning for the new music season and also filled us with excitement for the next one.
At the same time, in order to secure everyone's safety, the administration team and our teachers had to take a series of measures against COVID-19, according to the official instructions from the Government. We must now balance the educational and social needs of our students with their health and safety in the midst of the evolving COVID-19 pandemic. Apart from keeping safe distances, we have to provide them with masks, antiseptics, special equipment such as plexi-glass shield stands and bell covers for our brasses, and put in place procedures we would have never thought relevant to the practice of music, like temperature and COVID certificates checking before each class and professional disinfection in each orchestra rehearsal.
Still, online music education was even more challenging both for us and our students and we are relieved to be back in the classrooms, despite the new reality that we have to adapt to. We all missed the human interaction which is such an important part of the education process, especially when the social integration of the musicians is a key target. So no matter the challenges ahead, we are back, with big plans for the new artistic season and we are very optimistic that with hard work, a little luck and your invaluable support, this will be a super exciting year full of unforgettable music moments.
With our warmest wishes for each one of you and enormous appreciation,
Friends of El Sistema Greece team