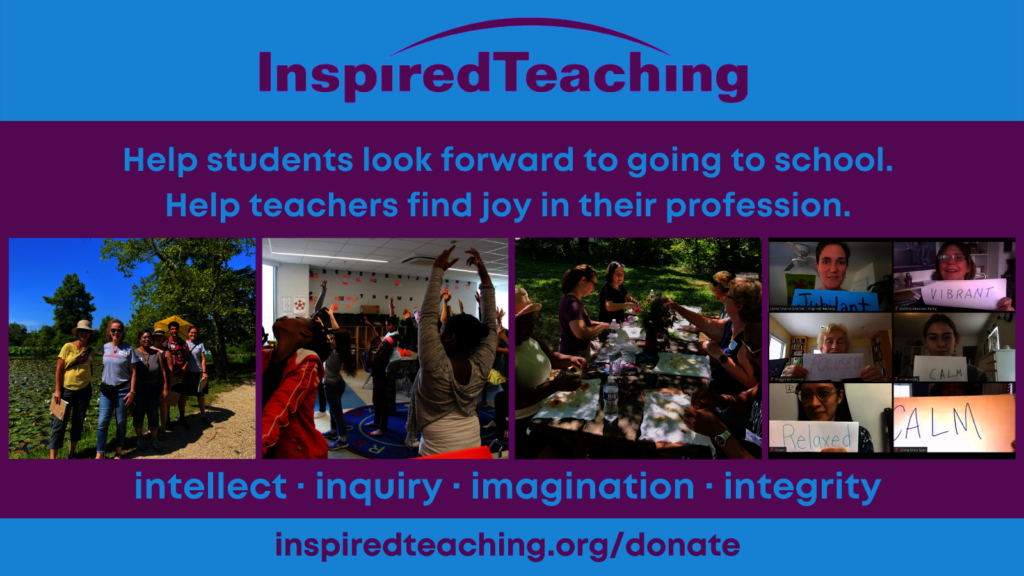 Center for Inspired Teaching works to transform the school experience for K-12 students away from compliance, and toward authentic engagement, through transformative teacher training. We envision a future in which every person is prepared to thrive in and contribute to our complex and rapidly-changing world. Thanks to your generous support, Inspired Teaching can continue our critical work - investing in teachers and providing exemplary programming for students.
Hooray for Monday – an award-winning publication
Back in August of 2020, as we were heading back to school via screens in our living rooms and basements, Inspired Teaching was marshaling our creativity and combined half a century of experience to figure out how to support teachers remotely. Hooray For Monday was the result of that radical creativity, and is now an award-winning publication. This weekly blog is filled with questions, ideas, reflections, and actions we can all take to remodel the school experience for students. Every issue tackles topics of great importance to teachers, school leaders, and parents in real time. In February 2022, we were honored that Hooray For Monday, was named a Silver Medal Winner in the inaugural Anthem Awards, a new initiative from The Webbys to honor and recognize social impact work worldwide. Since its launch, Inspired Teaching has published 80 issues, reaching over 1,000 educators, school leaders and parents every week.
Making School Worth It Toolkit – a new resource from Inspired Teaching
For the 2021-2022 school year, Inspired Teaching created a free toolkit to support teachers and parents who want to help their children thrive during this challenging school year. It is filled with resources and activities designed to bolster Intellect, Inquiry, Imagination, and Integrity and center student needs in all instructional, curricular, and social-emotional decisions.
ABCDE's of Learning – a new website from Inspired Teaching
In February 2022, Inspired Teaching launched a brand new website focused on the ABCDE's of Learner Needs. This website is a tool teachers and parents can use to tend to their own wellbeing, and also to help identify and meet the needs of their students/children. The framework is centered around powerful and effective learning experiences that meet five basic psychological needs, adapted from the work of William Glasser.
Speak Truth Teacher Guidebook – spreading our model!
Released in October 2021, this practical guidebook is filled with practices we've learned over the years for making student-led dialogue a mainstay in schools, both in classrooms and in out-of-school programming.