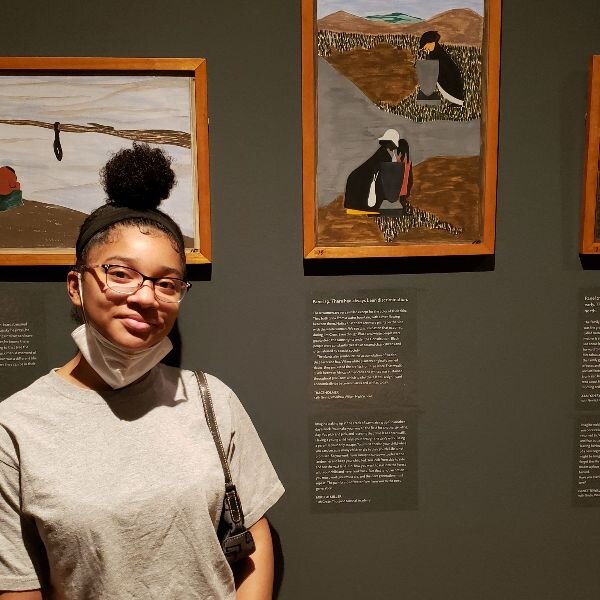 Inspired Teaching is proud to share the following update, which highlights the impact our programs are making on teachers and students across the Washington, DC region and beyond. We believe students deserve a meaningful and engaging school experience, even during a global pandemic. By investing in teachers and providing exemplary programming for students, we are making this a reality.
Professional Development Academy for Teachers
In school year 2020-21, we served 158 teachers via live, virtual, and in-person training, reaching approximately 7,590 students. We reached an additional 1500 educators via asynchronous professional learning, which we began offering in March 2020 in response to Covid.
Our live, virtual teacher training includes monthly Inspired Teaching Institutes on topics of importance to teachers and Speak Truth for Teachers, a program that enables teachers to make student-led dialogue a mainstay in their classrooms. Topics from last year included: bringing joy into the virtual classroom; embracing change; mental wellness for teachers and students; and making school worth it.
Our teaching resources, including Hooray For Monday, #Inspired2Learn, Instigator of Thought Challenge, reached 1500 school leaders and classroom teachers every week last school year. Feedback on these offerings is positive, with one DCPS Principal sending the following note: "I'm reaching out to share my appreciation for your remarkable example. I look forward to your Hooray for Monday emails and always find them inspiring and portable. They travel with me across the day and week and inform my actions."
Teacher Feedback
"I feel that I am more prepared to use new and inspiring techniques when introducing concepts in my lessons or homeroom/advisory times." - Teacher participant, August 2021
"Teaching virtually is a very isolating endeavor and having the space to think big together was really great." - Teacher participant, March 2021
"Inspired Teaching Institute is unique because it models how to put theory into practice. But it goes beyond being a model of exemplary practice-- hard enough to do in itself--to seeing participants as generators of ideas who can see their students as generators of ideas. I want to be around for that transformation!" - Teacher participant, March 2021
"This Zoom...modeled interaction and required engagement. I do appreciate the effort tremendously, and I do feel supported in being provided such methods for engagement by my administration and through examples like yours." - Teacher participant, February 2021
"Well, from the breathing exercises at the beginning to the interactions with participants in the break-out room, I felt involved and privileged to have the opportunity to be involved. I had expected to sit quietly and hear ideas. Instead, I was included, and I appreciate that effort." - Teacher participant, February 2021
Youth Programs
Real World History
The culminating work of the first semester of Real World History is an oral history project, in which each student researches, develops questions, and conducts an interview with a Washingtonian who was part of the Great Migration. These oral histories are archived at the DC Public Libraries and available to the public, enabling young people to educate us all on this important part of our city's and our nation's history. This free platform is available for anyone to access, and the interview recordings bring to life a historic movement that reshaped DC's - and much of the nation's - demographic landscape.
Real World History students partnered with the Phillips Collection for a community exhibition that ran March 6 - May 16, 2021. It focused on conversations about the legacy of the Great Migration and the universal theme of struggle in the world today. Real World History students conducted oral histories of individuals who moved from the South to Washington, DC, prior to 1970. As a part of the exhibition, Local filmmaker, Shalya Racquel, developed a short documentary film about the project. The students also wrote the museum labels that accompanied the Jacob Lawrence Migration Series panels.
"It was great to use Jacob Lawrence's Migration Series as a springboard for conversations about the legacy of the Great Migration. The students conducted powerful oral histories that captured the courage and determination of people who moved from the South to Washington, DC. The students' work was an amazing addition to our Centennial installation and brought the Great Migration to life in a way that was deeply human and personal." - Anne Taylor Brittingham, Director of Learning and Education Strategy, Phillips Collection
Students held internships at nine different sites this year, with many locations receiving multiple student-interns. Students engaged in valuable hands-on learning, enjoyed networking with industry leaders throughout the city, and made a positive impact on the important work of these national institutions. Inspired Teaching is currently surveying student internship supervisors and we are looking forward to sharing the results of those surveys in the final report. Our 20-21 students interned at the following institutions: DC History Center; Library of Congress; The President Woodrow Wilson House; Smithsonian; Center for Folklife and Cultural Heritage; Belmont-Paul Women's Equality National Monument; National Museum of the American Indian; National Museum of African-American History and Culture; Smithsonian Asian Pacific American Center; and Mount Zion Cemetery.
Speak Truth
For the entire program year, Inspired Teaching held 22 Speak Truth seminars, bringing together 263 unduplicated youth students from 28 different public, public charter, and private high schools; 865 students attended all sessions when accounting for those who joined multiple sessions throughout the year.
Based on student feedback, 91% percent of Speak Truth participants rated the program as either good or excellent, and 88% agreed or strongly agreed that they had been exposed to new ideas and perspectives through the program. When asked how Speak Truth compared to their experience at school that week, 81% of students agreed or strongly agreed that their time spent at Speak Truth was more meaningful than the learning they experienced in school. Students reported that Speak Truth encouraged them to use leadership skills including active listening and contributing new ideas, and the majority of students reported that they were able to understand another point of view as a result of participating in Speak Truth.
Student Feedback
"Everyone in the room was friendly, caring, and they all were genuinely listening. People weren't talking over each other and instead waited for their turn. If people had a quick comment they sent it quickly through the chat without interrupting anyone. Additionally people tried to build off each other and kept trying to move the conversation forward." - Student participant, May 2021
"Speak Truth helps participants develop as reflective speakers and critical listeners. At Speak Truth, you learn that the people who move a conversation forward aren't always the ones with the quickest or even the best response. In a Speak Truth discussion, you are a part of an atmosphere where you don't have to worry about saying the smartest thing you just need to be present--its an active skill." - Student participant, March 2021
"This class has allowed me to understand my capability of a lot of things I was unaware of accomplishing. I have felt better about myself because of the things this class has allowed me to be involved in." - Real World History student, January 2021
"This class has helped me identify ways to get involved in my community. Real World History has helped me realize the power of conversation and interviews. I´ve learned that I can find out more about my surroundings, history, and community by talking to others and taking the time to ask questions." - Real World History student, January 2021