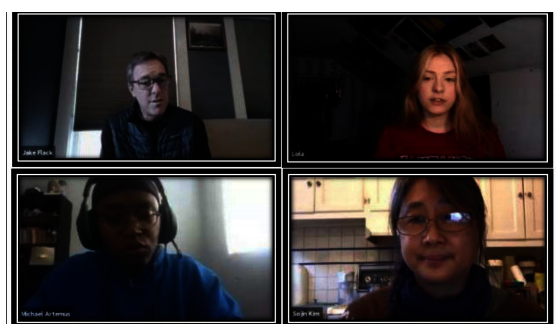 Center for Inspired Teaching envisions a future in which every person is prepared to thrive in and contribute to our complex and rapidly-changing world. We believe that such a future is possible only when all children and youth have access to an education that teaches them how to think, not what to think, and includes the opportunity to engage in real life learning opportunities both in school and in professional settings. In a world where access to information is only an internet search away, students need an education steeped in experiences that help them evaluate that information and put it into use in real-world contexts.
Real World History is the only credit-bearing course in DC that draws students from public and public charter schools. This yearlong honors-level course offers 56 in-classroom hours plus 80-100 hours of work experience in an internship setting. Students learn history through inquiry, and build the skills of a historian - including contextualization, corroboration, and sourcing - through studying the Great Migration of African Americans out of the rural south in the 20th Century. Students build skills for using a variety of primary and secondary sources, including their main text, Isabel Wilkerson's The Warmth of Other Suns. The culminating work is an oral history project, in which each student researches, develops questions, and conducts a 45-60 minute interview with a Washingtonian who was part of the Great Migration.
Each student completes an 80-100 hour internship at a notable national or local historical site or museum. Students see themselves as professionals, often for the first time. Each site provides students the opportunity to contribute to ongoing projects in meaningful ways while learning about public history, thereby gaining authentic career exploration and exposure to a field that is rarely introduced to high school students.
We have a fantastic group of high school students enrolled in Real World History this year, and five of our seniors have started their internships already. This is the first year we're doing fall internships and we are excited to partner with The President Woodrow Wilson House,The Historical Society of Washington, D.C., and The Phillips Collection to offer these learning opportunities for our students.

Anne Taylor Brittingham, Director of Learning and Education Strategy at the Phillips Collection, has met with our Real World History students four times so far this semester, "introducing them to the life and artwork of Jacob Lawrence, talking about the Great Migration, thinking about what makes a good question (as they prepare for their oral history projects), and then talking about what makes a good museum label." Our students will be writing response labels to Jacob Lawrence's Migration series. The student-created labels will be included in The Phillips Collection Centennial installation, which opens February 20, 2021.
The Phillips Collection is planning a video component that draws from the oral history projects our students conduct with Washingtonians who participated in the Great Migration. Archives of these interviews from past years are currently being transferred to the DC Public Library for open access to the public.
The onset of Covid-19 has moved all program activities to a virtual format. We have been able to do this without changing our timeline, content, impact, or outcomes. Over the course of our history we have adapted to changes with the flexibility we teach teachers to use in their classrooms. When faced with the obstacles presented by a global pandemic, we dedicated ourselves to expanding resources, not shrinking them. While Covid has pushed us to rethink some of the ways we do our work, it has also afforded us the opportunity to evolve and actively participate in ongoing changes to education. We are encouraged by the fact that the core qualities that have always defined the Inspired Teaching Approach are both relevant and even more critical in our current environment.
Links: