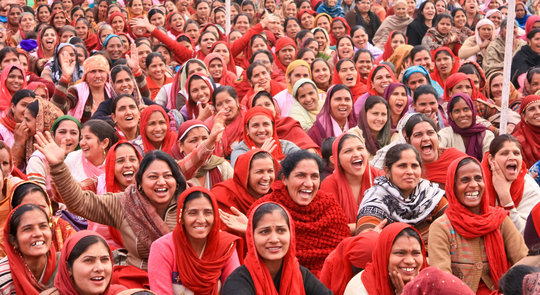 Dear friends,
"We are creative, hardworking and persistently optimistic that the world can be a better place for all" is what you can read these days in the Out of Office message of our CEO Eleanor Harrison (lucky to be spending time in Kenya also visiting some great GlobalGiving UK partner charities).
So what are the rest of the team stuck in the London office working on to justify the "creative, hardworking and persistently optimistic" statement?
We will give you just couple of examples, and you can judge if that statement stands.
Gateway Challenge: How we support new charities fundraise online
Hundreds of charities applied to join our Gateway Challenge, a fundraising competition that runs from 17th November to 23rd December. Needless to say, we spent many hours vetting their documentation and were happy to approve 43 applications from charities all around the world doing excellent work in their communities. After the vetting stage, we ran a month-long online training program to prepare the successful applicants for the challenge ahead and held a very successful workshop in London. All organisations participating in the Gateway Challenge that raise over £2000 from at least 50 donations until 23rd December will become GlobalGiving UK partners.
See them here. 25 days to go and they have already raised over £26,000. IDEALS, the organisation providing healthcare to Syrian refugees in Lebanon is currently in the lead. Breakthrough Trust, supporting girls in India, is only 4 donors away from passing the challenge. Great work!
GlobalGivingTime: How we get hundreds of students to help our charities online
Next Tuesday, on the 2nd December, we will be running a UK-wide volunteering competition with hundreds of skilled volunteers using GlobalGivingTime, our online micro-volunteering platform. GlobalGivingTime volunteers helps our project partners with those technical, skilled tasks that they need help with. Volunteers, rather than offering money, offer their expertise and make an immediate, measurable difference to the work of grassroots organisations all over the world. We can't wait to see how they interact this Tuesday, our charity partners have already posted 80 tasks they need help with!
Grassroots Leadership Programme: How students help us raise awareness of our programmes and we help them become more employable
Our student volunteering programme has just launched. Over the next year we will be working with 13 motivated and committed volunteers from universities in London, providing them with training so that they can raise awareness and funds for our great grassroots partners. In return, the students will gain employable skills like organisation, teamwork and leadership that will set them up for a job in this sector once they have finished university. We see these passionate young people as the grassroots leaders of tomorrow.
How we get great corporate partners to support our partner charities
On 4th November, Nokia held a Senior Leaders Event in Berlin at which each delegate were given a choice of three GlobalGiving UK projects which they could sponsor with a gift of €1,000. The theme was to demonstrate Nokia's commitment to technology that meets real human need. And the total sum to be gifted amounted to no less than €250,000.
Nokia approached GlobalGiving UK to suggest appropriate charities, organise a filmed presentation, and, finally, arrange the disbursements. We were given short notice and had just over two weeks in which to complete the project.
The first project selected is based in Rwanda. The objective is to promote employment through the sponsorship of young tech entrepreneurs. The goal of the second, in Ghana, is help to over 1,800 children progress to secondary school through the use of solar charged tablets and mobile libraries. Finally, in Mexico, where lack of access to the internet results in 75% of students never completing high school, the ambition is to open digital e-learning centres to connect and inspire poor communities currently excluded.
Calling on the resources of professional volunteers and with the amazing patience and speed of reaction of the charities involved, we were able successfully to deliver the required materials on time. The outcome was the projects in the individual countries gained the following percentages of the total: Mexico: 29.4%, Ghana: 45.9%, and Rwanda 24.7% of the €250,000 amount. Needless to say, the charities were thrilled with receiving this funding and we could not been happier we connected those who have the means to help to those who need help the most.
We are working on many more programmes to make sure our wonderful charity partners thrive, but we will save some stories for the next report.
Thank you very much for supporting our work.