Dear Donor,thanks for believing in us, while waiting to receive enough donations to execute a new Innovation Challenge by early 2017 (Thanks to you we will have enough funds to start up by January!), we offer you this report about the first pilot project executed this 2016, which was self-funded by us, so you understand better the concept you are getting behind.
Why is it that 90% of the girls we help want to start a hairdressing business?
Why would somebody see the neighbor selling roasted corn and go and start a roasting corn business in front of her?
Why is it that all stores have the same products?
Since I came to Cameroon I've heard those kind of questions, I've asked them, when I came as a new volunteer, and I've tried to answer them as I received others. There are economic answers to explain this, but lack of a creative environment plays a significant role.
One day we got tired of talking about it and thought about doing something, we had tried to introduce creative thinking into our trainings of basic business management; the response was first shy and gradually more participative. But we could do more, if the problem was so important; why not dedicate a project just to it?
But what could we do?
All over the world we hear about Innovation Challenges, we don't claim ownership of the concept. companies, foundations, government, they love to have a huge number of people competing to proof that not only can they do something great, they can do something different. We knew about the methodology because we ourselves, as NGO, have participated in many of them writing our projects. Why not apply that to a community? If creativity is needed at a basic level, why not focus on bringing innovation to the grassroots?
Creativity can be learned, everybody that has studied in the field agrees, and our team fervently believed in this idea. We still do. So we just had to look at what has been written about boosting creativity and translate it, literally (to Pidgin English) and figuratively (to something real, practical, useful for somebody living in an underserved community of the South-West Region of Cameroon). Luckily so much has been written about it, we did not even get to read all the materials that were sent to us by friends and supporters. We need to thank The Innovator's DNA ( http://innovatorsdna.com/ ) , from which we designed most of our materials.
What else? For a month, everybody will be able to submit their new business ideas(everybody, we helped illiterate and semiliterate people, heard their ideas and wrote them for them), and there should be a prize to the best of them. The prizes will be symbolic monetary prizes for the best 4 and then we also offered follow-up for them so they could actually execute the idea, help them access foundations and credit.
But we also knew that participating on such challenge and not winning is a wearing experience. Our commitment is with the community as a whole and we extended this follow-up concept to most participants, at the end of the project we will have a small database, opportunities come up for example for young girls (like our Keep a Girl Alive project https://www.globalgiving.org/projects/keep-a-girl-alive/ ), people in need of micro-loans or to say, people who want to start a piggery, we will use the database to connect them to those opportunities.
We picked Tole, in Buea, one of the communities we have a long time relationship with, to facilitate the mobilization process. We went to churches, community groups and we even hired the local Town Crier to go around.
So the first day of training was there, and we were hesitating. There was no food prepared, the concept was a bit abstract, we were not giving out anything but a message…people had farms to take care of…will somebody come?
109 people attended the first day of training! We really pushed the limits of the school room that had been habilitated for the workshop. The rules of the challenge were explained and short exercises to enhance creativity were conducted, the first day focused mostly on setting the mindset for the brainstorming sessions to come (no wrong answers, being open to say crazy things) and on associating ideas and different businesses. Women (79) and men (30) of all ages gave their best in group work, each group was supposed to come up with ways of mixing their different backgrounds and businesses. They responded very well, groups presented on ways to develop their businesses together, share selling spaces, market each other's products, organize in cooperatives even set up new informal microfinance systems.
So the first day was a blast, post-workshop evaluation was excellent, and people were already submitting their ideas…But will we really find disruptive innovators among them?
Read the next report!
Thank you for believing in crazy things.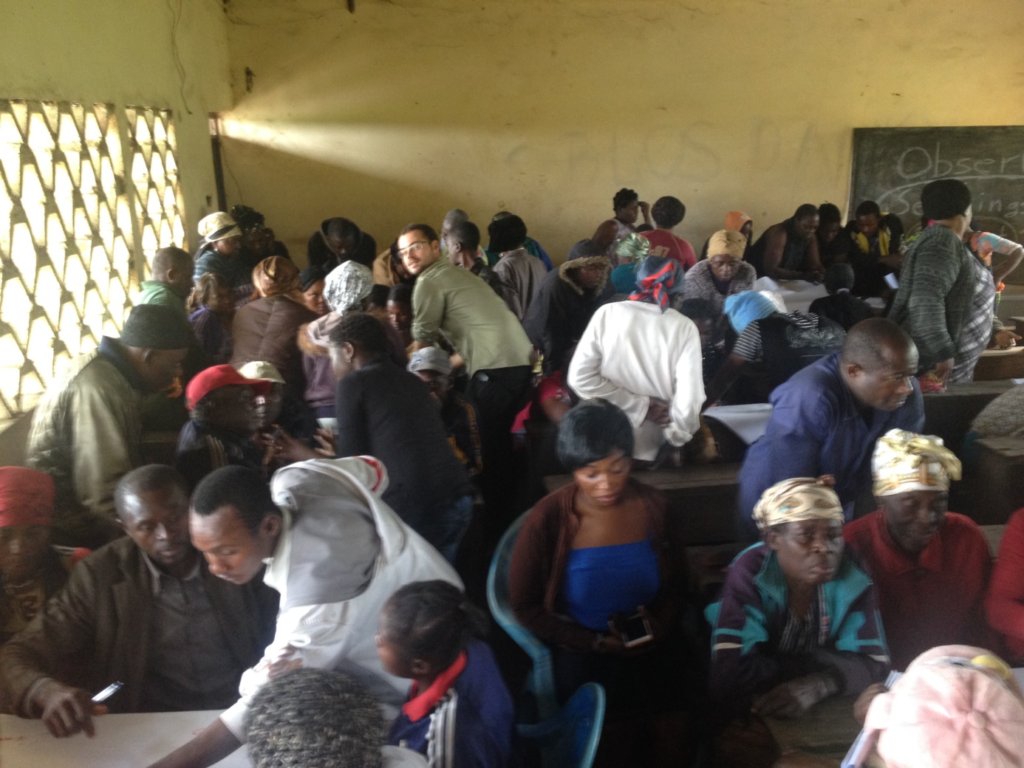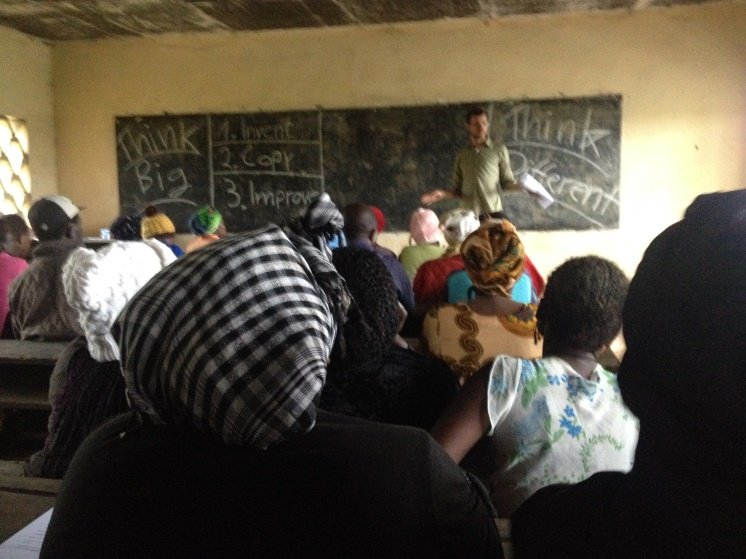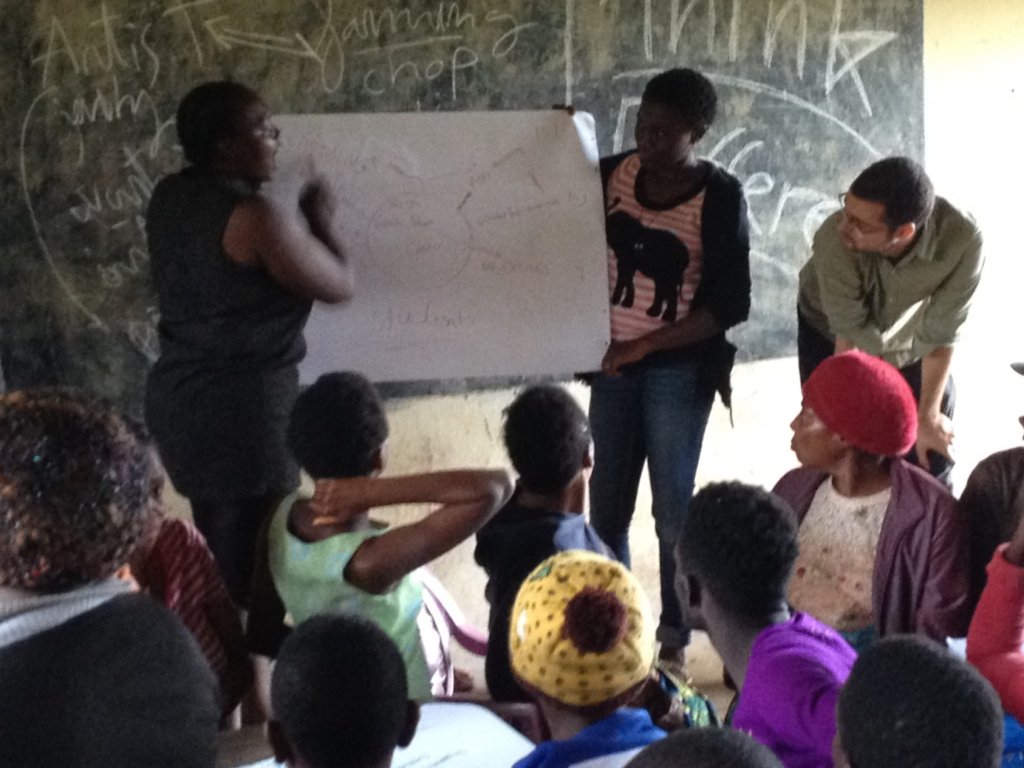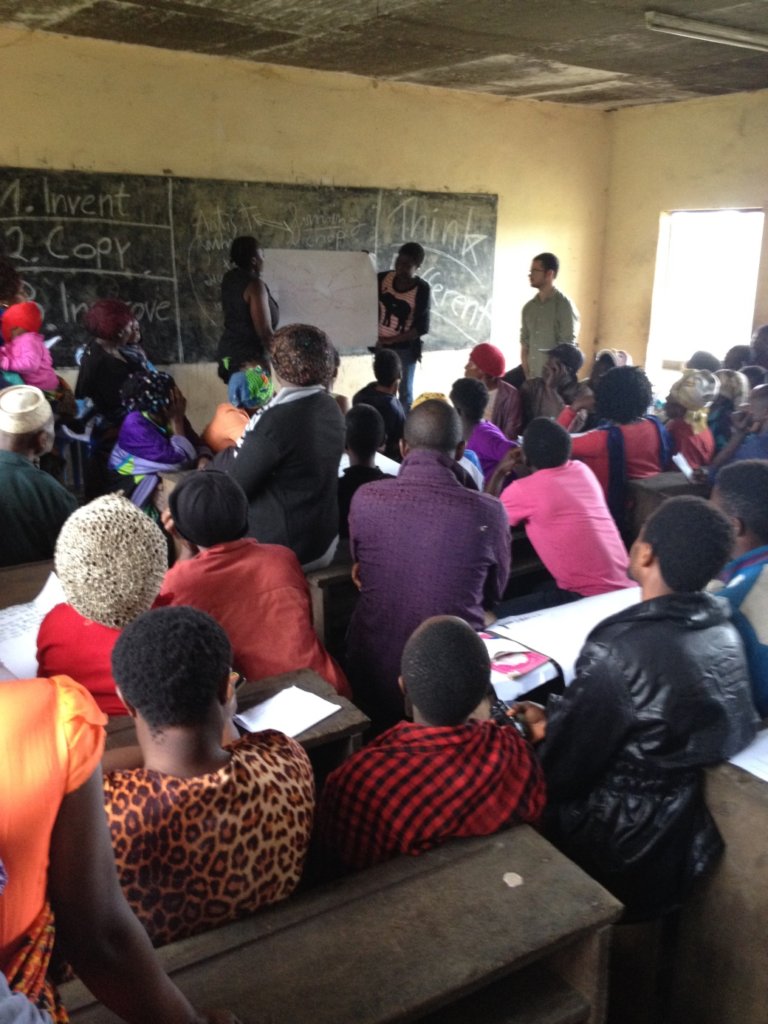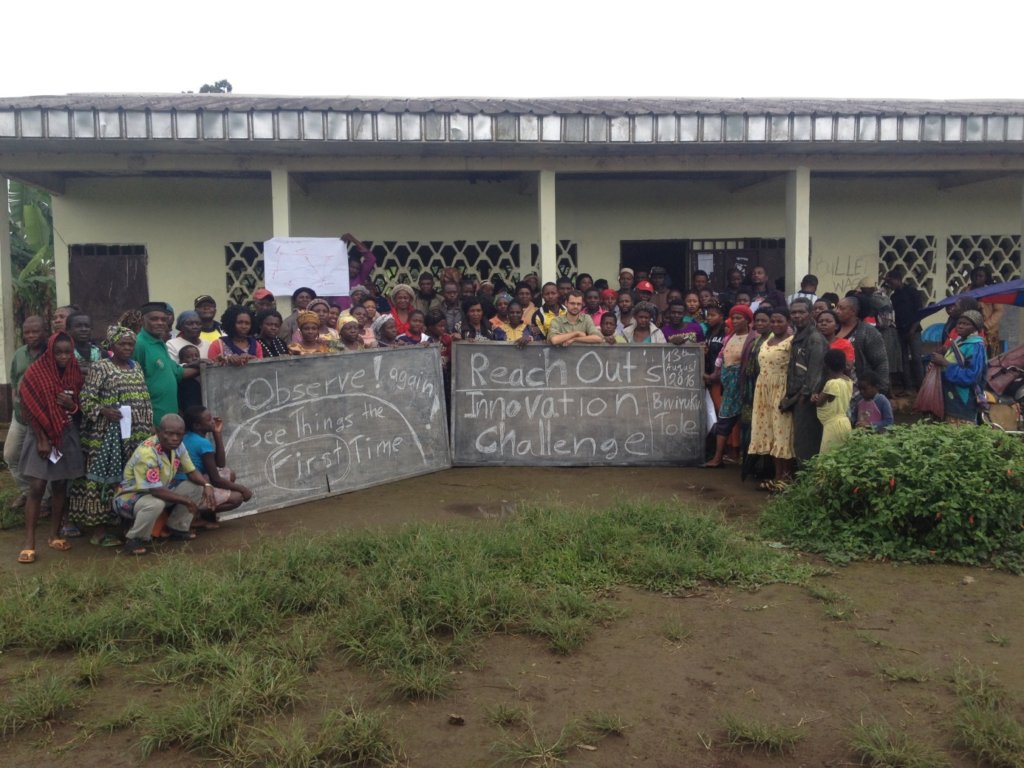 Links: