Project Report

| Aug 8, 2023
Igniting a Paradigm Shift Through Compassion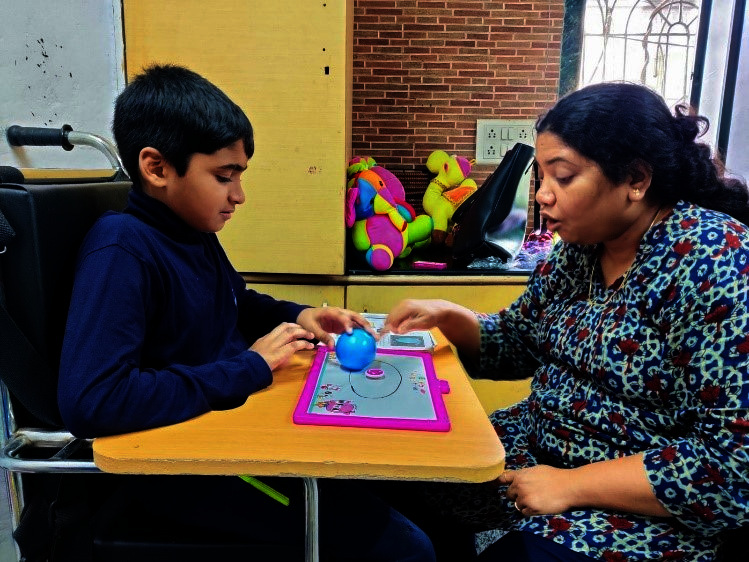 Swagat, an 11-year-old from Mumbai, has defied the odds with his incredible journey. Despite being born with cerebral palsy and low vision, he displays unwavering resilience and conquers life's challenges with grace. Swagat's story is a testament to the power of the Sahayogini Centre and the limitless potential that emerges when determined individuals receive unwavering support. Raised by a loving family, Swagat embodies kindness and fortitude as he forges his own path in the bustling city of Mumbai.

Swagat's remarkable transformation began in 2017 when he joined Sahayogini Centre's groundbreaking initiative. This intervention sparked progress, hope, and the power of community.

Through initiatives like this, lives can be changed through empathy-driven action. Swagat's journey is a reminder that individuals have inner strength waiting to be harnessed with belief and support.

Swagat's life changed when he met Sahayogini, one of our deafblind centre in Mumbai. He faced challenges with walking and writing due to limited vision. His fine motor skills needed improvement, and he lacked confidence socially. But with Sahayogini's help, a personalized approach was developed for Swagat. Swagat's education journey was centered around progress. He found support at Christ Academy, an inclusive institution that catered to his individual learning needs and fostered personal growth.
Swagat's transformation was driven by therapy sessions, including physical and occupational therapy, which boosted his growth. These sessions improved his motor skills, eye-hand coordination, and even vision. Sahayogini also provided parent training sessions to empower Swagat's parents and help them support his progress effectively.

Swagat's well-being was enhanced by focusing on his nutritional needs. Customized kits were created to meet his specific health requirements. The deafblind program by Sahayogini helped Swagat improve his communication skills and overcome barriers. His speech improved, and he became more confident in interacting with others.

Swagat's success is a result of his family's unwavering support. His mother acknowledges this and expresses gratitude for his teacher's guidance and the support from Sahayogini. Swagat envisions a future filled with opportunities and is determined to achieve academic milestones and pass his 12th-grade exam independently. With Sahayogini's support, his dreams have a vast canvas to unfold.

Swagat's journey is an inspiration for others, showing the power of inclusive education and support. His story proves that disabilities can be overcome, and dreams can thrive in a nurturing environment. Join us in creating more stories like Swagat's, making a lasting impact on individuals and communities. Your support ignites hidden potentials for a brighter future.
Attachments: