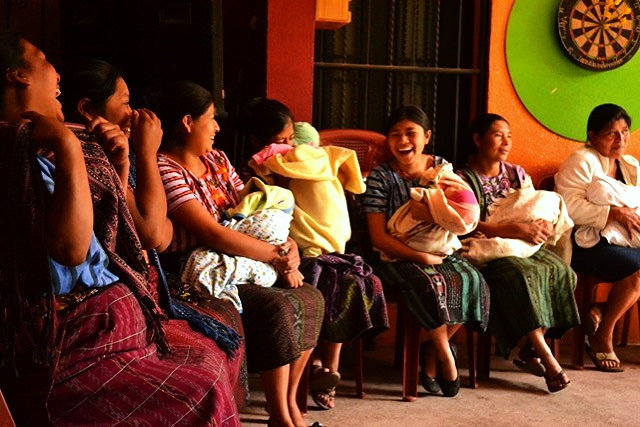 For Pueblo a Pueblo, working in maternal and child health means indigenous women have access to safe and healthy pregnancies. They also receive the education and support they need to give their children a healthy start in life.
It gives us pleasure to see newborn babies grow into healthy, active children, and young women transform into educated, empowered mothers. However, there are many challenges in our work as a third of indigenous women in Guatemala give birth before turning eighteen years old.
Teenage pregnancies cause unique risks that threaten the health of a mother and her newborn child. Such risks include lack of prenatal care, susceptibility to high blood pressure and birthing complications, premature births and low birth weights, sexually transmitted diseases, post-partum depression, and feelings of isolation and lack of social support.
As such we know how important it is to support first-time mothers and pregnant young women. So in recent months we invited twenty pregnant adolescents to join our Maternal Child Health program and two of them gave birth in early April.
Dolores, one of the new mothers, found Pueblo a Pueblo in January. She was sixteen, single and pregnant, and came from a rural community that lacked medical services. Upon enrollment in our program, Dolores received prenatal care, including multivitamins and folic acid to support the development of her unborn child, and has been very active in our monthly educational sessions.
While her pregnancy was healthy, Dolores had a complicated delivery. She spent the day before her birth in pain and at 3 a.m. she had to call the local firemen to bring her to the nearest hospital. Upon arrival the attendees told Dolores that her pregnancy was too high risk and that she would have to travel to the region's capital, more than an hour and a half away, to give birth. But Dolores could not make that journey.
Despite of the complications she had during her delivery, Dolores gave birth in the local hospital to a healthy baby boy, thanks in part to the prenatal care and medical services provided to her through our Maternal Child Health program. We know that healthy beginnings provide the needed foundation for a bright future, and are happy to help women and their families grow and thrive throughout rural Guatemala.