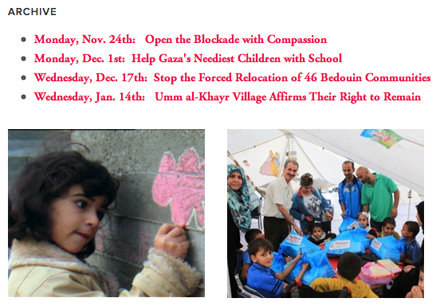 Dear Friend,
Greetings from Ramallah! Kelly Leilani Main, Rebuilding Alliance's Assistant Project Manager, and I are here with Ayat and Niveen, our team in Palestine. We came to coordinate the installation of our Birthing Center in Ein Al Beida and our Prenatal Clinic in Al Aqaba — and we're using this 6 week visit to move our projects forward.
Three weeks ago, I picked Kelly up at the Ben Gurion Airport, making it back to Ramallah just in time to attend the UN's Shelter Cluster Meeting. That's the meeting of all the international Non-Governmental Organizations who are working as best they can to provide shelter in the West Bank and in Gaza following the demolition of homes and schools. At that meeting, UN Habitat presented their report on Master Planning in Area C and cited the Palestinian Village of Al Aqaba's decision to issue its own building permits as a model for all villages in Area C.
Thanks to your support, we're seeing that a combination of (a) solid legal representation and (b) village master planning, coupled with (c) grassroots advocacy to press for (d) diplomatic engagement really works to keep Palestinian homes, schools, playgrounds, and villages standing in Al Aqaba. We've been learning a lot as we work to keep Al Aqaba Village standing -- so now we're working to expand this advocacy to other Palestinian Villages and to Gaza too.
This project, the U.S. Movement to Save Palestinian Villages, encompasses the "make them safe" part of Rebuilding Alliance's mission. It is key to all our rebuilding work and it is important that it extends far beyond Rebuilding Alliance's own projects to address the safety of all Palestinian villages and neighborhoods at risk of destruction. On this trip, Israeli author activist Amos Gvirtz took us to visit the Israeli town of Al Araqib that was demolished 81 times before our visit, and one time more, afterwards. We also joined the Villages Group to visit Um Al Kheir, south of Hebron in the West Bank. I'll write more about these visits soon, on Rebuilding Alliance's Facebook page.
Here's what Hamed Qawasmeh, area representative to UN Office of the High Commissioner for Human Right and a member of The Villages Group had to say about our Stay Human Conference Calls with Congress, "Working in coordination with Rebuilding Alliance is one of the corner stones of the community-based approach taken by Umm Al Khair to save itself from forced displacement. The community has found it very valuable to engage in the conference calls held by RA as it proved to be useful in providing the necessary pressure needed to stop the bulldozers in their tracks. The community WILL continue to engage with RA so that people worldwide will join in advocating for its own survival."
We've spent this past year ramping-up the U.S. Movement to Save Palestinian Villages by developing education and advocacy events in parallel with the development of better communications technology to advance that advocacy. This was by necessity, not by choice — the crisis of home demolitions in Area C of the West Bank and last summer's crisis of the massive bombing and destruction of Gaza's neighborhoods plus very real terror of rocket attacks and attacks on peacemakers in Israel required immediate and constant response.
We've held seven Stay Human Conference Calls with Congress — and each one generates remarkable response from Congress as well as new project opportunities. Senator Grassley is now following up on a constituent request about the village of Um Al Kheir, and so are Senators and Representatives in California, Michigan and New York. Senator Peters' staffer joined the line for the 2nd Stay Human Conference call with speakers that included a villager in Um Al Kheir and a representative of the office of the UN High Commissioner for Human Rights.
From April 3rd to May 4th, Rebuilding Alliance will be hosting Israeli Author and Activist Amos Gvirtz on his Don't Say We Did Not Know speaking tour. We're brining him to speak with some 30 peace and justice groups in Toronto, NYC, NJ, Michigan, Illinois, Indiana, San Francisco, Portland, Seattle, Olympia and Vancouver (wow).
In October, we'll be hosting the Director of the Gaza Community Mental Health Programme along with the Executive Director of the Gisha Legal Center for Freedom of Movement — both these peacemakers, Palestinian and Israeli, were on our Stay Human Conference Call with Congress last August, just a few weeks after 28 members of Dr. Yassir Abujamei's family we're killed by a missile as the broke their fast for Ramadan.
Lastly, about Technology Development, we're seeing that this very hard problem — keeping Palestinian villages standing on the other side of the world — is bringing forward a breakthrough idea that could apply to all hard problems. The law firm of KPPB.com is representing Rebuilding Alliance pro bono and has filed a preliminary patent application on our behalf. We call it "Contact Congress Countability" and we've entered the Knight News Challenge to bring our ideas forward. Please use the link below for more info.
Thank you again for all you are doing. We could not do this without you.


Sincerely,
Donna
P.S. Today Kelly and I are heading to Jerusalem to meet with Adv. Dalia Qumsieh, L.L.M, Head of the Advocacy Department at the Society of St. Yves Catholic Center for Human Rights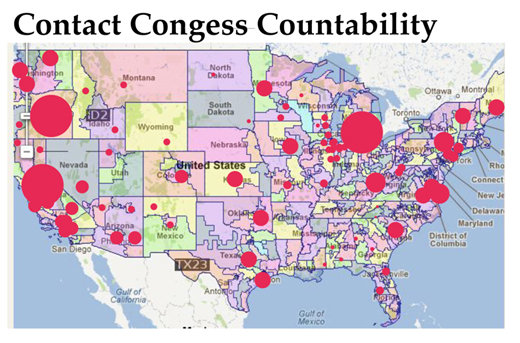 Links: