Despite the harsh economic conditions in Hungary our organization is approching another successful year helping the village of Szogliget through the difficult times. Our success is a result of the dedication of our volunteers and donors who has not stopped coming to help out. Thank you! As a result more tourists visit the village and the castle more people spend nights in the guesthouses and use the local services.
Our effort in previous years concentrated on the outer courtyard, however during an inspection last year we noticed that one of the relatively high standing walls in the inner castle did not have much time left. The wall had become so shaky that a strong wind could blow it down to the Menes valley. This wall belonged to the medieval palace and still had an easily identifiable door and a window. As the archeologists explained the door used to lead to a small room where our predecessors went in need.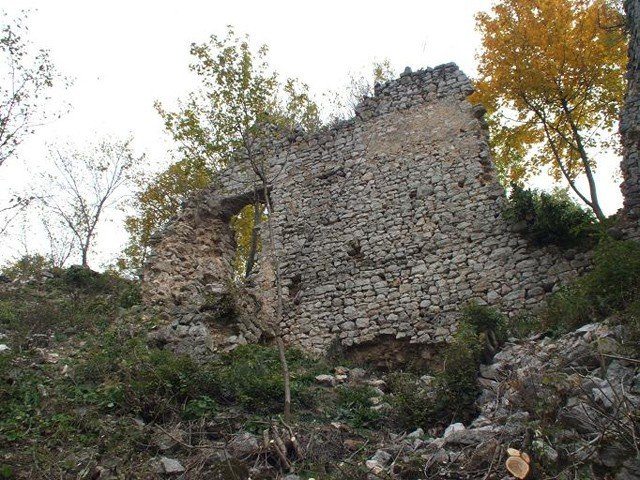 The ruined wall first had to be inspected from an archeological perspective. This work was carried out in July and unearthed several interesting findings. We found objects that people lost while taking care of their business so to speak. We also learnt that there used to be a cellar under the building and found the mostly still intact arches that used to hold the ceiling. Right under the wall the survey uncovered a large whole that could have made the whole whole collapse and this finding spurred the organization to action to speed up the conservation works. Luckily through donations and grants we had enough funds to finance the project that cost more than 6 million forints.
The restoration effort took a few weeks and we could not be more proud of the results. The whole under the whole was filled the old door leading to the toalette got a new frame and the whole section is now sure to withstand the weather for another couple centuries.
In 2012 we are concluding another successful year. We managed to hold another great excavation summer camp where kids and adults alike had a great time and learnt a lot about the castle, history and each other. In addition we saved another piece of history for the future generations of visitors. This is the 5th part of the medival fortress (in bold below) that has been preserved to date. We will not stop here and continue raising the bar and raising more funds to preserve our national heritage and to provide an unparalleled cultural experience for our members.
Links: