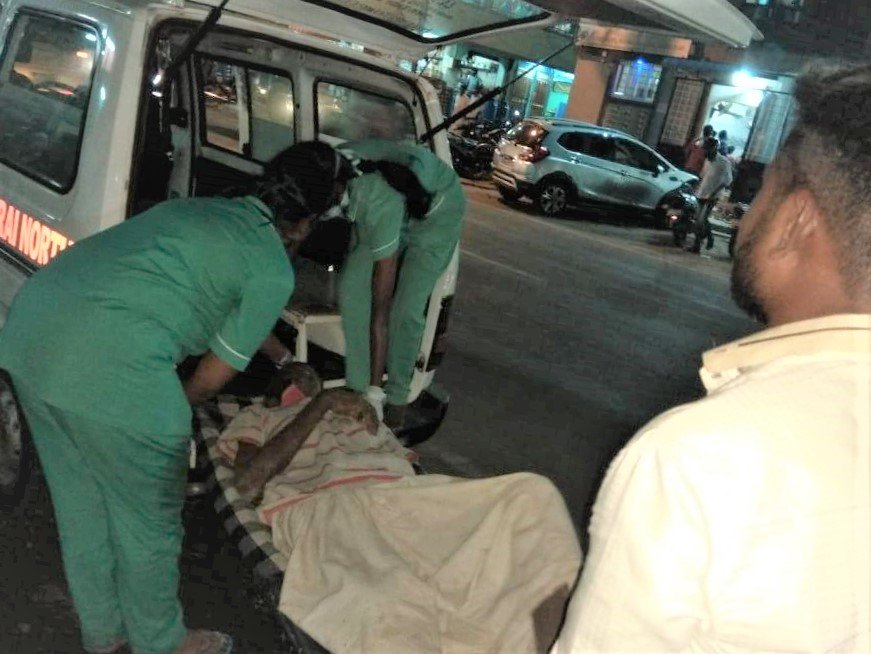 Nethravathi Project Report – 0/720/2019
More new adult patients have been added. Thanks to Your donations.
Again, we would like to take this opportunity to thank everyone of our donors for their generosity and kindness which paved the way for Nethravathi Pain and Palliative care center to have additional patients and include a program for children.
In July, 2019, Aishwaryam Trust staff found a 76 year old male, Mr. Ramasamy, abandoned on the roadside near Arappalayam, Madurai. During rescue he was at the risk of severe dehydration, hence was admitted in NETHRAVATHI PAIN AND PALLIATIVE CARE CENTRE for further evaluation and treatment. He was given councelling along with continuous medical support to make him physically and mentally fit. He is now being treated by doctors.
Rescue operation photos of Mr. Ramasamy by Aishwaryam trust staff are attached.
In June, 2019, another female patient, Mrs. Devaki was found abandoned and rescued by Aishwaryam Trust. During rescue She was semi-conscious and at the risk of severe dehydration, hence was admitted in NETHRAVATHI PAIN AND PALLIATIVE CARE CENTRE for further evaluation and treatment. She was given continuous medical supprot to make her physically and mentally fit. The good news is her address was traced back and now she has been united with her family.
We will be remiss if we fail to acknowledge the strength and confidence your donation has brought into Nethravathi Pain and Palliative care center. The center is now able to expand its services to children in need of help. The center is planning to build another center for the children. The same donors who donated the land to start the center have donated another piece of for the childrens center to be constructed.
As the community gets to know the value this center has added to the society, the demand for care is increasing. The patients' quality of life has increased and some of them limp back to normaly after a period of treatment and care. The center is pleased when the patients are able to walk out with confidence, filled with desire and cheerful mood to lead a normal life.
Your might recall the recent addition of a commercial grade washing machine to provide clean linens and clothes to these patients. Undoubtedly the installation of the washing machine, has increased the availability of clean clothes, beddings etc., to all patients. Staff is able to attend to the patients and spend quality time with them.
Similarly the oxygen conduits, recently provisioned for each patient next to their bed, oxygen delivered from a central repository, helps the staff to help a patient in need of oxygen without delay.
Dr. Balaguru, the chief doctor, said, "We are extremely grateful and delighted to see how Globalgiving donors have helped us to enhance the services and care provided to our patients. Regular donations from Globalgiving donors will enable our center to sustain existing services and extend to under privileged children in this area".