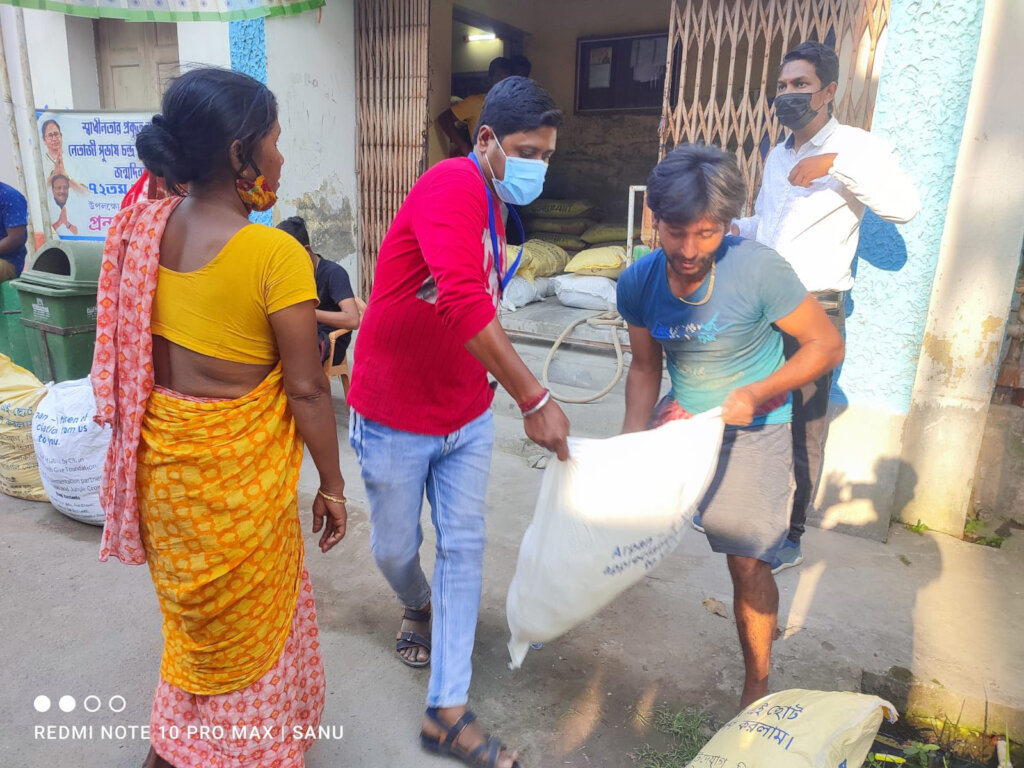 Calcutta Rescue has finally completed a massive food distribution programme
Project Arpan, a Citibank social initiative in collaboration with Give India, was formulated to address the issue of food insecurity across communities in the country. Calcutta Rescue, in association with GiveIndia's implementing partner, enabled the provision of 3750 tonnes of dry food rations to 75,000 households from low-income communities in Kolkata. This has benefitted over 300,000 individuals residing in 50 of the city's most impoverished locations.
Students celebrate the best-ever exam results!
College awaits for all 16 students of CR who took and passed their higher secondary school exams recently - 10 of them in the first division. These are the best results ever, on top of which 24 out of 25 students passed their year 10 exams. That is an extraordinary achievement, given the challenging backgrounds of CR students and the fact that schools in West Bengal were closed for most of the past year because of the pandemic. Unlike at most schools, CR's teachers worked very hard to provide online lessons and coaching via the students' smartphones.
CR education head said her teachers had also gained a lot of skills and confidence from the first six months of a two-year teacher-training programme organised by UK charity the Helga Todd Foundation. The number of students staying in school to take the higher secondary exams has tripled in the past four years, partly thanks to extra support provided to students and parents by CR's new school social work team.
Little Monira has beaten malnourishment with help of Calcutta Rescue
Monira has come a long way since she was brought to Tala Park Clinic severely malnourished in the arms of her mother. Monira was five months old and had anaemia (lack of haemoglobin in the body) which was also stunting her growth. "Monira's mother couldn't nurse the baby due to lack of breast milk. The family is very poor so they can't afford baby food either" said Sheila, the head of the Calcutta Rescue's Mother and Child.
Monira is the youngest child in a family of six, her parents and grandparents and one older sibling. Her father is the only one earning money and not very much. "My husband has psychological problems. Most of the days in the month he can't work" said Monira's mother, "When he is able to work, he earns hardly 100 rupees a day." Monira was also suffering from heart problems which made her health even worse. The baby was immediately admitted to our Mother and Child health programme. She was given baby formula food, cardiac medicines, and vitamins, and was carefully monitored by the CR team who also taught her mother how to make less expensive yet nutritious meals for Monira.
After two years of treatment, Monira has finally reached a normal weight but continues to receive iron therapy to treat her anaemia. Monira's mother is very happy to see her daughter laughing and playing around. "When she was born she was so weak I used to think she could never sit on her own but she is so active now. I am ever thankful to Calcutta Rescue for treating my daughter."
Mrinmoy has beaten TB with CR's help, twice
"I suffered not once, but twice from TB. At one point I lost all hope", said Mrinmoy. Mrinmoy Hazra was first diagnosed with the disease, responsible for 10% of all deaths in India, in 2015. At that time he was working as a press photographer earning around 10,000 rupees per month. But after the TB diagnosis his health deteriorated and he had to stop work. Mrinmoy came to Calcutta Rescue in 2015 when he could not afford the medicines. The CR team at Urban DOTS cared for him and the following year he was cured. But his happiness did not last very long when his symptoms returned in 2017. This time his TB was more dangerous because the usual medicines failed to cure him. "I was heartbroken. I thought I was cured. But just in a matter of a year I fell sick with the same disease again," Mrinmoy said.
Mrinmoy lives with his wife and two kids. All of them were dependent on him. "My kids were in school and I wasn't financially able to help them with their studies." With no monetary help from anyone, Mrinmoy's wife started tutoring neighbouring children for a little income. "I had lost all hope and was ready to die. I stopped going to doctors and taking medicines" said Mrinmoy. But his family motivated him to restart treatment at Calcutta Rescue which provided him with regular motivation and counselling as well as the powerful drugs necessary to beat drug-resistant TB. It has been a long road but by the end of last year, Mrinmoy was completely cured. "I thank Calcutta Rescue for continuously staying by my side during these tumultuous years. They gave me mental strength and helped me take medicine. Thanks to them I am now cured. Now I want to start work again and take care of my family."