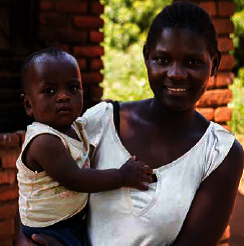 On Monday, September 23rd, United Nations (UN) officials invited leading advocates for Universal Health Coverage (UHC) to a high-level meeting to discuss the best path forward for achieving UHC by 2030, as laid out in the priorities at the 2015 UN General Assembly.
mothers2mothers participated in the proceedings, not only because the conversation around UHC is directly connected to our ultimate goal of ending AIDS, but also because we know that our Mentor Mother Model provides a proven framework for successfully establishing a set of interventions aimed at achieving UHC that others int he public health space can look to for guidance. Femia, one of our Mentor Mothers in Malawi, is a great example of someone whose life was dramatically altered by the intervention of a Mentor Mother.
Femia discovered that she was living with HIV when she was three months pregnant. At that point, she was introduced to a Mentor Mother, and her health journey--and life journey--took a fortunate turn. The peer-to-peer Mentor Mother Model that m2m employes was the intervention that Femia needed. Witht he help of the Mentor Mother, she gained access to care that ensured her ongoing good health before and after the birth of her child who was born HIV-free, thanks to the medical care she received.
Since 2015, key stakeholders in the discussion around achieving UHC have identified indicators like social and economic empowerment of community health workers as being critical for enabling UHC to take hold globally. At the 2019 World Health Assembly, the Director-General of the WHO indirectly endorsed m2m's Mentor Mother Model, in calling for the need to expand the worldwide number of paid community health workers "to create qualified employment opportunities, in particular for women and youth, thus contributing to job creation, economic development and gender equality." World leaders know that achieving UHC will require a holistic approach that addresses all determinants of health in a meaningful way. And that's exactly what m2m's Mentor Mother Model does.
By employing mothers living with HIV, m2m uses the Mentor Mother Model to elevate a traditionally disempowered population to the status of community leaders and resource providers. That elevation presents a platform for social and economic empowerment opportunities; consequently, those opportunities create the infrastructure for initiating positive health outcomes among the most marginalized and hard-to-reach communities that the global UHC initiative is hoping to reach. Beyond financially compensating our Mentor Mothers, the Mentor Mother Model also creates an organic buy-in from, both, the Mentor Mother and the client because they have a shared lived experience, which increases the retention rates of our clients and establishes a self-sustaining pipeline of future Mentor Mothers.
Femia's experience with m2m during and after her pregnancy inspired her to become a Mentor Mother herself, because she wanted to emulate the work of the woman who helped her. She's a great example of the multiplication effect of our model: each Mentor Mother touches the lives of hundreds—even thousands—of clients, and then a percentage of those clients become Mentor Mothers and go on to reach hundreds and thousands of others who, like Femia, may not have access to the care they need without the help of a Mentor Mother. Since our founding, m2m has hired over 10,000 mothers living with HIV, making us the largest intentional employer of women living with HIV in the world.
Those 10,000+ Mentor Mothers have made enormous strides in their communities in an effort to combat the stigma attached to HIV/AIDS and to eliminate social barriers that living with HIV/AIDS can have for a person in these communities. In addition to their work of destigmatizing HIV/AIDS, our Mentor Mothers have effectively eliminated the transmission of HIV from mother-to-child among our clients each of the last five years, with just a 1.3% transmission rate in 2018. Our data show, unequivocally, that our model works, and that's why we were a part of the ongoing conversation at this year's UNGA around successfully achieving UHC by 2030.
UNICEF, UNAIDS, and others have held up m2m's Mentor Mother Model as best practice because they understand that women like Femia are an essential variable in the equation to solve gaps in health coverage throughout the world. Femia is now a Mentor Mother for m2m, providing the essential interventions for her peers in the same way that a Mentor Mother did for her during her first pregnancy. We'll keep telling her story and the stories of other Mentor Mothers in hopes of continuing to shape the high-level discussions—like the one that took place at the UNGA on Monday—around successfully achieving UHC by 2030.