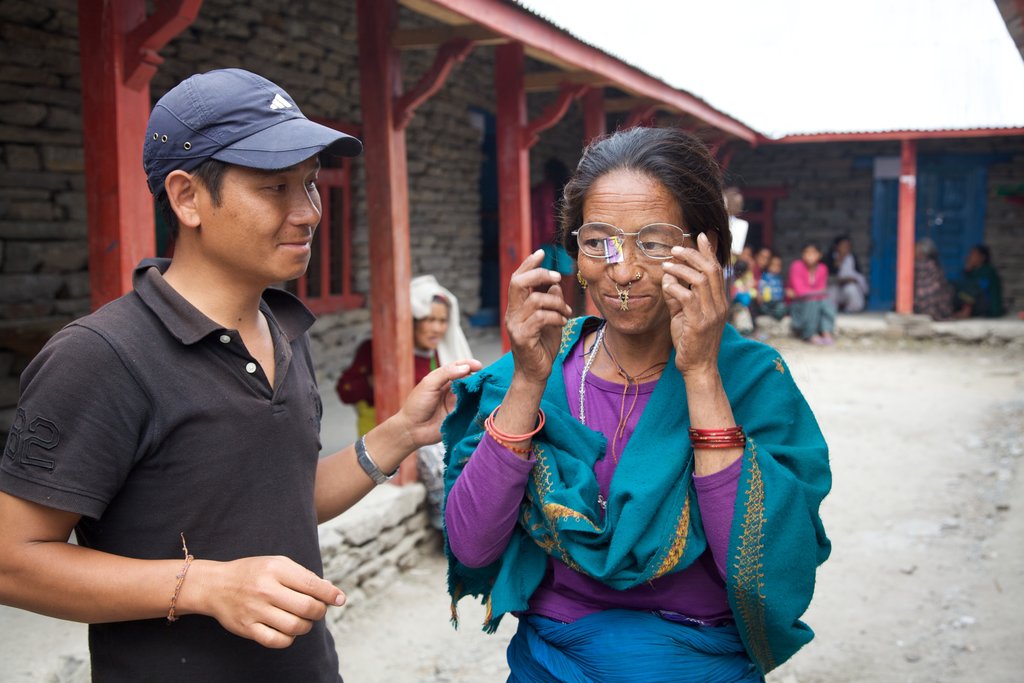 Himalayan HealthCare Update: Spring 2013
In late March/ early April Himalayan HealthCare completed its latest medical trek with its largest group ever. Comprised of 17 volunteer healthcare providers and a total of 112 people (comprising Nepalese medical staff and porters), the group successfully traversed high mountain passes of the Ganesh Himal region - including Phangsang Pass at over 13,500 feet - to reach remote villages. The group held medical clinics and helped over 800 patients in the villages of Sherthung and Lapa, including some who had walked at least a day to get to the camp from villages like Tipling and Jharlang. Several patients, mostly infants and children, were given life-saving treatments, and at least 70 people were referred to larger hospitals for further care of ailments such as heart problems, cataracts, and trauma to bones and other body parts. One patient, a child who needed an immediate operation for an inguinal hernia, was helicoptered, with funds from HHC, to Kathmandu and is now doing well after his surgery. Over 60 patients received eyeglasses for the first time due to eye assessments carried out by our healthcare volunteers.
"What is most striking is the subsistence level of the locals," said Prabhjot Uppal, MD, an HHC medical trekker from the Fall 2012 trek to the same villages. "Toddlers without shoes; their feet hardened and swollen from exposure. Grandfathers with years of physical labor deeply creased into their faces and buried beneath layers of hand-woven cloth. Young mothers wrought with worry over their newborns with runny noses and the pressures to provide. Every morning the lines of locals were long outside the clinics; a testament not only to the tremendous need for primary care but the respect and reliance on the services provided by Himalayan HealthCare over the decades. Many families traveled for days over long and treacherous trails just to be seen, often carrying their unwell loved ones strapped to their backs. Not a day passed that I did not realize the full weight of my responsibility and requisite."
In addition to the medical services provided during the spring trek, a groups of HHC Board members also supported efforts to monitor and improve toilets and stoves in the villages. Further, this team visited a Lapa School to assess the improvements accomplished through HHC funding, such as providing school furniture, and the construction of a computer room for use by grades 8, 9, and 10. The Tipling village school committee also finalized an agreement with HHC for funding the expansion of the school through purchasing additional land. The school committee and village chiefs in Khading, a more remote region of Lapa, also met with the team to discuss an expansion of the women's program with the hopes of supporting a future school in the area.
In mid-March, HHC hosted four final-year business students from MIT's Sloan School of Management who are assessing the challenges and opportunities of HHC's Ilam hospital as part of their course work. The US volunteers visited the hospital in far eastern Nepal and conducted local interviews. After two weeks in the country, the students reported that HHC's hospital had "won the hearts of many in Ilam" and provides area villagers with hope for more healthcare services in the future. Their recommendations are forthcoming on how to move the hospital towards greater sustainability that will enable HHC to do even more for the underserved region.
HHC is very grateful for all the support we have received from our GlobalGiving donors. Many thanks for helping the people of Nepal and we hope you will remain engaged with our progress.
Himalayan HealthCare (HCC) provides health, education, and income-generating programs to over 265,000 individuals in rural Nepal. By training local leaders and supporting community programs, HHC positively impacts the long-term sustainable development needs of Nepali villages that are often only accessible by foot. Himalayan HealthCare's programs have helped these hard-to-reach villages for the past 20 years.