Dear friends,
The report that follows was submitted to GlobalGiving during the week prior to the magnitude 7.8 earthquake that has since devastated Nepal. In light of the sobering news from the villages we serve, this account of our Spring 2015 Medical Trek now seems out of a distant past. The Timla student dormitory that we inaugurated just weeks ago has been leveled along with countless homes, schools and health clinics. The fate of the hundreds of villagers who proudly attended the inaugural ceremony as well as the patients we served in Lapa and Jharlang remains unknown.
Himalayan HealthCare's on-the-ground staff has been working tirelessly to provide food, clean water, shelter, medical supplies and emergency care to the more than 35,000 villagers we serve. Our updates on these efforts are available on our website and will be posted to our GlobalGiving Earthquake Relief Fund.
In the meantime, we invite you to read the following report with the knowledge that our effort to rebuild these remote communities has already begun and that Himalayan HealthCare will continue to serve as a source of hope to the people of Dhading.
We thank you for your support.
Christina Madden
US Director, Himalayan HealthCare
Thank you to all of our generous donors who continue to support Himalayan Healthcare's health, education and income generation projects in Nepal! We've just concluded our Spring 2015 Medical Trek through the villages of Dhading with 19 volunteers from the United States and Canada. Roughly half the volunteers had trekked with us before, with a handful joining us for the third time.
We are enormously grateful for the genorosity of these volunteers who took time away from their jobs and families back home to provide valuable training opportunities to our local health staff and to help them treat 758 patients during two medical camps in the villages of Lapa and Jharlang.
Patients came to the HHC camps with a wide range of ailments, including respiratory infections, serious burns, vision problems and more.
Among these patients include one who came to us complaining of abdominal pains. Although it was not possible to come to a conclusive diagnosis at the Jharlang camp, HHC volunteers and local staff took precautionary measures for the patient to be taken to Kathmandu where she ultimately received a life-saving appendectomy the next morning. We were pleased to hear that the patient has made a speedy recovery and had already arrived back in Dhading by the time of our departure to Kathmandu. Our sincere thanks go out to the volunteers and staff whose good judgement and quick thinking helped to save this patient's life.
Another young woman came to us with debilitating seizures occuring up to 9 times per day, interfering with her studies and other activities. HHC staff and volunteers spent two days with the patient, speaking with her and her family and evaluating the extent of her disorder and its impact on her day-to-day life. After these discussions, the patient accompanied HHC to Kathmandu where she is undergoing further evaluation. We are hopeful that we will be able to bring her seizures under control so that we can put her through school and help her to live a more full life.
After the two medical camps, our team of 19 volunteers and more than 100 staff made its way to Timla where we inaugurated a 40-bed dormitory for school students in the area. The students who will be living in the dorm come from the remote corners of northern Dhading and previously had to walk two hours everyday to and from school, sleep out in the rain and cold away from their families, and cook, live and study on their own. It is our hope that, with the completion of this dormitory project, these children will have a clean, happy place to study and live together.
Although our initial appeal for the Timla dormitory was for $15,000, with your help, we raised more than $50,000 for the project from 130 individuals. Your genorosity has allowed us to not only build the hostel but to also put in lights, water supply, beds, tables and chairs for the children. It has also allowed us to invest in additional education and income-generation projects.
These include:
The Lasang Karpo Primary School, in the village of Tipling, which has 68 students. HHC will invest $2,500 for water supply (as they currently have no water), desks and benches for the students and wooden planks for the classroom floors to keep the children warm during the cold months. (Water supply: $1,000, furniture and wooden floor: $1,500)
The Saat Kanya Pre-primary and Primary School in remote Lapchet, a corner of Lapa village, with 115 students. We will invest $7

,

500 to help build a classroom for the playgroup, furnish it, provide drinking water supply and build additional toilets for the students. (Building and furnishing play group classroom: $6,500, drinking water and two toilets: $1,000)
A Model Farm and Nursery will be established with the purchase of roughly half an acre of land for $13,000. Farmers here will have access to seeds and seedlings, plants, fruit and other types of trees, fertilizer, technology and other farming materials. A small center for farmer training and workshops will eventually be created on this property by HHC. This project will help over 10,000 farmers for decades to come. (Half-acre of land: $13,000)
In addition to the health professionals on our Spring 2015 medical trek, we were accompanied by a Nepalese social architect and a Canadian engineer who surveyed and assessed a variety of sites and who are continuing to assist HHC in developing a Master Plan for the construction and renovation of additional schools in Dhading's villages.

We thank you again for your continued support in helping to improve the lives of the people of Nepal.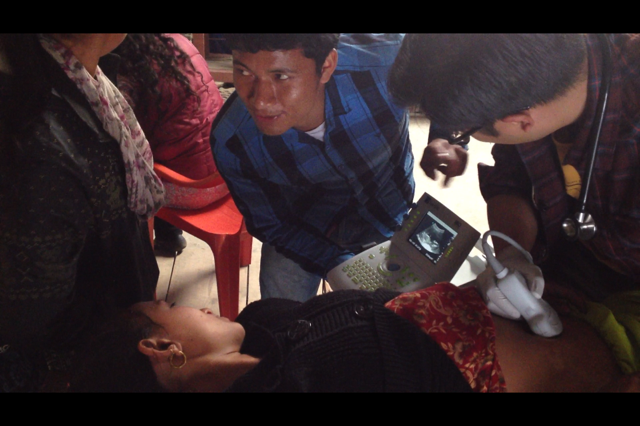 Links: