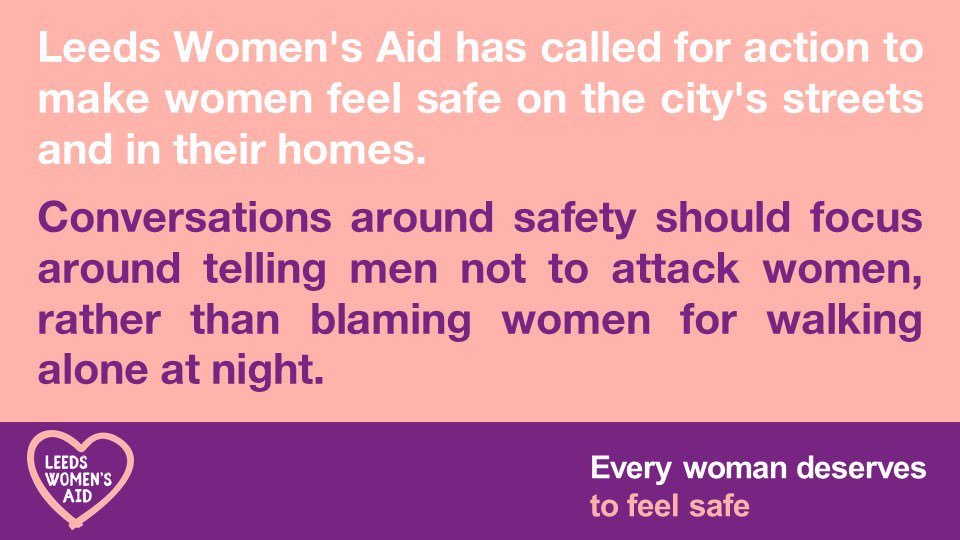 Hello all,
The whole of the country has been shocked, saddened and scared by the horrific events of the last few weeks, with the abduction and murder of Sarah Everard on her way home. There has been a huge reaction in Leeds and elsewhere in the press and media, online and on social media and on the street, in the workplace and in the home. This year, since 1st January and 3rd March when Sarah Everard was killed 27 other women were killed, including 93-year-old Eileen Dean and 20-year-old N'Taya Elliott-Cleverley.
A recent investigation by United Nations Women found that 97% of young women aged 18-24 have been sexually harassed, and 80% for women of all ages, with 96% of women saying they wouldn't report situations because they don't think it would change anything.
This can't be right for our sisters, daughters, friends and colleagues.
Supporting Women and Families During Lockdown
Demand in the last year for our Domestic Violence & Abuse services has grown hugely, with helpline calls almost treble that of last year, referrals double and requests for refuge accommodation outstripping demand by a factor or 30.
During this last year, women and girls have told us:
29% say they feel more isolated since the outbreak
21% of clients say that Emotional Abuse has increased
19% say that they have experienced a delay with a Family, Civil or Criminal Court case
17% say they are unable to access mental health or group support
14% say that jealous/controlling behaviour has increased
12% say that harassment/stalking has increased
11% of clients say they are struggling to manage their finances since the outbreak
5% have needed support to access foodbanks
We have received such support during such a difficult year for everyone, and we want to thank you all for continuing to support us.
A Day in the Life of a Children and Family Worker During Lockdown
Throughout the pandemic, our Children and Family Workers have continued providing specialist support for the children and families in our refuges.
Since the first lockdown came in, there has been an increase in the amount of telephone support given to residents. This is a good way for the Children and Family Workers to provide 1-2-1 support with the women and older children but when it comes to supporting younger children, this is best done face-to-face where possible.
One of the other challenges of the lockdown has been that there haven't been any group sessions for the children or days trips for the families. The group sessions are a great way for the children to interact with other children and to build a positive relationship with the staff running the sessions. Without these sessions in place, it can be harder for the Children and Family Workers to form strong relationships with the children.
Another barrier is having to wear a mask which hides your facial expressions from others. This can be particularly difficult when working with very young children and children who have experienced trauma.
Despite these challenges, the most rewarding part of the job is having a positive impact on the children. Our Children and Family Workers give certainty and support to children at a very difficult time in their lives. Another highlight of the job is seeing the smiles on the children's faces when passing on donated items to the families such as the Christmas gifts which were generously donated by our supporters.
Charity Shop Stock Appeal
Due to the various lockdowns and restrictions over the past year we have found ourselves with a shortage of Spring and Summer wear for the forthcoming season change over. If you have any suitable seasonal items that you no longer need, please consider saving and donating them to our charity shop once we are able to reopen on 12th April 2021. Please keep an eye on our social media and website for details of our shop events.
Best wishes,
Nik