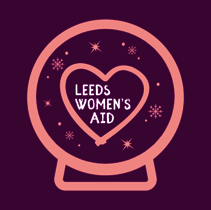 Hello all,
We want to start by saying a huge thank you for all the support you've given us throughout 2020. This has been a year like no other and we've had to adapt our services to meet the demand for support in these unprecedented times.
We couldn't have done this without the generosity of our supporters.
Wishing you a happy and peaceful Christmas from the Leeds Women's Aid team.
Charity Shop 5th Anniversary and Refurbishment
This year marks 5 years since our Leeds Women's Aid charity shop opened its doors. Since we opened our shop in 2015, money raised through the shop has been used to help fund our vital Domestic Violence & Abuse support services. We couldn't do this without our amazing staff, volunteers, supporters and customers!
Your impact over the past 5 years:
Our dedicated volunteers have put in over 8,400 volunteer hours.
Our generous supporters have given the shop over 18,000 donations.
We have over 800 registered Gift Aid donors.
We have recycled a staggering 86 tonnes of rags and 210kg of crisp packets. Your donations of unwanted goods which are not fit for sale and crisp packets are recycled to raise vital funds for our charity.
We have also recently had our charity shop refurbished. We hope you like the bright new colours which showcase our new branding and communicate our charity's values and what we believe.
Our shop is temporarily closed due to the national lockdown. We look forward to welcoming customers back to the shop from Wednesday 2nd December. The shop address is: 102 New Road Side, Horsforth, LS18 4QB.
Leeds Women's Aid Christmas Cards
We are pleased to announce that we are selling our very own Leeds Women's Aid charity Christmas cards. The cards have been lovingly designed by the children staying in our refuges. The cards are being sold in packs of 12 which consist of 4 designs, for £2.99 (plus postage and packaging).
We will also be selling the cards in our Charity Shop which will reopen following the national lockdown. You can also check out our social media for details of how to purchase the cards online.
Buy a Gift for a Woman or Child in Refuge
Due to COVID-19 restrictions, we are encouraging our supporters to purchase Christmas gifts through Hope Revolution rather than collecting physical donations this year. The Hope Revolution website allows you to purchase Christmas gifts for the women and children in our refuges which will then posted to us free of charge.
You can purchase gifts for women and children in our refuges here: www.hope-revolution.org/leedswomensaid
Thank you for your support,
Nik