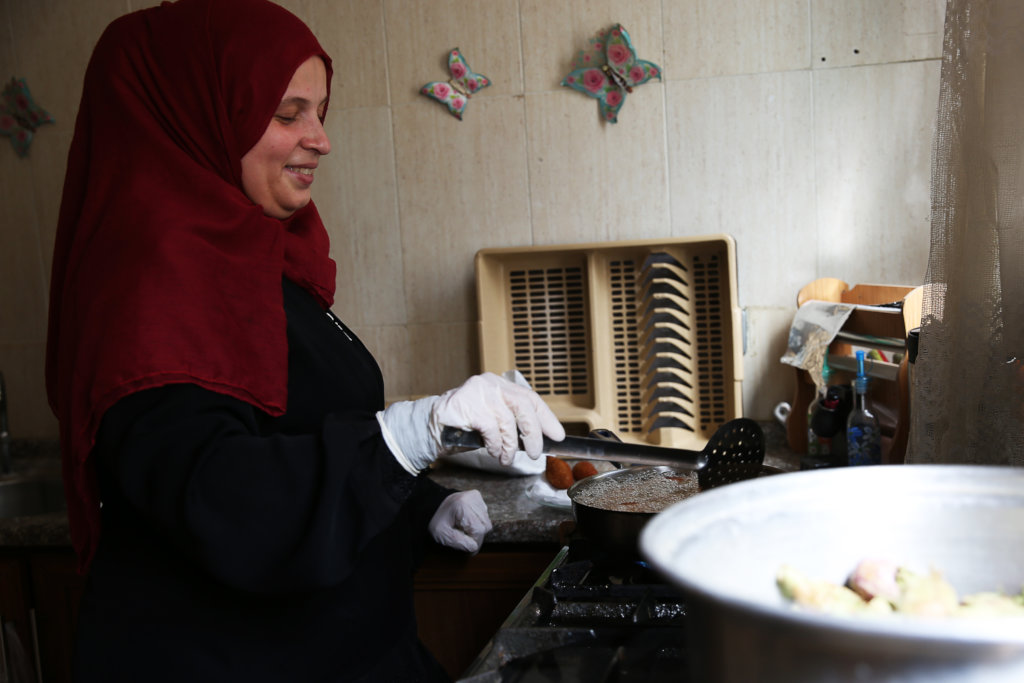 "It was a bad situation, to see your home fully destroyed after you had been living in it for almost 16 years; it is an extremely difficult feeling. But then you just think okay, aside from your health and the health of your children you can get through anything."
Asma and her family are from Homs, Syria. After their home was destroyed in 2013, she, her husband, and their three children fled to Jordan where they now reside.
Today, she and her family are financially stable and Asma is operating a small cooking business. Her prepared meals and catered goods have gained a reputation in her neighborhood and demand for her product has grown, allowing the family to pay down their debts and meet their family's needs. Asma's success in starting her business after participating in NEF's program is not surprising when you consider the obstacles that she has overcome to arrive at this point.
When Asma was just 14, she was the victim of early marriage. Approximately one out of five girls across the Middle East and North Africa (MENA) are married before the age of 18. Gender inequality, high levels of poverty, and lack of educational opportunities for girls are all among the main drivers of this issue. Asma had her first child, a son, shortly after at the age of 15. The marriage was unhealthy and very brief. After their divorce, her ex-husband would not allow her to take custody of their son, and she was forced to leave him with her now ex-husband. She would not see him again until he was a teenager.
"I never stopped trying and wanted to continue my life," Asma explains as the reason why she continued her studies and then worked as a nurse for three years. She then met and married her current husband, and they built a life and a family together. They had a comfortable home and happy life until conflict began to escalate and her community started to experience raids and indiscriminate arrests of citizens. She recalls an instance when her children were sleeping and soldiers forcibly entered their home and searched it without permission; this happened two other times. Her sister was unlawfully arrested for a month, and her brother was also arrested for a brief time. Both reported torture in prison.
Then, while away visiting her husband's family, they received the news that there was a raid, and all of the houses in their neighborhood were destroyed. When they returned, their home was gone. They could not even enter the neighborhood to see if any memorabilia items remained because the wreckage from the bombs kept people from entering the area.
Like the majority of the five million Syrian refugees who seek refuge in neighboring countries, Asma's family chose not to remain in a refugee camp for more than a couple of days after arriving in Jordan. They moved into a low-income neighborhood in Jordan's urban sprawl. Although she and her husband found informal work cleaning houses, cars, and cooking for neighbors, they were unable to earn enough to meet the family's basic needs. Describing this time, Asma said, "The monthly money that my husband was making before was not enough to cover all of the monthly expenses. It ran out the middle of the month."
Asma's neighbors who had been purchasing her prepared meals encouraged her to start her own catering business. Asma explains, "The Jordanian people were very supportive and cooperative," and added that she feels very safe in Jordan.
With this encouragement and her husband's support, Asma pursued her passion for cooking and started a catering business. Through trainings, she learned how to develop a business model, market her products, interact with customers, set prices, and enter into new markets. With the project grant she received at the completion of the program, she purchased a refrigerator for food preservation, giving her as she says, the "push" she needed to get started.
Asma's household has seen a 50 percent increase in income from her cooking business. Her customer base continues to grow, and she says that she now needs to invest in additional equipment including a "kubeh" machine (grinder) and another refrigerator to keep up with increasing demand.
Asma says, "I have a stronger personality now. I want to make sure my product is perfect, unique, and different from the other products in the markets." She has gained confidence and independence, especially with regard to decision-making on where to spend money, saying, "Now if my kids ask anything from me, I can do it."
The family has now started to save some money for the future and emergency expenses which brings Asma and her husband great peace of mind.
Thank you for your continued to support to make stories like Asma's possible!