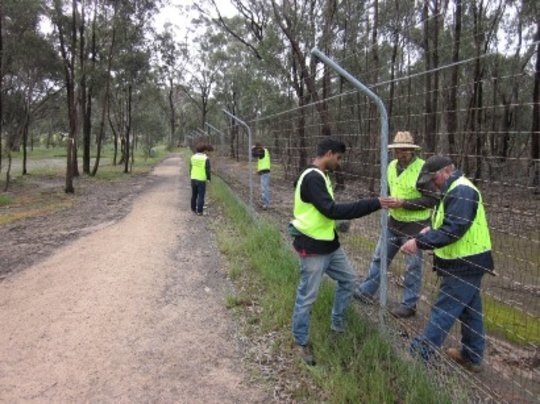 Welcome our Friends in Conservation,
Our little Eastern Barred Bandicoots have endured a long, hot and very dry summer, including the hottest February on record for Melbourne. The consistent heat has caused some natural dieback in some of our grasslands, but our little bandicoots have managed to forage through this issue. Our next monitoring event will occur in the middle April, and will give us a better idea how the dry summer has affected them, especially their breeding. In the meantime, we have conducted several spotlighting sessions, and made use of our cameras. These programs have shown good signs of bandicoots, but we are looking forward to April (and hopefully a bit of rain) to get a thorough count onsite.
During the middle of January, our perimeter fence sustained a breach and a fox gained access to the confines of the Bandicoot sanctuary. Action was immediately taken and free feeds set upon sand pads was implemented, allowing us to see foot prints and scats. We also implemented our infrared cameras to add to our surveillance of the area. We were able to confirm the presence of a fox after seven days, and closed the park to the public and embarked on removing the fox from the enclosure. After five days we caught and removed the predator. Project Officer, Travis Scicchitano, said "We are extremely happy that we were able to minimise the presence of the fox in the park to under two weeks, a fantastic turnaround that would not have been possible without donations that allowed us to purchase the cameras. The cameras played a starring role in figuring out the foxes movements. Knowing which sand pads it was feeding from, what time of the night it liked to move around and narrowing down its habitat zone. So rather than searching 280 hectares we concentrated on 20 hectares."
Woodlands Historic Park has been established on land once used to grow food products for Melbourne in the early 1840's. It still has one homestead in original condition, and two now in ruins. Many old farm fences for holding livestock still remain, as well as, water dams in old creek lines. During this very hot summer at least two of the dams held water after small rainfall periods. This short video shows a swamp wallaby coming down for a drink. I check the dams regularly for foot prints in the wet mud. This cute little wallaby was still quite happy to have a drink even though I was only ten metres away. Even though bandicoots get most of their water from their diet of insects, I'm sure a few popped down for a drink as well, during the heat filled days.
So bring on Spring and hopefully some rain and cooler weather for everyone to enjoy, and for our program to keep bringing the bandicoot back from extinction. I look forward to bringing you the news from our next count in my next report.
Once again, thank you to everyone involved in our Eastern Barred Bandicoot program, including members of the Eastern Barred Bandicoot Recovery Team, our valuable volunteers, and especially our kind Global Giving donors who make our activities at the Park possible. Please consider giving again to our program as we look at rejuvenating our perimeter fence, to ensure breaches don't occur in the future.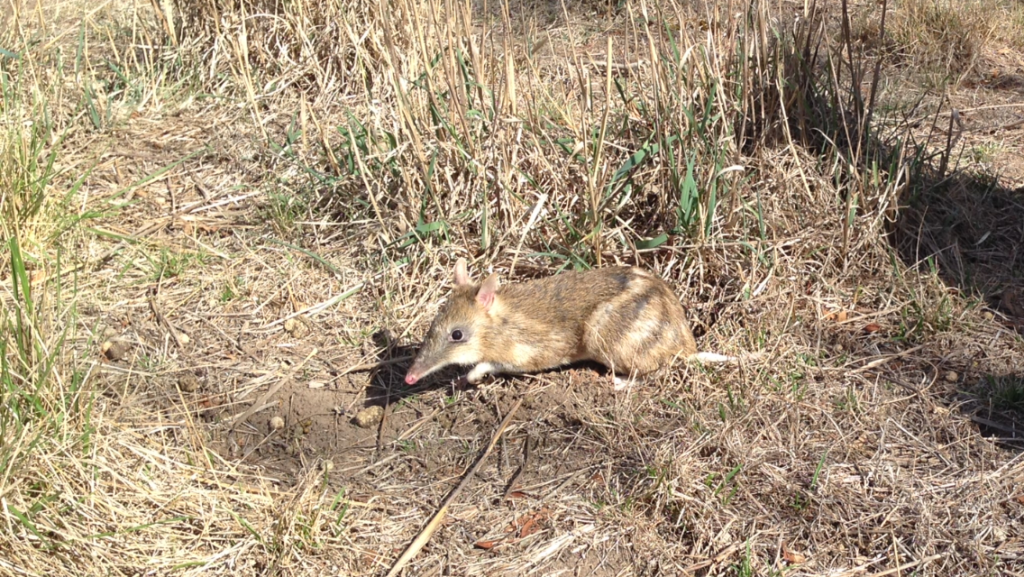 Links: