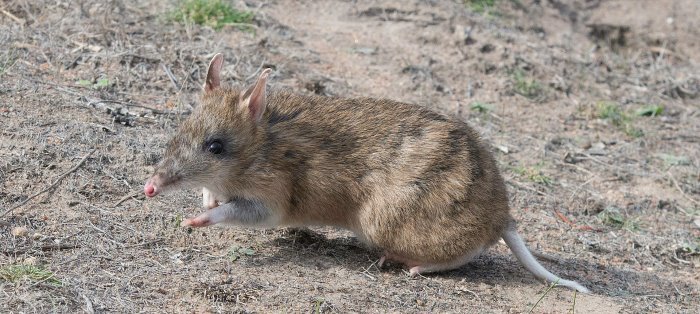 As the dry hot summer has now pushed into autumn, rainfall events have been very few and far between. This is having a detrimental effect on our grasslands at Woodlands Historical Park. Even though this is nature and out of our control, we're hoping to receive some soon. Naturally we go through drought periods and the bandicoots do adapt. But with grazing pressure also happening within the reserve this has become a combined effort and reduced our grass habitat cover.
During our recent monitoring, we were expecting fewer bandicoots to be caught as the animals adjust their breeding based on the conditions available, which were not favourable given the lack of rain. There is still plenty of natural food available just not the adequate grass habitat to commence large breeding rates. Conservation Volunteers Australia's Project Officer Travis Scicchitano reports: "Our aim for this round of monitoring was to see the health of the bandicoots, not so much the numbers. We were please to find 45 animals that were captured and released - 28 male and 17 female. Over half of these were in fact 24 were cleanskins (caught for the first time). This indicates that the bandicoots are still breeding and turning over new stock despite the current conditions. Also, they were caught in all areas of the reserve, which was a positive outcome. Most importantly the animals were in good condition so hopefully they have got through the hardest part of this long summer and look forward to some rain over the cooler months." Check out one of our bandicoot release videos – they are fast!
It was a tough monitoring program in Hamilton this round as the original dates had to be cancelled due to a bushfire. Travis explains, "The bushfire was moving in the direction of the reserve the week before, so no chances were taken and we postponed the monitoring for two weeks once the fire had been put out. Fortunately, at no stage was the reserve under threat due to excellent fire management plans and protection. We appreciate the efforts of all the staff and volunteers who had to reschedule their time under such short notice."
Once monitoring commenced, it was great to see that Hamilton's bandicoots are continuing to grow in numbers and all are passing their health checks. Travis says, "40 bandicoots were caught and processed and all doing very well. We now estimate the population to be around 80 - 100 and hoping this will increase up to 150 by the end of the year. So, bring on the rain to improve breeding conditions and we look forward to providing updates throughout the year."
As always, would like to thank our supporters, volunteers and very generous GlobalGiving donors. Without your support, we wouldn't be able to continue engaging the community in local conservation efforts. Further donations are definitely appreciated, and will help us to continue to make a difference for our endangered native species.
Links: