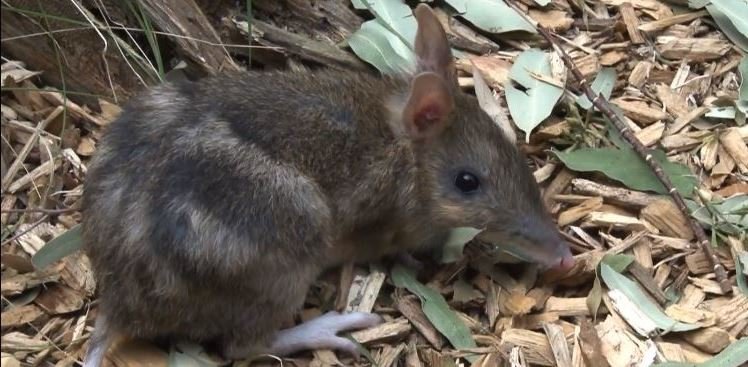 Happy New Year - we hope you had a great holiday season! We are looking forward to another year of bandicoot conservation and bringing you updates on our progress across our three reserves - Woodlands Historic Park, Hamilton and the new site at Philip Island.
We are in the midst of a very hot summer period here in Victoria. We've had a couple of rainfall events but nothing consistent, which means it's been quite dry on average. This provides many challenges when looking after our bandicoot reserves. Ensuring fire breaks are maintained is extremely important as fire could lead to a major catastrophe. To help reduce this risk and keep our bandicoots safe, part of our fire management plan includes reducing fuel around the reserves and inside the fire breaks.
This time of year also gives us an opportunity to remove many weed species that compete with our native grasslands and our volunteers have been a fantastic help with such a large task. Fence maintenance checks and repairs are also completed during this period to ensure we are well prepared ahead of the winter months.
Conservation Volunteers Australia's Project Officer, Travis Scicchitano reports: "At Woodlands we have been lucky to have a Green Army team assisting us on site. This team of nine members has been learning all about conservation from their supervisor, through educational training and practical hands-on experience. They have done an amazing job and we're grateful for their help and enthusiasm. Over 70 hectares of serrated tussock have been sprayed. This is a noxious weed grass that can take over the native species. They have also built two, one-hectare exclusion fence plots. These keep the rabbits and kangaroos out, which gives the vegetation a chance to return. The team has also planted around 10,000 native grasses and wild flowers. The wild flowers are very small at the moment, but come winter and spring there is going to be a beautiful burst of colour. With the help of our volunteers, they have all made a significant contribution in protecting and enhancing the rare grasslands and bandicoot habitat."
In December last year, we relocated six bandicoots (five male and one female) to the new reserve on Phillip Island, bringing the total to 67. Travis says: "Recent monitoring has shown the bandicoots to be thriving in their new home, with signs of digging and movement across the entire site. There is also evidence of breeding on-site and we're all excited to see the new population growing so quickly!". Stay tuned for further updates in our next report as we enter into our monitoring season.
It has been a great start to the year and we would like to thank our generous GlobalGiving donors for their continued support. Big thanks also goes to everyone involved from Conservation Volunteers Australia, Parks Victoria and all members of the Eastern Barred Bandicoot Recovery Team who have assisted with making this possible.
Links: