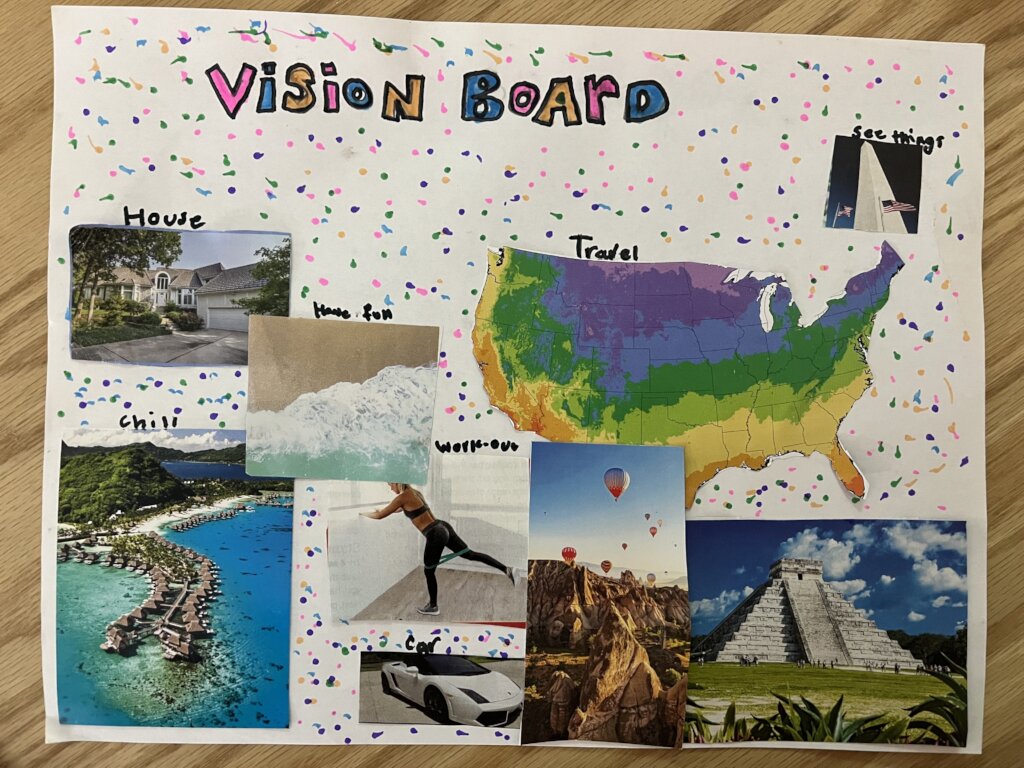 Every month, HALO focuses on a new life skill stemming from our roots when HALO was founded. Just like a family, HALO wants to better equip and educate HALO youth, staff, volunteers, and the community. With new year's resolutions being prevalent, it is only fitting that January's life skill is goal-setting.
In the Kansas City Learning Center, HALO youth worked on their goals in order to envision their future happiness and success. The month started with "I Want To..." worksheets, in which youth can draw or write things they want to Try, See, Experience, Watch, Visit, Accomplish, Avoid, and Become. The next activity was creating Vision Boards, so the youth could envision what future success looks like, from hobbies they want to try to jobs they want to have. The final project involved putting themselves into a Comic Strip so HALO youth could see themselves accomplishing their goals.
HALO youth have goals they want to accomplish:
I want to Try: to get in the NFL, to do a backflip, Asian food, to get into an honors class at school, to be a better friend
I want to See: a fox, a real life waterfall, a lion, a spirit, my mom
I want to Experience: riding a dirtbike, a Broadway play, Hawaii, a concert, a football game
I want to Watch: a Chiefs game, animals at the zoo, a good sci-fi movie, Youtube, the new Frozen movie
I want to Visit: the ocean, a football stadium, Italy, Florida, my grandma
I want to Accomplish: going on a trip/vacation, getting into an Ivy League school or a Historically Black College or University (HBCU), becoming a football player, high school graduation, getting good grades
I want to Avoid: injuries, drugs, negativity, bad behavior, breaking my leg
I want to Become: an NFL player, a superhero, a popstar, a business owner, a lawyer
HALO youth have visions for their futures. HALO youth have the passion to accomplish their goals. HALO youth are capable of so many things. Thanks to your continued support, the Learning Center programs are able to create a space for HALO kids to believe in themselves and break the cycle of youth homelessness.