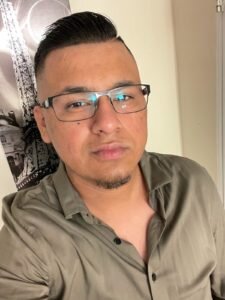 LAYC runs a safe housing Drop-In Center that serves as a convenient, youth-friendly, and LGBTQ+ safe space for runaway, unstably housed, street, and homeless youth under 24. At the Drop-In Center, youth like CC can receive essential care services, assessment, referrals to housing, crisis intervention, case management, and family intervention. The center often serves homeless youth who identify as LGBTQ+ and/or have been subjected to or are at risk of being subjected to trafficking, sexual abuse, exploitation, and prostitution. All Drop-In Center staff are trained in LGBTQ+ allyship, and our assessment and intake process allow for optional disclosure of gender identity and sexual orientation. Additionally, LAYC offers a free clothing "shop" for youth, Hope's Closet, which provides gender-affirming undergarments and clothing for transgender, nonbinary, and gender non-conforming youth.
SETTING CC FOR SUCCESS

CC is a young Salvadorian gay man who LAYC has helped. LAYC has a long-standing commitment to developing Latino youth leadership, supporting both youth and staff in their growth as advocates and change-makers in their community. LAYC recognizes the importance of creating dynamic and creative thinkers to shape our communities and bring about sustainable change that benefits Latino communities, including the LGBTQ+ community and other immigrant communities or communities of color.
Before the onset of the COVID-19 pandemic, LAYC helped CC set up a meeting with the Salvadoran consulate to retrieve his birth certificate. During this time, he was also able to get his Social Security card and legal work permit. Staff helped CC obtain a job at a small restaurant and find an apartment. He received rental assistance through LAYC to achieve stable housing, as well as through the DC CARES Assistance program. Recently, he got a general ID and is studying to take his driver's exam. LAYC provided him with study materials in Spanish to facilitate the process. In addition, staff helped him open a bank account, and CC is responsibly beginning to save.
LAYC was able to provide CC with resources for his father's funeral service and connect him to DC's COVID-19 mental health services. With his father's death and the loss of family members due to gang violence in El Salvador, CC has sadly experienced many losses. Therefore, connecting him to mental health professionals was crucial to his well-being.
CC acknowledged that it meant a lot to him when staff came together to provide him with resources, including blankets, household items, candles, clothes, gift certificates, and Uber gift cards. Through all the hardship of the past year, and by bravely living his truth as an openly gay immigrant from El Salvador, CC has shown incredible strength. He is determined and persevering, and with assistance from LAYC, CC is on track to becoming a fully independent adult.