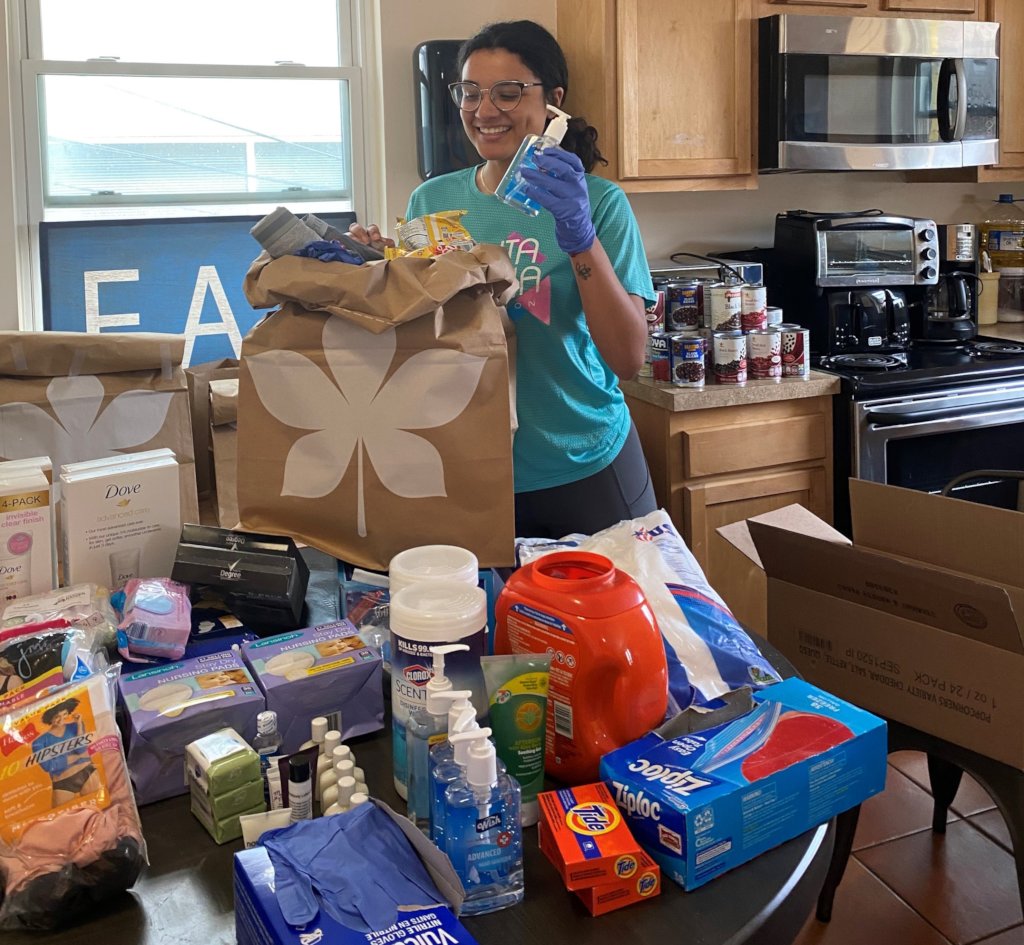 In mid-March, Michelle was ready to leave LAYC's independent living housing program. She had graduated school, secured a job, and was working diligently with her case manager on securing her first apartment. Michelle had also built a solid support system and, for the first time, genuinely felt that she was actually going to make it.
The situation for Michelle and many more youth in our community has changed drastically since then. In just two months, the unemployment rate among our youth has increased to 62%, climbing in response to the severe economic impact COVID-19 has wrought on our communities; schools have suspended all in-person educational activities, and social distancing guidelines have further isolated our youth. This crisis has set many of our homeless and unstably housed youth back months, if not years, and they need our help more than ever.

Responding to Immediate Needs: LAYC housing staff have launched a response to counteract the immediate impact that COVID-19 has had on the homeless youth community. We have prioritized distribution of food, masks, gloves, and communication equipment such as phones and tablets, during our early interventions.
Staff have hand-delivered 28 tablets, and connected 81 youth to the internet to give them access to communication outlets and distance learning opportunities. In addition to meeting these tangible needs, we have focused on the mental and emotional impact this pandemic is having on our youth.
Case Management and Counseling: Our counselors have taken full advantage of technology to minimize the tangible losses that our youth have experienced and mitigate the deep psychological and emotional impact that COVID-19 has left behind. Counselors are meeting daily via video chat with clients: counselors have found that youth who have worked hard to preserve their mental health are being triggered by this crisis, specifically through traumatic exposure, increased anxiety, depressive episodes, and feelings of isolation.
Combating Food Insecurity: Case managers are also connecting youth to critical food resources. We are linking youth to SNAP benefits, food banks, meal delivery, and emergency food bags. To date, our housing staff have been able to deliver 198 food bags and 76 emergency care kits to youth in the housing programs. Since March 21st, staff have been delivering cooked meals, breakfast and dinner, to 55 youth: that's 110 meals per day!
Home Visitation: Our staff have put new measures in place to ensure that youth placed in our Host Homes and Foster Care Homes remain safe during this crisis. Staff conduct virtual visits for all youth in our care and, for youth remaining in vulnerable housing arrangements, such as living with friends, staff conduct in-person visits while observing social distancing guidelines.
Financial support from donors like you is more important than ever as this global crisis further challenges the availability of essential safety net services for the most vulnerable members of our community, especially youth facing homelessness.
Thank you for being a part of a critical support network for our youth and families.

All of us at LAYC wish you and those closest to you health and safety during these challenging times.