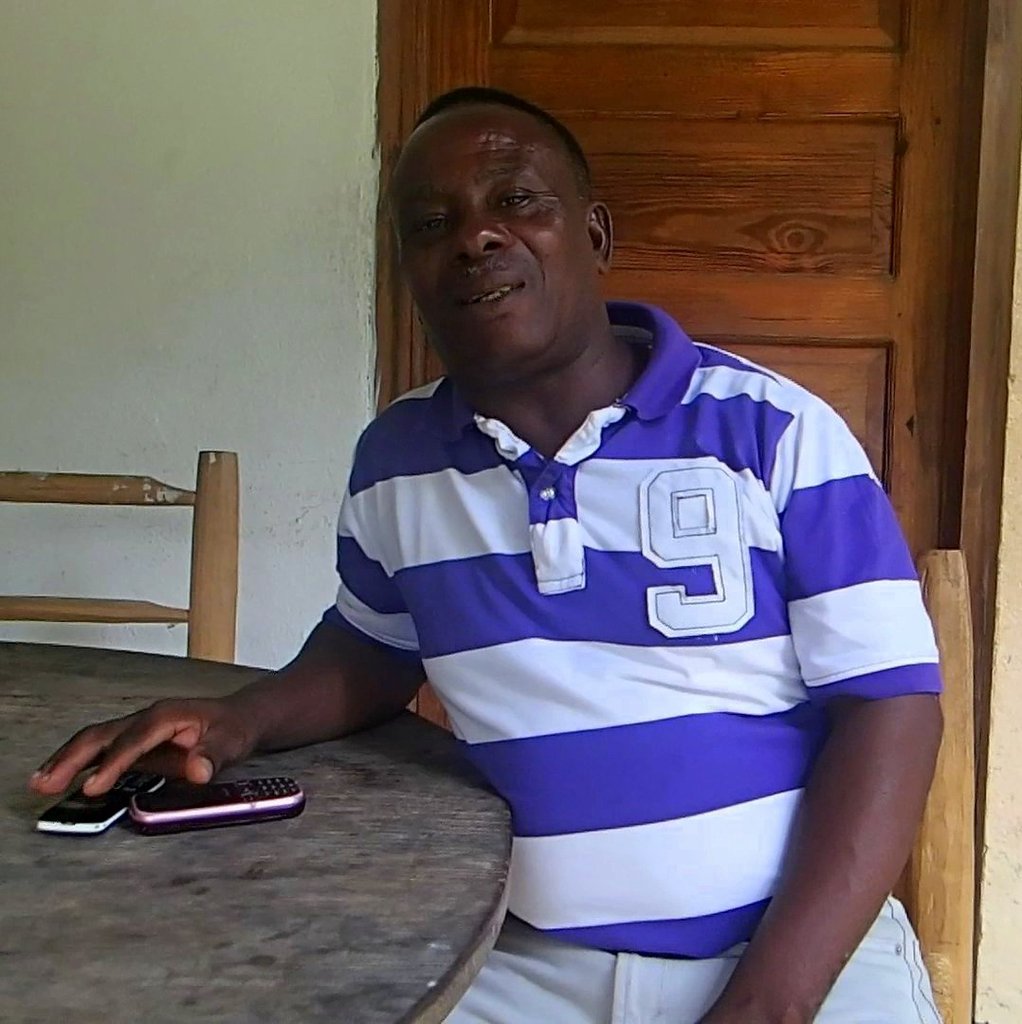 Joseph "Tidj"" Dorsainvil is a Field Monitor for the Lambi Fund of Haiti in the Artibonite region of Haiti. For 15 years, he has been a passionate steward of Lambi Fund's work. Here, Sarah Leavitt sat down with Tidjo to talk about his work, the organizations we partner with and the current state of Haiti.
What is your role within Lambi Fund?
The first thing that we [myself and the Program Directors] do is investigate the [potential] projects after organizations send the proposals to Lambi Fund. Second, I do follow-up and monitor the projects and support the organizations in their efforts so that the project can be successful.
What makes your work difficult?
My work is difficult because the projects are so spread out across the region and some of them are difficult to get to. Depending on the weather, rain and water block the road and if the roads aren't good, we can't get to where we need to go. Also, the political state of the country [makes things difficult] because a lot of times politics and different situations are going on that make it so that we cannot travel to where we need to go to do follow-up on projects.
Can you tell me a story about a certain organization or project that was having problems getting off the ground and what was done to help them along?
There was an organization named AFKB (the Association of Peasants of Katò Bayonè). They had a grain mill project. It was a strong organization, but it didn't necessarily meet all of Lambi Fund's criteria.
Instead of it being an organization, it was more of a cooperative. Yet because the project was such a good project and it was a strong project to support, even though it took us a while, we took the time to work with the organization and to form it as an organization. It took us a lot of time to do that, to restructure AFKB and to provide training so that they could become a strong organization.
Can you clarify what the difference between an organization and a cooperative would be?
An organization is a group of people in a specific area that looks at all of their problems andcarries them on their back. They try to address all of the community's issues—they look at social, political, economic and all other types of issues a community might suffer from and try to address them. A cooperative's primary goal, [on the other hand] is the economic component.
What is one of the most rewarding projects you've worked on or one of the biggest changes you have seen in a community as a result of a partnership with Lambi Fund?
I would say APS. It was a grain mill project and one of the first projects that Lambi Fund worked on. If you look at it up until now, over 14 years or so, you can look at their bookkeeping and their records are flawless. Even though we don't actively work with them anymore and we don't monitor them anymore, they still stay right on top of their game and still do everything so flawlessly.
They've advanced so much and have used their profits to benefit the organization. APS even bought a truck [with their profits] to transport the women back and forth to sell their grains. The mill motor at one point broke down. They didn't wait for help to get another motor. They were able to buy another motor to replace the one that was broken.
What would you say, in your opinion, are the current priorities of what Lambi Fund should be working on today?
Right now, I think that there are three projects that are very important to the [Haitian] peasants. The first or number one most important, are the agricultural projects. The grain mills, irrigation pumps to get water, the plantain and coffee farms, and anything that has to do with agriculture is most important for providing food for the peasants.
The next one I would say is the animal husbandry projects. Haitians do not have a lot of means to take care of animals themselves. These animal husbandry projects are very important because it provides members with a way to make a little bit of money to send their children to school and to feed their families.
The last priority I would say are the community credit funds. This allows the female merchants to not get beat over the head by the bigger organizations or bigger financial institutions when they need to borrow money. It helps them to continue on with their work, to continue on with their sales and merchandising, and to make some profits so that they can continue to make a better life for themselves.
Is there a story that you feel shows an impact that we don't necessarily think of when we talk about our projects?
I would say the sugarcane mills. These are very important because before, it used to be animals that farmers would use to breakdown the sugar-cane. The time that they used to spend overnight, husbands and wives boiling the syrup and going through the whole process to transform it into syrup, they don't waste that time anymore.
Things that used to take five days to do can now be done in a couple hours' time. This is something that we don't really see on a regular basis. Another thing with the sugarcane mills that people don't necessarily realize is the safety aspect.
With ACHVRO and the benefits they have explained, is that when it used to be late and it took so much time to use the wooden mills, when they were feeding the cane into the machines, sometimes if they were too tired their fingers would get caught. Once their fingers got caught, their arm would go right into it. So, it hasn't only diminished the amount of time that people would spend [making syrup], it is also a much safer way to go and it has lowered the number of accidents.
Members also make more money and in making more money, they can plant more and produce more sugarcane. Of course, this making more money does not only help their pockets, but it helps the organization to fund other projects that they may need to [or want to do] in the future.
I am hoping that you can try and clarify something. A lot of people see Lambi Fund's projects and think it is as simple as buying a goat or building a grain mill, but there is an essential part of our work where an organization is required.
Can you talk about why this is the case?
What is good about working with organizations and what is important, is that organizations are a group of people that have gotten together and are already members of a group. They have already identified what their issues are and what their solutions could be.
Most of the time, organizations just don't have the technical or financial capacity to make these projects a reality. So, by the time organizations come to Lambi Fund, they're really just asking for that financial backing and technical support. Of course, we throw into this, monitoring and follow-up as well. Working with groups makes it easier to follow-up and see what the results of the project are too.
If we were just to fund individuals who made a request for money, after that person gets their money and they do what they have got to do, then you'll probably never see that person again. There is no follow-up. There is no way for us to test the feasibility, to test the potential success a project might have.
Can you talk about what makes Lambi Fund different from big NGO's? What sets us apart?
The difference or the main difference, between Lambi Fund and the larger NGO's is that the large nonprofits come in and identify what they think the problems are and decide in what way they will intervene.
They might look and say, this person needs a house—we'll build a house. Or they might look and say this region needs water, let us find a source of water and give them some clean water. But Lambi Fund doesn't work that way. It is the people in a community that identify and prioritize their problems. [NGO's] come to do something that they decide is good for the people, but it might not be the highest priority for that community.
The difference with Lambi Fund is that the organizations have identified their own problems and have cometo us. We are not just stepping in and intervening and saying that this is what we think the problem is, because half the time what NGO's think the problem is, isn't the bigger problem for that person or community.
Any last comments?
Within the way that Lambi Fund works as well, and another important aspect of organizations coming up with the projects and identifying their problems, is the fact that members do the work themselves. They have identified the problem, and while Lambi Fund accompanies the organizations in reaching their goals, they are the ones that execute it—it is not Lambi Fund that does the work. The people know that they are the ones who have put their blood and sweat into it… and they have a vested interest in assuring that the project is completed and that it succeeds.
Links: