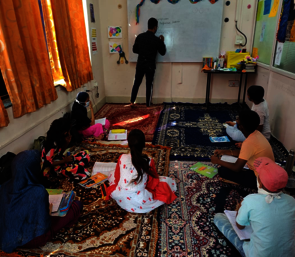 In light of schools being shut for most of this year, we shifted to blended learning almost six months ago. Since then, we have made progress in procuring hardware for students who lack access and engaging them in online and offline spaces of learning. We have continued to face significant hurdles on the way but we are witnessing accelerating change for students.
Keeping our kids learning
We are measuring our progress in classrooms across wellbeing, attendance, and engagement. As an organization, we are now focusing on getting accurate and complete data from Fellows to help us understand what is working and what is not in blended learning.
At an organization level:
- We have 28,880 kids with us as of January 2021, out of which 24,409 are reachable (85%)
- 94% of our students (who are reachable) are healthy, feel safe and have ration at home
- Our students are receiving 13 hours/week of synchronous and asynchronous learning time*
- 69% of reachable students have access to learning through blended experience
- 63% of reachable students are attending at least one sync space per week
- 52% of reachable students are engaging with at least one async packet per week
Implementation of Blended Learning in classrooms
- Synchronous instructional time has gone up from an average of 5 hours to 8 hours a week
- Professional development to onboard all Fellows on blended learning : We hosted 8 Weeks of training modules which had a mix of synchronous learning materials (SYNC - everyone learning together online) and asynchronous learning materials (ASYNC - self-paced managed materials and assignments). The Elementary Fellows learnt and taught 4 content areas: Reading Fluency, Reading Comprehension, Writing & Math while the secondary Fellows had Reading, Writing, Math & Science or SST.
- The 8Cs of the new Leadership Development Journey (LDJ) were embedded into the training module of the 2020 cohort.
- 2020 Fellows had continued support after Institute through 'Institute Lite'.
- Different blended learning as well as content support workshops/ trainings were held at the city level for all Fellows.
- We advocated with key schools and governments to make systemic changes based on our learnings.
Example in Bangalore, Teach For India worked with a symposium of NGOs to share its work on blended learning and resources in a combined offering to the Karnataka state education department. We also contributed to a paper on online learning published by partner organizations Whitefield Ready and Inventure Academy. This paper was also shared with the department. In August, the Karnataka government initiated the Vidyagama programme which incorporated many aspects of blended learning, including meeting children in small numbers to distribute asynchronous learning material supplemented by online teaching. Currently, we have the second version of the programme running that has additionally allowed children from Grades 6-10 to attend school in small numbers for a few hours and directed teachers to share asynchronous material to complement this learning.
We continue to face the following challenges in Blended Learning Implementation
1. Reality of the students we serve:
33% lack stable internet connection
15% have migrated/not reachable
35% have required food/financial relief during lockdown
2. Current reality of access and well-being:
40% of students have restricted access to a device for at least 3-4 hours of learning each day
11% of students do not have access to any device
3-4% of our students require support for their physical, emotional or mental well being
3. For more than a century, schools have been the hub for learning. With schools now being shut, investment in education has dropped. We now have to battle the limitations of home infrastructure and other competing priorities to ensure that children do not drop out of school.
4. The economic impacts of the pandemic on low-income families and also the ensuing migration has forced kids to move away from their school cities and support the family by working jobs.
5. Small home spaces, limited infrastructure, multiple family members, etc. has resulted in a highly unpredictable schedule for kids.
6. The pandemic also created security concerns for parents to allow students to say, gather in small study groups or to share devices.
7. The pandemic has made it unsafe for Fellows to visit communities and effectively engage with students and parents.

Firki InspirED
In the month of October, Firki and Teach For India hosted inspirED 2020, a five-day virtual conference where students, teachers, sector leaders, parents, and others came together to reimagine education.
The 100+ inspirED sessions including keynote addresses, masterclasses, and panel discussions addressed many such questions and initiated discourse around the education landscape of India for the coming decade.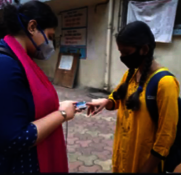 Links: