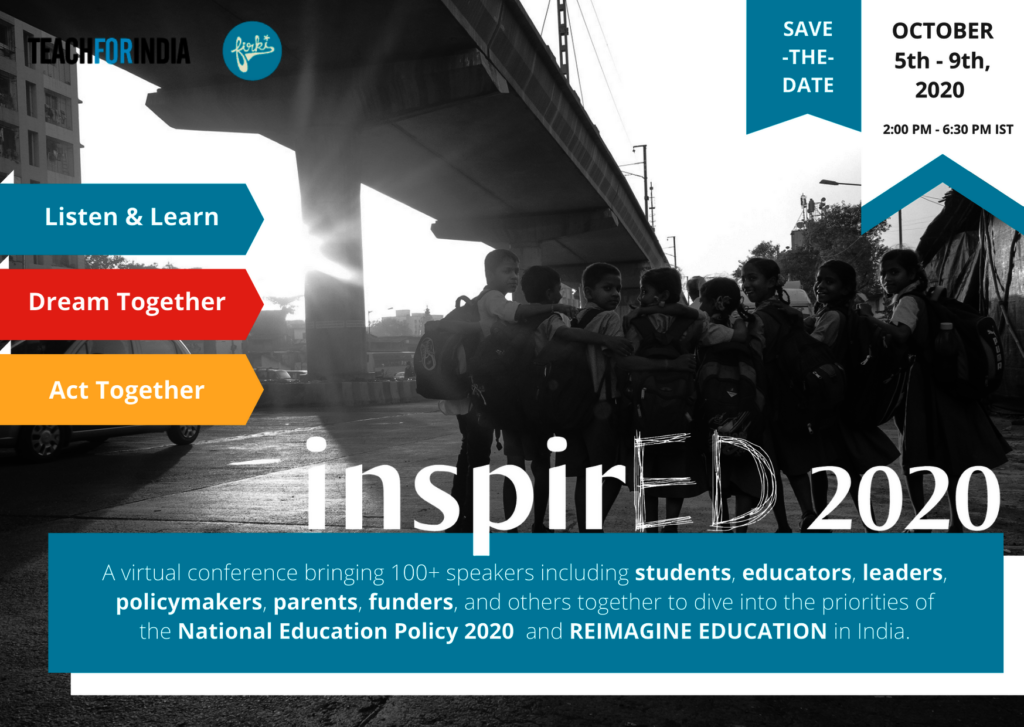 The Education Sector in India has been hit by two waves in the last few months -
- The COVID-19 pandemic that disrupted schools, and
- New Education Policy 2020 that lays the guidelines for a reimagined education after 30 years.
We believe, teachers and educators should be at the forefront of these conversations and hence we wanted to provide a platform to bring together educators and other stakeholders to understand the implications of The New Education Policy 2020, celebrate teachers, build communities of practice towards blended learning, connect with world-class teaching practices and experts, and advocate for collective action towards the National Education Policy 2020.
With all of us pivoting to a virtual world, we've been inundated by online education conferences and ways to learn virtually. A lot of us have also spent time asking important questions. How will our children learn this year? How do we balance well-being with learning outcomes? How do we upskill our teams with new skills? We've also been thinking about the New Education Policy 2020 and its many promises and hopes. With all this in mind, in the first week of October, we launched a national conference - inspirED 2020 - a space to dive into these discussions and together reimagine education.
Over the 5 days of the conference, we engaged with diverse stakeholders to dive into the priorities of the National Education Policy 2020, attended live masterclasses with some of our Fellow classrooms who are experimenting successfully with blended learning to zooming out and hearing from world-renowned experts like Bill Drayton, Jacqueline Novogratz, Shashi Tharoor and many more. We were amongst students, educators, policymakers, parents, and funders. We listened to each other. We held diverse perspectives. We tried to find a synergy to act collectively towards an excellent education for all our 260 million school children. The inspirED2020 conference hosted more than 100 speakers from various backgrounds.
The session revolved around the following themes over the 5 days -
Listen and Learn - Listen to and learn from educators and diverse stakeholders on issues of great relevance in the education sector today.
Dream Together - We will hold spaces to unleash our creativity and imagination on what education can look like in the future and dream together to create a new vision of education for India.
Act together - We will together build a collective commitment through a series of white papers on our learning and recommendations to implement our vision.
These sessions ranged from a student teaching a magnificent masterclass on visual story-telling using hand-drawn anime to leaders sharing deep insights on what and how they've learned. With a focus on taking the NEP to action, 13 partners released 12 white papers, documents that intend to provide tangible guidance on how to take concrete topics like teacher development program, parent investment and school leadership, and propel them into action. Teach For India also published three papers-
Blended Learning: A Digital Equalizer
Child protection and safety in schools
Building 21st Century Skills and Leadership in Students
A specially designed website for the conference, lists the schedule for these 5 days, the speakers that we hosted, our partner organizations and gives access to the white papers published.
We also released the first version of India & I, our open-source curriculum, which was attended and co-led by students, demonstrating that as the stakeholder with the greatest stake, they must be at the table of reimagining education.