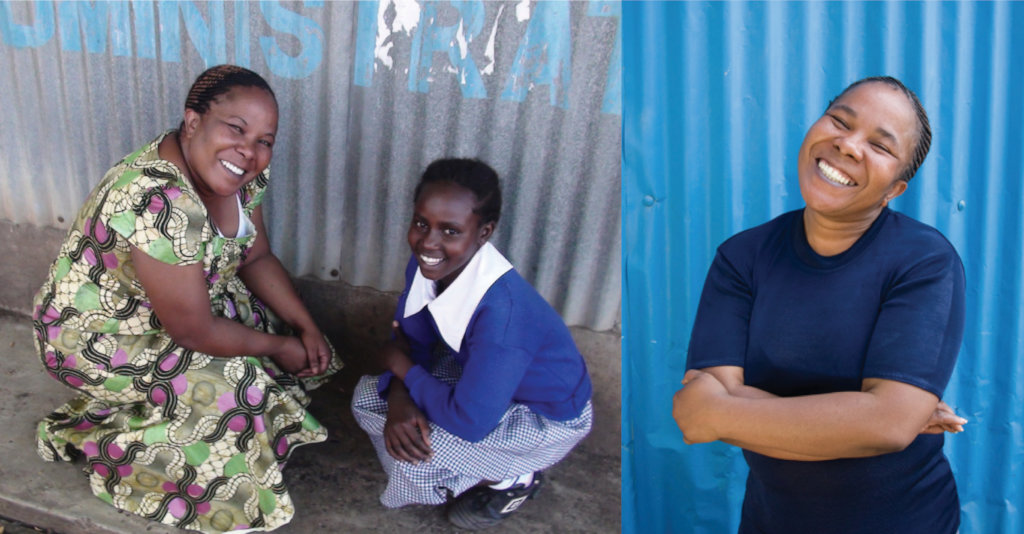 It is with profound sadness that AFG informs Gatoto's many friends around the world that Betty Nyagoha, our beloved School Head and founding teacher, passed away suddenly after a recent COVID-19 diagnosis. This is a great shock to us all. She was so central to the school, from its inception in 1994, that this loss is unimaginable. She was a remarkable and irreplaceable woman whose commitment to caring for the children of the Mukuru kwa Reuben slum neighborhood will forever inspire us.
For 25 years, Betty was Gatoto. She worked to build a community that fed, educated, and gave thousands of children a chance out of poverty, and she was a mother to them all.
Betty was born in far western Kenya in 1969, the youngest of eleven siblings. She experienced hardships that helped form her great empathy for and kinship with younger children. As a student she excelled at drama, netball and basketball. Betty studied at Kilimambogo Teachers College, and later ran a thriving business selling maize and beans in Nairobi.
In 1994, Betty teamed up with the village elders of the Mukuru kwa Reuben neighborhood to found Gatoto Community Primary School. She took a significant pay cut, with a starting salary at Gatoto of $10 a month. She found the going very tough in the first few years. The school's nearly 400 initial students were crammed into a single church building, with children sitting on the floor in different corners. After Gatoto's inaugural year, the school was ranked last in a divisional exam across the largest district in eastern Nairobi.
A few years later, the land where Gatoto now stands was acquired, and the school began its steady ascent. It now has contemporary classroom buildings, many dedicated and able teachers and staff, and an enviable reputation among slum schools. Its exam results are impressive. Many of Gatoto's former students – supported by GIDP's secondary and university scholarship programs - have continued their academic achievement and gone on to professional success. Gatoto regularly competes – and succeeds - in musical and other competitions at the national level.
Betty's perseverance and support from the international community built a high-performing elementary school educating and feeding 1,000 of Kenya's poorest children in the heart of one of Nairobi's largest slums – where the Government of Kenya does not provide educational opportunities for children.
Thanks to the generosity of our GlobalGiving donors supporting our drive for PPE last summer, Gatoto had in large part avoided the ravages of the pandemic and had successfully reopened – partially last fall, and more completely this year. It is such sad irony that Betty succumbed to the same affliction that she successfully prevented for her community. We will find a way to share memories of Betty together. We will write again shortly with details of the interim leadership plans.
Finally, what Gatoto and its graduates have achieved is due to the vision of Betty Nyagoha. May she rest in peace and may we serve her legacy by continuing to help the children of Mukuru kwa Reuben.
Here's an inspiring link to a video of Betty from two years ago on YouTube we wanted to share at: https://www.youtube.com/watch?v=AbDW_umlZQc
Warmly,
The AFG Team