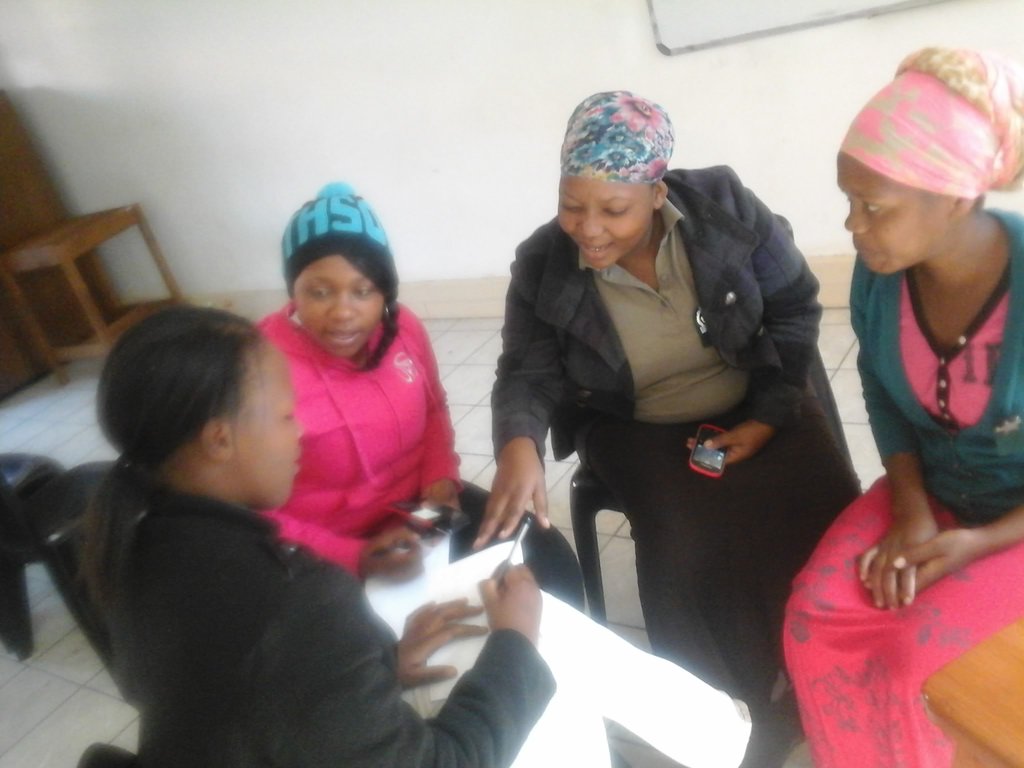 The Mobile Entrepreneurs Program (MEP) engaged more aspiring entrepreneurs, street vendors, and small business owners this past month through intensive training workshops in entrepreneurship, financial literacy and technology skills in the Johannesburg townships of Ratanda, Thokoza, Orange Farm, and Meyerton, bringing the total number of people served through the 2013-2014 program year to over 375. In between educational workshops and activities, Local Master Trainer, James Sekhonyane led group brainstorming sessions focused on discussing relevant topics in entrepreneurship, such as how to convert community challenges into opportunities for small business creation, defining essential characteristics of an entrepreneur, and best practices for collective fundraising and improving financial literacy.

In Thokoza, MEP engaged 23 young aspiring entrepreneurs, of which 80% were women, who were eager to start their own businesses after celebrating Youth Day in South Africa. The women were empowered through sessions focused on key challenges such as how to find start-up funding. 33 year-old Moureen came to the workshop with the goal of developing more formal business skills for running her 'spaza' or 'tuck' shop, a small neighborhood corner store selling items ranging from food, drinks, cooking supplies and airtime for mobile phones. After learning practical skills she could apply toward improving her business, Moureen felt confident that her shop would "operate more efficiently and productively," going forward. "I learned the importance of taking inventory and calculating all my expenses to be able to cut costs.'' she said.
In Orange Farm, the workshops inspired Maria to take charge of her current financial status and start a food stand, where she plans to treat her customers, "with the utmost care and professional service, so that they can have the best food experience." Another trainee, Matshidiso, who seeks to expand her beauty parlor services to serve residents within Orange Farm and surrounding areas said, "I've recently started my business and customers complain that my prices are a bit high. However, through the training, I learned the importance of building a good, solid brand and to not compromise quality at any cost."
Jutaita is a 46-year-old woman from Ratanda, who has aspirations of running her own tea and coffee shop. At the workshop, Jutaita focused on learning how to define her target market to ensure its success.
One Global Economy seeks to continue offering the program to empower more South Africans with skills-building training through partnering with Siyafunda Community Technology Centres, which have enabled the expansion of the program to new centers and townships. In Ratanda, there are not many opportunities for entrepreneurship education. There is only one government program reaching the community. With MEP serving the township at least three times per year, the program receives large groups of motivated and enthusiastic participants every time. MEP first came to Meyerton in the Spring. After the success of the first workshop, a second one was planned to engage a new group. Because of its central location, MEP has the opportunity to reach not only residents of Meyerton, but also residents of surrounding communities, who do not have access to such training opportunities, who hear of the program and sign up to attend. Andreas, a community political leader of Meyerton said, "If most of my fellow community leaders and members attended this programme, we will definitely see a huge change in attitudes, and positive things will happen in our impoverished community."