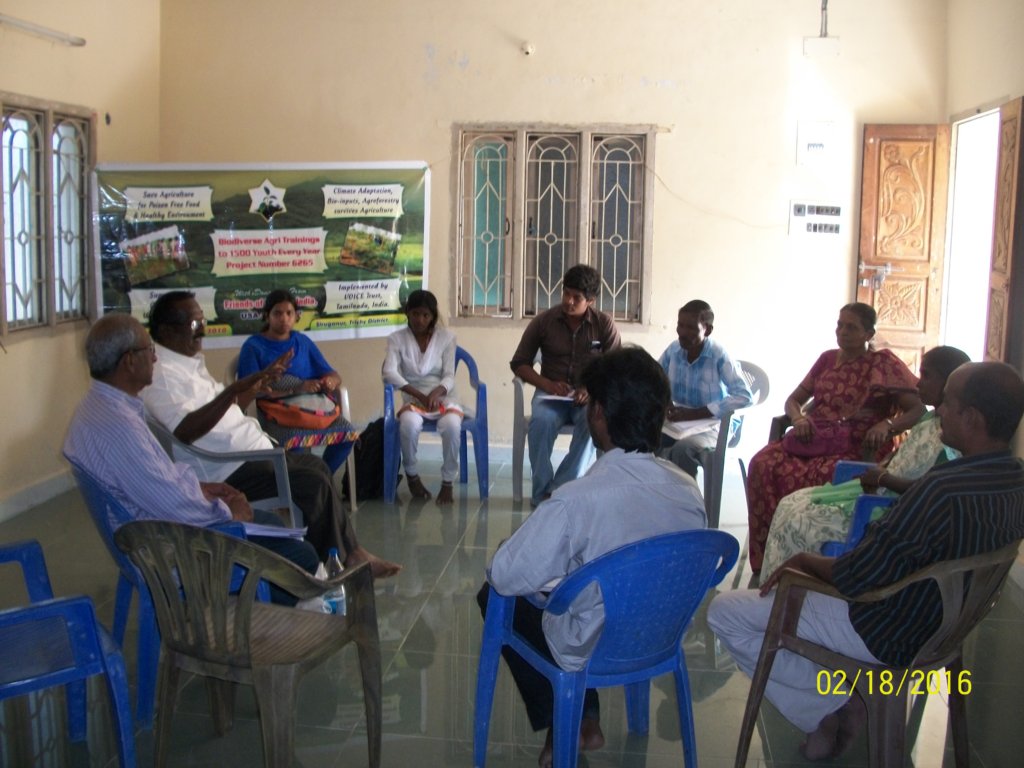 Youth leaders were given directions on February 18, 2016 by Mr. N. Krishnasamy, former Director of Central Integrated Pest Management Center of Government of India for extending helps for farmers faced with imbalances in pest - predator counts. For, pest infestation is one of the serious problems in agricutlure leading to crop failure and loss of economic resources. Often, huge amounts of money are spent on pesticides.
Another meeting was organized for Youth Leaders on March 1, 2016 and this time the topic was healthy and local specific seeds. Because, many farmers complained about less quality seeds. Mr. S. Yoganathan, expert in organic seed banking gave tips to youth to replicate quality seeds for distributing to more number of farmers. For, present seeds are not only costly but also efficency ratio is below 50%. It is better if it is above 75%. Best is 90%.
Field visit was organized on March 3, 2016 to the field of farmer Sesuraj of Irungalur and tips for biodiversity were given in order to increase productivity and decrease over expenditure. He is an opinion leader in Irungalur village. He has promised supports to Youth intrested in agriculture. He has opted to accompany the youth to neighbouring villages like Magilam, Purathakudi, Manikapuram, Konalai, Kalpalayyam.
Thanks to Friends of Earth for supports through Global Giving for the past 5 and half years, successes are coming in the field of agriculture through introduction of biodiverse systems from seed to harvest. Youth are going into 74 villages this year to stop sale of agriculture lands and to start profitability through biodiversity.
Tie ups with local markets around Trichy and captial market in Chennai, the Head Quarters of State of Tamil Nadu are planned from June 2016 for further strengthening agriculture