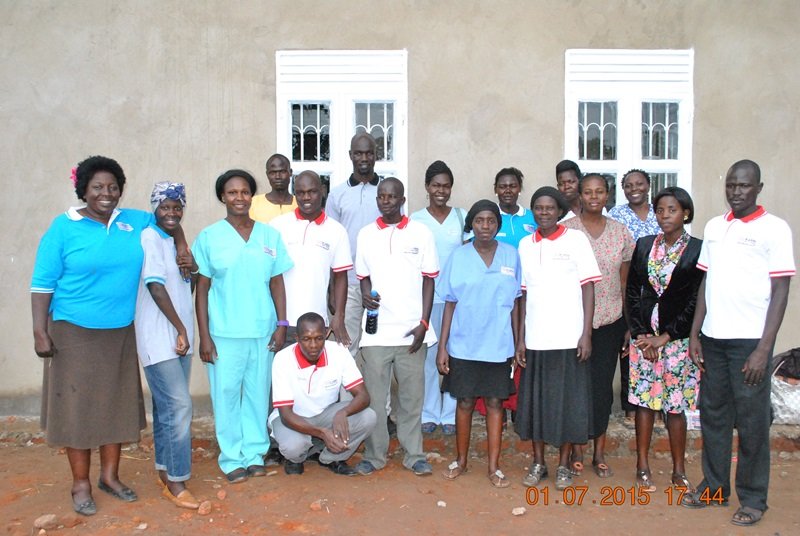 Dear friends this week is the world health workers week.
We share with you some experiences of some of our health workers.
We were at Agung village, for an outreach when I got a phone call from the incharge Nurse Scovia, that I needed to return to the clinic to attend to an emergency. We had already seen many clients and was told by the village Health volunteer that a group of people were on their way for treatment.
She said it was a four year old girl. " You should go, David," my colleague said, voicing my thoughts.
So I quickly hoped onto a motorcycle (boda boda) and when I arrived, the young girl was already receiving the treatment we had to offer. We went outside to speak to the uncharge about her differential diagnosis, and plans to transfer her to another health centre once she stabilises. But while we spoke, I racked my brain to find something, anything that could help this poor child. But I knew that only one thing could save this little girl - prayers.
I approached the mother. I told her that her child was going to be well, because we are doing all that we could. I asked her if I could pray for her and her child. We held hands and went to our Father in prayer.
For a district that suffered many years of war, the region still grapples with social and economic challenges like child illness, illiteracy as well as unemployment. The problem of the chronic shortage of trained professional staff in the Karin healthcare facilities is still high. This is the same case in the rest of the region and country. Only 38% of healthcare posts are filled in Uganda. Those healthcare staff who are working, have little incentive to work in poor rural areas like Unyama. Some 70% of Ugandan doctors and 40% of nurses and midwives are based in urban areas, serving only 12% of the Ugandan population.
As I look at how far the Lord has brought us and the experiences and memories in Karin, I know I should not just take the case of this little girl lightly. She was able to get medical help immediately when she arrived. This was not the case many years ago because of the civil war.
It is again times like this that I am so thankful for where the Lord has placed me. Saving lives! Nursing has drawn me to do good and gain new skills. I have gained a lot of competence since I joined Karin Medical Centre, because through my times here, I find myself participating and relating to my patients and co-workers with humility and (I hope) patience. What I have realised is that we may not know this but we have a vocation. We have answered to the Lord's call.
Without the dedication and commitment of the health workers in this community, our goal to end preventable child and maternal death would be impossible.
Yet again, our work and partnership with you is just as valuable.
We thank you for all the support that you give to make our work easier.
Links: