Project Report

| Feb 19, 2016
Progress is not just a visual thing.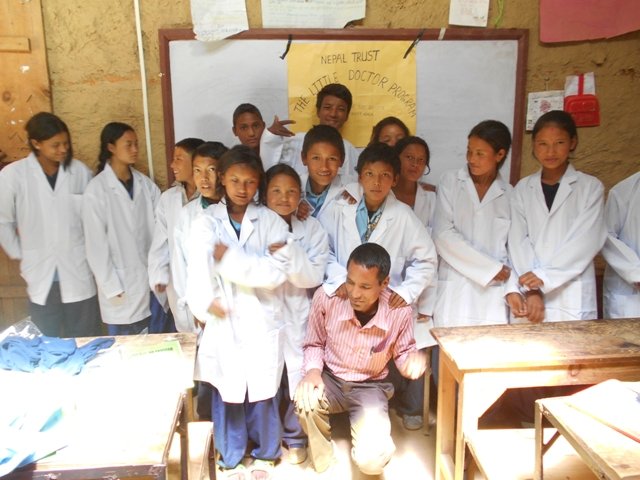 Simikot airport now has a black-topped landing strip! So what, you say. But this is a huge improvement over the short dirt strip previously that engendered so much trepidation and excitement on landing in the small Twin Otter after flying for almost an hour through deep valleys and cloud formations hoping the mountains would not get too close to the wing tips! This is progress! When you land you see young people going about with their smart phones and Facebooking their friends in Kathmandu. Satellite dishes sprout everywhere and people watch their favourite television programmes. The economy is improving and smart hotels are springing up. There is even a yummy bakery. Of course, as you leave Simikot (walking that is, because there are no roads or public transport), you rapidly move back in time to a more relaxed and traditional lifestyle but a lifestyle still deeply embedded in the old beliefs and way of life.
But these ways are changing slowly but surely as education informs and improves the old ways. The Nepal Trust is at the forefront of these changes and our programmes in health, renewable energy, income generation, agriculture, etc, are changing lives for the better. This is real progress that is saving lives and improving life chances. Not easily spotted like mobile phones but, nevertheless, there!
Winter is a slow time in the Hidden Himalayas and limits movement as trails and high passes get snowed up. Our clinics continue to operate at all times. Our new Yari Birthing Centre and Health Clinic is now complete but support is still required to fully furnish and equip it. An Auxiliary Nurse Midwife (ANM) has been recruited from the local community and is now in the clinic and running Community Health Awareness programmes focussing on health and family planning issues. These programmes are also being promoted in our Sarkegad clinic in south Humla.
We now stock over 90 types of medicines in our clinics. These are purchased in Kathmandu where we have quality control, and driven for 14 hours to Nepalganj on the Indian border. From there they are flown to Simikot for distribution. This is no easy task and requires porters and pack animals that can take up to a week over 5000m mountain passes.
Our Little Doctor programme goes from strength to strength. We have been running this for 15 years and we are still the only organisation in Nepal running it. For the last few years we have managed three programmes throughout the district but in 2016 we plan to increase this to 4 classes. The main objectives are:
Provide prevention health education to local school children through their local education system.
Raise health awareness among local communities in an interactive and cost effective manner.
Share knowledge about environmental issues regarding health and hygiene.
Put very simply, children pass on their new knowledge to their own families.
Thank you to our supporters and donors for all your help. We can do nothing without you and we hope you will stay with us and even pass on what you know to your friends and hopefully encourage them to come on board. Our health programme, in particular, requires regular funding so if you can come up with new ideas we are here to listen. Thank you once again.