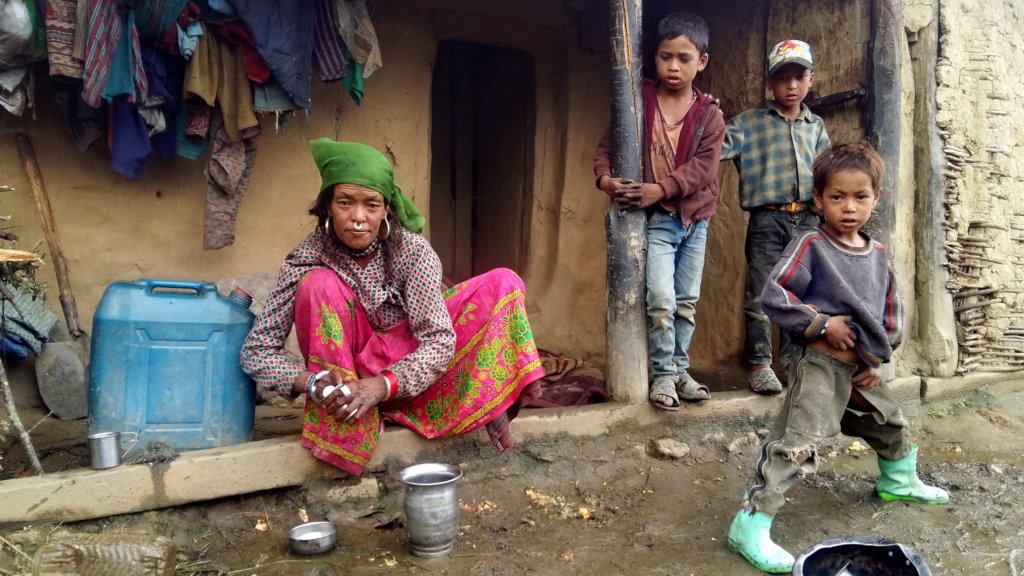 Dear Friends and Supporters
Giving birth in Humla is a risky business. Doleni Sunar, a mother aged 46 years, has had 6 children but 2 died. After each delivery she suffered poor health and did not have enough food to keep herself and her child healthy. Traditional beliefs meant she got little or no support while pregnant and only after the birth did family members rally round to help and advise. She is very grateful for the services provided by the Trust and for the way it is improving the local health service and current systems.
2019 promises to be a significant year of change for the Nepal Trust's community health programme and also we hope for the long-term delivery of healthcare into the Hidden Himalayas.
We have recently launched two major initiatives, the longer objective of which is to engage the local communities and local government in taking ultimate responsibility for the sustainable delivery of the community healthcare programme.
The wider catalyst for change has come from the changing horizons in Nepal with, following recent elections, local district governments being given more responsibility and budgets (plus discretionary decision-making authority) for healthcare. The immediate catalyst for change is the support we have received from the Wilde Ganze Foundation in Holland to build 3 new health posts in south Humla District at Maspur, Piplang and Tumcha rural municipalities (RMs).
This is a major project and one in which we engaged with the local government, through the District Health Officer's (DHO) office in Simikot, in the selection of location and sites for the construction work and, crucially, have agreed that these new clinics once constructed will be adopted as government health posts, effectively replacing old building units that are no longer fit for purpose. Government healthcare workers and Nepal Trust healthcare workers will operate from the clinics, reflecting the model of co-operation that we have already established at our health post in Sarkegad.
Elsewhere we have engaged a local NGO, SHIP Nepal, which is based in Simikot, to take over the day to day management of the delivery of our health programme at the Bargaun, Sarkegad, Kermi, Yari and Halji clinics. Responsibility for the overall strategy and financing of the programme will remain with the Nepal Trust but responsibility for the local management of the programme will be transferred to a local healthcare manager working for SHIP. The NT healthcare workers will also be engaged by SHIP. A key objective and responsibility being transferred to SHIP is that of engaging with the DHO to have the 5 NT clinics in North Humla adopted as community health posts and brought into the local healthcare programme.
We see this transition as a medium-term objective and one that we hope to complete within the next 5 years. In the mean time we remain responsible for funding the healthcare programme that costs in excess of $70000 per annum. Donations to support the programme ensure that the health and wellbeing of those in one of the poorest and most remote parts of the world are catered for and these mountain people can look forward to a healthy and more productive future.
Prajit Bohara, a government Health Assistant in Humla, remarks that many people remain sick due to a lack of services available. Traditional medicine is still the only real option for many and although it may help in some cases lack of basic knowledge is a major stumbling block. He remarks that many more health posts are needed so that already ill people do not have to walk for hours, sometimes days, to reach the nearest health facility. According to Prajit having a health/birthing centre has a positive impact on the community. It raises the status of the village and makes it more active. People become more educated and productive.
The Trust is working with the local government and village communities to provide a working health system that meets local needs. Within the next five years we hope to be able to transfer full responsibility to local authorities but still be able to provide support and encouragement in this most remote and impoverished part of the world. Many thanks for your support and interest and we hope you will continue to help when you can and tell your friends about us. This is not a project for the faint hearted but it is a lifesaver for many.
Namaste